As some of you may know, I embarked on an exciting new journey earlier this year when I co-created the wine-savvy Artisan Series which will debut at the Food Network in Concert event in Highland Park, 20 minutes from Chicago, on September 20th. The show will be held at the legendary Ravinia Festival venue, the oldest outdoor music grounds in the United States. Headliners will include John Maher, Phillip Phillips, Twin Forks, Raul Midon, and many other hot acts.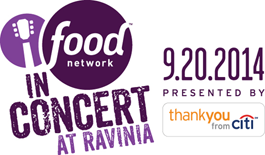 Of course, it wouldn't be a Food Network Magazine event without some celebrity chefs there, too. For starters, we're talking about television and magazine stars like Mark Murphy, Anne Burrell, Sunny Anderson, Alex Guarnaschelli, Jose Garces, Jeff Mauro and Geoffrey Zakarian. On top of that add 70 of the top chefs in the Chicago area, and you have a serious day of #eatdrinkrock festivities in the making.
As the exclusive Artisan Series Sommelier at FNIC, my job will be to provide delectable and educational wine experiences for guests visiting the Chefs Lounge and VIP Lounge, as well as at the wine seminars led by Master Sommelier Alpana Singh and myself, and other special activities happening at the event. This will all be done with the stunning Artisan Series wines provided by Freixenet USA, Foley Family Wines and Charles Krug Winery.
Yesterday, the inaugural copy of the exciting Food Network in Concert newsletter was launched. In it you'll find my notes on the delicious bubbles from the Freixenet portfolio paired with five summer songs by musicians featured at this year's event: Songs & Bubbles of Summer as well as their special Summertime Sparklers.
Rest assured, I'll be using the newsletter and other marvelous tools of social media to promote this stunning wine program, tasty bites and recipes, interviews with star chefs, fellow sommeliers, winemakers and musicians on the SawyerSomm site leading up to event.
In the meantime, don't forget to check out "The Music Issue" inside the July-August copy of Food Network Magazine, which features fun pairings of chefs like Ina Garten, Michael Symon, Mauro and Zackarian, talking food with musicians Taylor Swift, Billy Corgan, Ja Rule and Sammy Hagar. In short, it's a summer of fun, and a summer to #eatdrinkrock!
For tickets, visit www.foodnetwork.com/inconcert