To start off the new year in style, below is the second segment of my notes and reviews of the top Oregon Rieslings I tasted in the second half of 2017. Most of these wines were originally tasted at Nick's Restaurant in McMinnville, following the conclusion of the annual International Pinot Noir Celebration (IPNC). Besides myself and a small group of wine writers and sommeliers; other people at this event included Oregon Riesling Alliance (ORA) members Harry Peterson-Nedry of Chehalem Winery and Sheila Nicholas of Anam Cara Cellars, as well as Sally Murdoch of the Oregon Wine Board.
Needless to say, I can't wait to taste the new releases in 2018. But if you feel intrigued by travel to the Oregon wine country to sample these wines over the next few months, I certainly recommend that you do! For more information about the Oregon Riesling Alliance and the upcoming Oregon Riesling Revival events, visit www.oregonriesling.net and www.oregonwine.com.
Airlie 2016 Dry Riesling, Old Vines, Willamette Valley. $20 / 93 pts
Known for its portfolio of hand-crafted boutique wines, this new release from the Corvallis-based Airlie Winery reflects the passion for Riesling shared by winemaker Elizabeth Clark and proprietor Mary Olson. Bright and elegant, this stylish medium-body wine opens up with alluring scents of ripe melons, honeysuckle, celery salt and fresh flowers. On the palate, flavors of green apple, lemongrass, cantaloupe, mineral and white pepper are balanced with a pleasurable combination of silky texture, crisp acidity, and a dry finish. www.airliewinery.com
Airlie 2015 Riesling, Willamette Valley – $16 / 88 pts
Intriguing scents of candied pineapple, lime, wild herbs and earth tones. Distinct flavors of ripe melons, citrus and hints of ginger and white soy leading to an acidic sensation that creates a tasty wine that is crisp, playful, and refreshing. Great buy for the price. www.airliewinery.com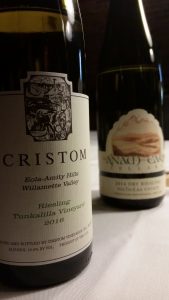 Anam Cara 2014 Riesling, Nicholas Estate, Chehalem Mountains. $22 / 92 pts
Located near Newberg, Nicolas Estate has emerged as one of the great Riesling vineyards of the Chehalem Mountains AVA. Modeled after the classic medium-dry style Rieslings crafted in Germany and the Alsace region of France; the 2014 vintage was made with fruit from the original acre of vines developed by proprietors Sheila and Nick Nicholas in 2001 and a separate two-acre parcel on the estate that was planted in 2008. Big, bright and lively, the wine features attractive aromas of Meyer lemon, ripe quince, honeysuckle and a freshly opened jar of macadamia nut.  In the glass, the citrus-driven flavors of fresh grapefruit, lime, lemon curd, sweet tarts, mineral and tangy acidity create a complex profile and a persistent finish. Pure refreshment in every sip. www.anamcaracellars.com
Aram Cara 2013 Riesling, Nicolas Estate, Estate Grown, Chehalem Mountains – $22 / 93 pts
Dynamic aromas of wild flowers, ripe stone fruits, melon, citrus and petrol. On the palate, the crisp and refreshing flavors of Anjou pear, green apple, cantaloupe and fresh quince are complimented with citrusy sensations of ripe lime and Meyer lemon, a hint of raw honey, and a long zesty finish. This wine recieved a Gold medal at the San Francisco Chronicle Wine Competition, which I judged as well. Therefore, besides being an instant crowd-pleaser; it is also very youthful and a great example of a Riesling that gets more elegant over time. www.aramcaracellars.com
Argyle 2015 Spirithouse Riesling, Eola-Amity Hills, Willamette Valley – $35 / 91 pts
As part of the Master Series at Argyle Winery, this flavorful, limited-release gem is made with fruit from the winery's Lone Star Vineyard in the Eola-Amity Hills. To preserve the fresh and expressive flavors, the wine is fermented to dry and aged in neutral barrels. Delicate, with a beautiful light straw hue. The perfumed nose is filled with lively scents of spring flowers, ripe fruits, chamomile tea and fresh herbs. On the palate, the core flavors of ripe melon, white peach and lychee are balanced with a brilliant combination of elegant texture, tangy acidity, and long, dry finish. Refreshing, graceful and very food-friendly. Only 200 cases made. www.argylewine.com
Argyle 2015 Riesling, Nuthouse Vineyard, Estate Grown, Eola-Amity Hills – $30 / 88 pts
Crafted with fruit from three special blocks at the Nuthouse Vineyard in Eola-Amity Hills, this small-production Riesling was aged in 80% stainless steel and 20% neutral barrels. On the nose, the senses are energized with concentrated notes of exotic fruits, lemongrass, raw coconut, macadamia nuts and overall freshness. On the palate, distinctive notes of pineapple, cantaloupe and coconut are lifted with a lively mouthfeel, crisp acidity, and a spicy finish to heighten the experience. www.argylewine.com
Brandborg 2015 Riesling, Elkton Valley, Oregon – $16 / 92 pts
For a flavorful selection from Southern Oregon, try this new release from Brandborg Vineyards and Winery. This unique wine is a blend of premiere fruit from the Bradley Vineyard and the Anindor Vineyard, which are planted near the small farming community of Elkton and the Umpqua River in 1983. The Elkton clone, featured at both sites, is named after Ken Thomason Elkton, who planted the original Riesling vines in this charming region in 1972. On the nose, the wine features floral aromas of fresh jasmine, magnolia blossom, chamomile tea, lemongrass, honey and ripe tree fruits. In the glass, the medium-bodied flavors of pineapple, tangerine, exotic melon, lime, cucumber and spicy notes are masterfully integrated with a rich, round and waxy texture, a burst of crisp acidity, and a long tangy finish. www.brandborgwine.com.
Brooks 2016 Riesling, Old Vines, Willamette Valley – $20 / 93 pts Crafted with mature vines and a variety of intriguing Riesling clones planted in a special selection of microclimates and classic Willamette Valley soils; this bright, cheery and provocative wine offers abundant aromas of fresh wildflowers, white peach, apricot, fresh citrus, and lingering hints of petrol, beeswax and orange blossom. In the glass, the energetic fruit notes of ripe peach, white cherry and exotic melon are accented with layers of spicy and a bone-dry finish. Dry, classy and complex. www.brookswine.com
Brooks 2016 Riesling, Ingram Lane Vineyard, Eola-Amity Hills – $26 / 94 pts
Developed by Bethel Heights Winery in 2008, the Ingram Lane Vineyard is planted in the signature volcanic soils of the Eola-Amity Hills. As a true interpretation of the site, this new release immediately leaps out of the glass with fresh floral aromas interlaced with vibrant notes of ripe stone fruits, zesty citrus, wild herbs, mineral, and spiced nuts.  These delights continue on the palate with persistent flavors of green apple, papaya, tangy grapefruit, fresh lime, tangerine peel and clove, intertwined with crisp acidity, natural verve, and a rich, silky texture. www.brookswine.com
Brooks 2016 ARA Riesling, Old Vines, Willamette Valley – $38 / 96 pts
Although the "ARA" Riesling is named for the Alter constellation; here on earth, it's really more of a "statement" wine focused on crafting a world-class Riesling with flavorful fruit from old vines and two classic soil types of Willamette Valley: volcanic basalt and marine sediment. In the glass, this enticing blend opens up with dazzling aromas of ripe stone fruits, melon, fresh citrus, wild herbs, and sea smoke. On the palate, the core flavors of ripe apple, pear and peach are accented with citrusy notes of lemon, lime, grapefruit, mineral and a kiss of oak. As these flavors expand, spicy notes emerge with underpinnings of crisp acidity and a long, graceful finish. Overall, a terrific introduction to the wonders of Oregon Riesling, and a great domestic brand to follow if you love Riesling. www.brookswine.com
Brooks 2016 Sweet P Riesling, Willamette Valley – $28 / 92 pts
Sweet P is a shortened version of the endearing nickname winery founder Jimi Brooks called his son, Pascal. Therefore, to preserve the purity of fruit, high acidity and the youthful attributes associated with mature vines planted on special sites, this medium-dry Riesling is fermented without the addition of yeast. The result is a complex wine that starts with heady aromas of white flowers, fresh melon, citrus and peach, enlivened with subtle nuances of honeysuckle and tangerine blossom. From there, the ripe and fleshy flavors of passionfruit, tangerine, white peach and Casaba melon mingle with spicy notes of ginger, cardamom and pumpkin spice. To add more depth, the layers of sweetness are balanced with refreshing acidity to create a fresh, vibrant finish that makes you want more. Pair with fresh cheeses, prosciutto & melon, spicy dishes, and savory tarts. www.brookswine.com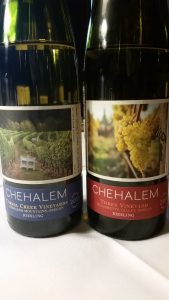 Chehalem 2015 Three Vineyards, Willamette Valley. $20 / 92 pts
Reminiscent of high-class Rieslings from the Old World with an Oregon twist, the Chehalem Three Vineyards Riesling is designed around capturing the complex flavors of three distinct estate vineyards—Stoller, Ridgecrest and Corral Creek—inside each bottle. This new release features fragrant floral aromas of jasmine, lemongrass, candied ginger, exotic fruits and slate. In the glass, the crisp and youthful flavors of green apple, sweet mango, papaya and accents of mineral and spice lead to an amiable sweet and tangy finish. The end result is a well-balanced wine that offers instant refreshment of the palate and lively flavors that pair nicely with a wide range of fresh cuisine. Terrific. www.chehalemwine.com
Chehalem 2015 Riesling, Corral Creek Vineyard, Chehalem Mountains $25 / 93 pts
Although he was not part of the original group of pioneers that planted the first Riesling vines in Willamette Valley in the 1970s, Harry Peterson-Nedry of Chehalem Winery has been one of the key leaders of the resurgence of Oregon Riesling movement over the past fifteen years. From the best blocks on the families Corral Creek Vineyard in the Chehalem Mountains, this fantastic new offering features tropical aromas interlaced with dazzling notes of candied fruit, honeysuckle, kerosene and wet stones. As the wine opens up, the complex flavors of white peach, poached pear, papaya, exotic melon and kiss of honey are balanced with a rich, smooth and viscous texture, zippy acidity, and a long, refreshing finish. In short, a dazzling example of a Oregon Riesling with a true sense of place in every sip. www.chehalemwine.com
Chehalem 2015 Riesling, Wind Ridge Block, Ribbon Ridge. $25 / 93 pts
As the name suggests, the Wind Ridge Block is located in a very windy section of the Ridgecrest Estate Vineyard, a high-elevation site in the Ribbon Ridge AVA. For that reason, the berries have a perfect balance of sweetness and acidity when they are picked. From the warm 2015 vintage, this new release with lofty floral aromas and generous flavors of candied mango, papaya and tangerine peel are further enhanced with underlying notes of fresh herbs, spice, mineral, and a long, seamless finish. Delicious now, the wine will continue to develop for years to come. www.chehalemwine.com
Cristom 2016 Riesling, Tunkalilla Vineyard, Eola-Amity Hills – $22 / 96 pts
Situated next to one of the classic Cristom Pinot Noir vineyards in the Eola-Amity Hills AVA; the Riesling blocks at the Tunkalilla Vineyard were developed by Brian and Ann Crosen in 2005. On the nose, this new release features fragrant floral aromas, accented with hints of ripe melons, beeswax, mineral and wild herbs. As the wine opens up, the lovely flavors of ripe peach, melon, golden delicious apple, raw coconut and citrus rind become more complex, concentrated and tangy. The end result is a world-class Riesling that is sophisticated, sexy, and definitely worth exploring in more detail.  www.cristomvineyards.com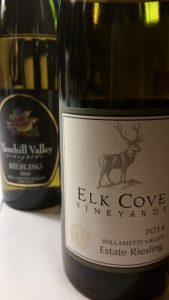 Elk Cove 2016 Estate Riesling, Willamette Valley – $19 / 93 pts
Crafted by talented winemaker Adam Campbell and the staff at Elk Cove Winery, near the quaint hamlet of Gaston in the northwestern segment of Willamette Valley; this elegant, food-friendly wine opens up with enticing aromas of fresh stone fruits, wild sage, honeysuckle, mineral and lime. The flavor profile is packed with lively notes of tart apple, ripe pineapple, candied mango, green tea, white pepper and fresh acidity, leading to a long crisp and refreshing finish. An easy Riesling to fall in love with—especially for the price.  www.elkcove.com
Lemelson Vineyards 2015 Dry Riesling, Estate Grown, Willamette Valley – $19 / 91 pts
Made with the fruit from the certified organic Meyer Vineyard on the hillside above Dundee, this dazzling new release from Lemelson Vineyards features aromas of lemon zest, dried flowers, ginger and ripe stone fruits. On the palate, the ripe and enchanting flavors of crisp green apple, tart pear and ripe pineapple are accented with notes of fresh lemon, Kaffir lime, mineral and a burst of racy acidity leading to a lean, dry finish. In addition to drinking great on its own; this is also a great wine to pair with fruit-based salads, shellfish, Vietnamese cuisine, and other delicate dishes. Great value too.  www.lemelsonvineyards.com
Love and Squalor 2014 Riesling, Willamette Valley – $20 / 86 pts
Need to get in touch with mother nature? If so, try this deep, vibrant and mature wine from Portland Wine Company. Made with premium fruit from older Riesling vines, this intriguing wine starts off with fresh and funky aromas of waxy fruits, dried flowers, lemongrass and tart citrus. In the glass, the flavor profile is anchored with ripe tropical fruits, mango, papaya and jack-o-fruit, as well as sweet and tangy notes lemon drops and key lime pie. While this creative wine is a departure from the more bright and fresh styles of Oregon Rieslings, it definitely offers plenty of personality, intensity and plenty of dense flavors that are tart and savory, instead of sweet and cloying. Pair with gourmet salads with tangy dressings, grilled veggies, stuffed mushrooms, Jamaican Jerk Chicken, roasted goat, and other styles of spicy cuisine. www.portlandwinecompany.com
Love and Squalor 2014 Sunnyside Vineyard, Willamette Valley – $20 / 85 pts
From the famed Sunnyside Vineyard planted near Salem in 1971; this stately single-vineyard designate wine opens up with vibrant notes of sweet and sour fruits, ripe citrus, earth, and exotic flowers. The flavor profile is layered with ripe stone fruits, raw sugar cane, honey and fresh herbs. Austere, intriguing, and an interesting pairing to try with rich cheeses, fresh mussels and fine Asian cuisine. Only 25 cases made. www.portlandwinecompany.com
Ponzi 2015 Riesling, Willamette Valley – $22 / 92 pts
Representing the 45-year anniversary of Ponzi Vineyard, one of the pioneer brands of Willamette Valley; the Ponzi 2015 Riesling is a true charmer to the senses. On the nose, the beauty and natural energy of this wine comes through with vibrant notes of ripe stone fruits, fresh jasmine, fresh herbs, tangy citrus and graphite. While zesty flavors of white peach, ripe apricot, lemon and tart lime pie provide the fruit core, the fresh acidity and delicate texture carry through to a long, satisfying finish. Fresh, elegant and full-bodied, it's a great Riesling to serve with goat cheese, fresh seafood, and richer, spicier dishes. www.ponzivineyards.com
Rain Dance 2016 Estate Riesling, Nicholas Vineyard, Chehalem Mountains. $22 / 89 pts
Taste-tempting scents of white flowers, ripe fruits, melon and lemongrass lead to refreshing flavors of ripe apple, lime and grapefruit, creamy texture, and lingering finish. Fun, fresh and approachable. www.raindancevineyards.com.
Yamhill Valley 2014 Riesling, McMinnville – $18 / 91 pts
The original Riesling blocks at Yamhill Valley Vineyards near McMinnville were planted on their own roots in 1983 and 1985. Therefore, as this wine deliciously demonstrates, there are advantages to having mature vines. As a very approachable medium-bodied Riesling, the flavors are framed with charming aromas of magnolia blossom, fresh cantaloupe, lemon and delicate Asian spices. Ripe, lively and expressive flavors of apple, tangerine, mango and lemon are balanced with a succession of sweet, tangy and creamy nuances leading to a clean finish. Lovely, complete, and convincing to the very last drop. www.yamhill.com