Following up from my last post Giving Thanks for the Famed Pairings of White Meat and Merlot, I am sharing a list of some of my favorite Merlots picks in 2019.  From elegant to ethereal, precious to powerful: Beyond offering great pairings with a wide range of dishes served on Thanksgiving and throughout the holidays, they are also wonderful wines that can be enjoyed with different styles of cuisine throughout the year.
Whatever you drink, hope you enjoy a tasty
Thanksgiving holiday from SawyerSomm.com!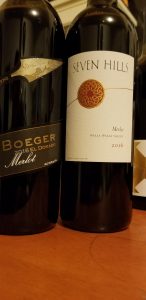 Boeger 2016 Merlot, El Dorado – $20
Greg and Susan Boeger are true pioneers of the Sierra Foothills and the first to open a commercial winery in what eventually became the El Dorado appellation in 1983. This new release is made with premium fruit from the estate and a smaller portion from higher elevation vineyards. Full-bodied with a crimson red hue, the wine opens with deep aromas of ripe red fruits are intermixed with lively notes of wild herbs, gunsmoke, potpourri, vanilla wafers, and baking spices. On the palate, distinct flavors of blackberry, black currants and plum are layered with charming notes of sage, milk chocolate, and roasted nuts.  Overall, a lovely wine with true mountain character. SawyerSomm 91 pts / www.boegerwinery.com
Goldschmidt 2017 Chelsea Merlot, Salmon's Leap, Dry Creek Valley – S24
Crafted by gifted winemaker Nick Goldschmidt with precious fruit from Dry Creek Valley. This wine is named after his oldest daughter Chelsea, the purity of the fruit and site shine through to the very last drop. On the nose, attractive aromas of red and black fruits are interlaced with fragrant notes of crushed violets, moist earth, almond rocca, and white pepper. As the wine opens up, the lush flavors of dark cherry, blueberry, blackberry and black currants are enhanced with notes of caramel, cranberry, licorice, and roasted hazelnuts. Powerful yet refined, a great candidate to serve during the holidays or any day of the year. Or, as Nick himself puts it, "a wine to be drunk around a quiet dinner table or a raging party." I agree! SawyerSomm 97 pts / www.goldschmidtvineyards.com
Seven Hills 2016 Merlot, Walla Walla Valley -$25
With over thirty years of experience working with Merlot grapes in the Walla Walla Valley, Seven Hills has become one of the leading brands of the Merlot movement in the Pacific Northwest. This new release features seductive aromas of bright red fruits, cocoa, fresh tobacco, and cedar box. In the mouth, deep flavors of black raspberry, dark cherry and plum are lifted with distinctive notes of clove and roasted black walnuts at the end. Broad, dry and very focused. With lush texture and chewy tannins, it's still a little tight as it opens up. But after a few swirls, it becomes more charming and sophisticated until the very last drop. SawyerSomm 95 pts / www.sevenhillswinery.com
Decoy 2017 Merlot, Sonoma County – $25 
Crafted with high-quality fruit from the moderate climate regions of Sonoma County. This young and juicy wine immediately dazzles the senses with attractive aromas of wild berries, blue fruits, peppermint, cedar box, and subtle spices. On the palate, generous notes of blackberry cobbler, blueberry pop-tart, boysenberry and dried cranberry are lifted with hints of vanilla, blood orange peel, and allspice. Lots of body with a silky texture, bright acidity, and long, tangy finish. In the end, a delicious Merlot that over-delivers for the price. SawyerSomm 95 pts / www. decoywines.com
Wander-Must 2016 "The Artist" Merlot, Sonoma Valley – $30
By definition the term "wander-must" means "to move about wine in an inquisitive and experimental way." And this Merlot, hand-crafted by rising star winemaker/proprietor Gianna Fugazi, lives up to those words, and then some. Made with high-quality grapes from a small parcel on the southern edge of Kenwood in Sonoma Valley, the wine opens up with sexy aromas ripe red fruits, anise and roasted nuts. On the palate, these distinctive notes are layered with rich flavors of ripe raspberry, dark cherry and a hint of milk chocolate that are balanced with a silky texture, soft tannins, and a long, dry finish. Generous and rewarding. Hands down, one of my favorite new brands of 2019. SawyerSomm 91 pts / www. wander-must.com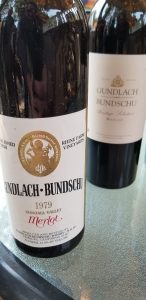 Gundlach Bundschu 2016 Merlot, Estate Grown, Sonoma Valley – $35
One of the early pioneer families of Merlot in California, the Bundschus have been growing this noble grape since the 1950s. After selling the fruit to Louis M. Martini for twenty years, they released their first vintage in 1976. It was the first wine to ever use the name of the varietal on the front label in Sonoma County. Lush and stately, this new release opens with alluring notes of blue and black fruits intertwined with wild herbs, mineral, tea leaf, and subtle spices. The fruit components continue to the palate with concentrated flavors of ripe blueberry, red currant, plum and dark cherry, layered with hints of chocolate bark, cardamom, and roasted nuts. SawyerSomm 94 / www.gunbun.com
Singer Cellars 2016 Merlot, Moon Vineyard, Napa Valley – $40
Made by classical musician-turned-winemaker Barry Singer with fruit from the Moon Vineyard in Napa Valley, this wine won a prestigious Double Gold at gthe San Francisco Chronicle Wine Competition earlier this year. With an attractive dark crimson hue, this stylish Merlot immediately seduces the senses with lively aromas of dark fruits, ripe plum, wild berries, dark chocolate, licorice, sandalwood and spice. On the palate, generous flavors of dark cherry, plum, dark currant and black raspberry are layered with nuances of dried cranberry, sassafras, cinnamon, nutmeg and roasted chestnuts. As the wine opens up, these robust flavors are balanced with a firm mouthfeel, smooth tannins, and a burst of tangy acidity leading to a long, gracious finish. SawyerSomm 91 / www.singercellars.com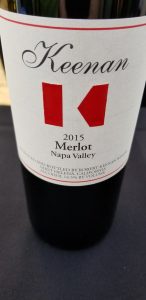 Keenen 2015 Merlot, Napa Valley – $44
From one of consistently great boutique brands of the Spring Mountain District. I recently tasted this admirable wine at the 2019 Napa Valley Film Festival. This current release is 68% from their high elevation estate property on Spring Mountain and the rest is from the moderate climate area in the Napa District of Carneros. Rich and fragrant, attractive scents of dark fruits, wild berries, black fig, dark chocolate dipped espresso bean, and cigar box. On the palate, generous flavors of dark cherry, cassis, briary blackberry and nicely integrated nuances of oak and spice the long, rewarding dry finish. Stately and complex. SawyerSomm 93 / www. keenanwinery.com
 Ceja 2015 Merlot, Estate Grown, Sonoma Carneros – $50
The Ceja Vineyards became the first Mexican-American family-owned winery in the region to make world class wines after making their first harvest in 1988 . Made with high-quality fruit from a special vineyard the family developed at the corner of Arnold Drive and Leveroni Road in Sonoma. This wine features an array of hi-tone aromas that include dark fruits, red fruits, cinnamon stick, clove, and fine oak. Flavors of blackberry, blueberry and cherry interlaced with hints of dark chocolate, roasted almonds and layers of spice. Overall, a fantastic wine with a velvety texture, soft tannins, and a finish that keeps on giving.  SawyerSomm 92 / www.cejavineyards.com
Grgich Hills 2016 Merlot, Estate Grown, Napa Valley – $56
From one of the true legends of the California wine industry Mike Grgich and his family, this wine is made with fruit from their biodynamically farmed vineyards in the cooler sections of American Canyon and Carneros in southern Napa Valley and a slightly warmer site in Yountville. In the glass, the wine opens up with distinct aromas of wild berries, vanillin, chocolate covered espresso beans, and Havana cigars. These nuances carry on to meld with concentrated flavors of ripe raspberry, cherry, red currant, blueberry and hints of wild herbs and cardamom. Full-bodied with bright acidity and chewy tannins. It's a wine that needs time to open up. Therefore, I would suggest decanting when young or simply age to maximize the pleasures this wine can provide. SawyerSomm 92 pts / www.grgich.com
Duckhorn 2016 Merlot, Napa Valley -$56
1978, Duckhorn Wine Company has been one of the leading producers in the United States and helped put Napa Valley Merlot on the global map. This includes a special series of single-vineyard Merlots, including the Three Palms, which won the top wine honor in the Wine Spectator in 2017. To capture this tapestry of flavors, the annual release of the Napa Valley Merlot is crafted with a selection of high-class fruit from different areas on the valley floor and mountains. Comprised of 77% Merlot, 22% Cabernet Sauvignon and tiny amounts of Malbec and Petite Verdot, the wine starts with aromas of ripe berries and dark fruits are layered with notes of dark tea, brioche, licorice, and cedar. The palate is rich and concentrated with delicious notes of wild strawberry, cassis, dark cherry, dried blueberry, as well as noticeable hints of savory spices on the finish. These luxurious flavors are balanced with soft tannins and the wine gets bigger and even more generous with more time in the glass. Yet there is also that perfect amount of freshness that remains until the very last sip. Stately, complex and layered. SawyerSomm 97 pts / www.duckhorn.com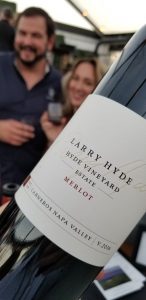 Hyde Estate 2016 Merlot, Estate Grown, Carneros – $85
From Larry and Chris Hyde, the family that started growing grapes in Carneros in 1979. Happy to say I tasted this wine with Chris at the nice pouring done by the members of the Carneros Wine Alliance at the Napa Valley Film Festival at the Oxbow Commons in Napa. Glorious scents of wild berries, lavender, violets, licorice, and maple. On the palate, the wine opens up with dynamic flavors of briary blackberry, red currant, ripe plum, chocolate truffle, and a long, rich and rewarding finish. Overall, a fantastic wine with plenty of weight, balance, and purity of fruit that becomes even more captivating after each sip. SawyerSomm 94 / www.hydewines.com
The Cowgirl and The Pilot 2016 Merlot, Oak Knoll District of Napa Valley – $90
This deep, rich and complex wine from Trefethen Family Vineyards is an ode to the founders Janet and John Trefethen, who were a former California Rodeo Queen and a young Navy veteran when they fell in love after a sharing a bottle of wine in 1973. Made with the finest lots of Merlot from the family's estate vineyard in the Oak Knoll District of Napa Valley. The wine delights the senses with lofty scents of ripe berries, blueberry, sarsaparilla, leather, exotic spices, and toasted cedar. On the palate, the robust flavors of dark cherry, black plum and ripe blackberry are complimented by undertones of dark chocolate nibs, dried lavender, mineral, and smoke. Deep, rich and opulent, with balanced tannins and firm structure. A world-class Merlot that shows more depth and detail with more time in the glass or decanter. SawyerSomm 93 pts /www. trefethen.com
Pahlmeyer 2016 Merlot, Napa Valley- $90
Crafted with fruit from Pahlmeyer Estate Vineyard and Rancho Chimiles, which sit at 1,800-2,000 feet on the Vaca Mountain Range. Full-bodied with broad shoulders, this wine opens up with classic mountain aromas of blue and dark fruits, Mexican baking chocolate, black olive, allspice, and woody accents. Complex flavors of ripe blueberry, ripe fig, licorice, dark chocolate, wild sage, rosemary, roasted walnuts. Big, bold, vast and spicy. Powerful, intense and captivating in every sip. Superb. SawyerSomm 95 pts /www. pahlmeyer.com