Every wine competition has its own unique shtick. Some are focused on specific varietals or regional specialties; while others are concentrated on wines from around the globe at different price points.  For these reasons, it's very rare to find a large-scale competition that is solely focused on high-end wines. An exception to this rule is the American Fine Wine Competition.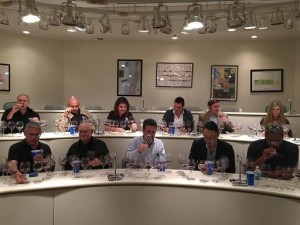 In mid-January, myself and twenty-three extremely qualified wine professionals from all areas of the wine and food industry were put through the test of judging 770 high-end wines at the 9th Annual AFWC held at the Chaplin School of Hospitality Management in the Wine Spectator Restaurant Lab at the Florida International University in Miami.
Co-founded by Shari Gherman and Monty & Sara Preiser in 2007, the AFWC has become one of the most influential wine events in the country over the past decade. The competition is followed by the annual Charity Wine Gala which takes place in April. There is also a series of Wine & Business After Hours events that raise money for a variety of non-profits and promote award-winning American wines throughout the year.
Since its inception, AFWC has raised more than a million dollars for local charities. The organization also works closely with the Dolphins Cancer Challenge, an organization founded by Michael Mandich, whose father Jim "Mad Dog" Mandich, a popular player for the Miami Dolphins and a beloved broadcaster, died of cancer in 2011.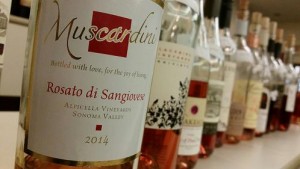 "We are also proud that most other competitions charge $25 – $75 for each bottle of wine entered, garnering big profits for the organizers. We charge nothing, and all profits realized go to charity. Few can make such a statement," says Gherman, the president and co-founder of the organization.
In addition to myself and Dr. Barry Gump of FIU (who I annually judge with at the San Francisco Chronicle Wine Competition), some of the other well know judges included Masters of Wine Dr. Liz Thach and Peg San Felippo; Master Sommelier Virginia Philips; internationally renown sommelier and wine educator Charlie Arturaola; Wine Director Kris Margerum from Auberge du Soleil in St. Helena; East Coast wine sales experts Veronica Litton and Scott Caruso; and Patrick Sullivan, editor of DINE Magazine.
In the end, the top awards for 2016 went out to a fabulous mixture of producers from northern California:
Best of Show Sparkling Wine (Tie): Signal Ridge, Anderson Valley ($25) and Breathless Blanc de Noirs, North Coast ($30) Best of Show White Wine: Rivino 2014 Pinot Blanc, Mendocino ($25) Best of Show Red Wine: Luna 2013 Canto Super Tuscan Style, Napa Valley
($70)
Best of Show Sweet/Dessert Wine: Castello di Amorosa 2013 LH Gewurztraminer, Anderson Valley ($39 – 375ml) In addition to California, there other top wines entered in the competition from Virginia, Maryland, New York, Texas, Oregon and Washington State. The complete list of the Best of Class winners and all the medalists will be out next week on www.AmericanFineWineCompetition.org.
In the meantime, to get your taste buds primed for the great results from the AFWC, here are my notes on for some of my favorite gold and double gold medal wines that I tasted at the two days of judging in Miami. Enjoy! -CS
High-end Chardonnays
Miner Family 2012 Chardonnay, Wild Yeast, Napa Valley: Complex flavors of ripe pear, apple, citrus and creamy custard accented with notes of cinnamon, nutmeg, pumpkin spice and roasted nuts. Elegant texture with plenty of depth, structure, and length, ($50). DOUBLE GOLD www.minerwines.com
Lobo Wines 2014 Chardonnay, Wulff Vineyards, Oak Knoll District, Napa Valley: Sultry combination of golden delicious apple, melon, white peach, coconut, lemon and grapefruit. Bright, expressive, lovable ($60). DOUBLE GOLD  www.lobowines.com
Shadowbox 2013 Chardonnay, Forty-Sixth Leaf, Oak Knoll District, Napa Valley: Sweet fruit notes of ripe melon, apple, citrus, banana cream pie, chamomile and subtle spices lead to a lingering finish. Superb! ($60). DOUBLE GOLD  www.shadowboxcellars.com
Fisher Vineyards 2012 Chardonnay, Mountain Estate, Sonoma County: Lovely aromas of spring flowers, honeysuckle, ripe melon, citrus, vanilla and toasty oak; elegant flavors of poached pear, Crenshaw melon, peach, mineral, and roasted almonds; smooth mouthfeel; and long finish. ($70). DOUBLE GOLD www.fishervineyards.com
Coastal Pinot Noirs
Castello di Amorosa 2014 Pinot Noir, Il Rubino, North Coast: Pretty nose and complex flavors of ripe blueberry, candied red fruits, earth and spice ($39). DOUBLE GOLD  www.castellodiamorosa.com
Calstar Cellars 2012 Pinot Noir, Sangiacomo Vineyard, Sonoma Coast:  Elegant and fruity, with notes of wild, berries, cherry cola, ripe plum, cinnamon, nutmeg, licorice and smoked meats; vibrant acidity, and a rewarding finish ($40). DOUBLE GOLD www.calstarcellars.com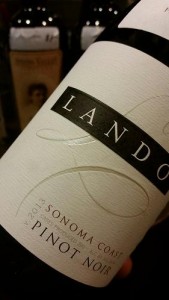 Lando Wines 2013 Pinot Noir, Sonoma Coast: Sophisticated Pinot with concentrated flavors of blackberry, dark cherry, blueberry, mineral, and silky tannins. Dense, spicy and generous($42). GOLD  www.landowines.com
MacPhail 2013 Pinot Noir, Sangiacomo Vineyard, Sonoma Coast:
Well-balanced wine with vibrant flavors of black raspberry, cherry, blackberry, and layers of spice ($49). GOLD  www.macphailwine.com
Lichen Estate 2012 Pinot Noir, Estate Grown, Lichen Estate, Anderson Valley: Dark berries, raspberry, plum, mint, vanillin, and forest floor.  Beautiful Burgundian-style wine with a rustic twist ($65). DOUBLE GOLD www.lichenestate.com
Donum 2013 Pinot Noir, Angel Camp Vineyard, Anderson Valley: Rich flavors of blackberry, blueberry, dark cherry, blood orange peel, wild herbs, and mineral. Gracious, complex and ageworthy ($72). DOUBLE GOLD www.thedonumestate.com
Alquimista Cellars 2014 Pinot Noir, Manchester Ridge, Mendocino Ridge:  Wild strawberry, red cherry, clove, tangerine rind, and a linger finish ($75). DOUBLE GOLD  www.alquimistacellars.com
Napa Valley Cabernets
Triumph Cellars 2013 Cabernet Sauvignon, Napa Valley: Young, vibrant wine with layers of ripe raspberry, dark cherry, plum, cocoa, wild herbs, and a burst of bright acidity on the long, engaging finish ($40). DOUBLE GOLD www.calistogacellars.com
Triumph Cellars 2012 Cabernet Sauvignon, Reserve, Napa Valley: Rich, lively and extremely balanced. Deep flavors of dark berries, cherry, cassis, vanilla, smooth texture, and toasty oak ($52). GOLD
www.calistogacellars.com
Roberts & Rogers 2013 Cabernet Sauvignon, Howell Mountain: Concentrated notes of black raspberry, blueberry, cassis, maple, black pepper and wild mountain herbs ($55). DOUBLE GOLD www.robertsandrogers.com
Lagniappe Peak 2013 Cabernet Sauvignon, Pere, Napa Valley: Rich texture with dark berries, black currant, bittersweet chocolate, layers of spice, chewy tannins, and a persistent finish ($75). DOUBLE GOLD. www.lagniappepeakwines.com