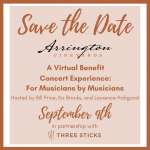 Local winery Three Sticks in partnership with Arrington Vineyards of Tennessee to bring you this Virtual Benefit Concert Experience: For Musicians by Musicians on Sept 9th, 5:30 PST. Hosted by Bill Price, Laurence Hobgood, and Kix Brooks of Brooks and Dunn, this free concert will be an evening of dancing, philanthropy, and of course wine that is not to be missed! REGISTER HERE!
EXTRA BONUS: The Arrington Vineyard KB 11*17 bottles, especially autographed for this event, are on sale now as well as Three Stick's concert pack. Proceeds benefit Sweet Relief's COVID-19 Fund to help musicians in need.
Extra-Extra Bonus? Watch CellarPass TV with Arrington Vineyards which aired in April, featuring Sawyer Somm. Stay tuned for more episodes coming this fall, ENJOY!