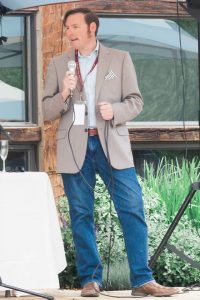 Christopher Sawyer is an internationally-renowned sommelier, wine educator, journalist, consultant, critic and public speaker: He travels the world following trends in wine and participating as a VIP judge in the world's top wine competitions, and has been featured in a wide range of national media, including USAToday, MSN, NBC, ABC, CBS, Redbook, The Hollywood Reporter, Maxim, National Geographic Traveler, CNN and Esquire.
Already legendary in the industry for his encyclopedic wine knowledge and rich wine industry relationships around the globe, Sawyer has been a personal sommelier for an array of luminaries and aficionados, from the Getty Family to the Gorbachevs, as well as for Oscar-winning director and chief creative officer of Pixar-Disney Animation Studios, John Lasseter.
Christopher has also become renowned for his unusual and entertaining ability to pair wines with just about any pop cultural experience. His wine pairings for movies are already celebrated, and have been featured in major national media.
Less well known to the public, but famous among wine world insiders, are his wine and music pairings. A popular college radio DJ while at UC Davis, he partnered with DJ Shadow and others to create some of the most buzzed-about music sets for his listeners during those years. Now, he's become legendary for secret midnight sessions held in the cellar of his 19th Century Sonoma County farmhouse, where star winemakers, celebrity chefs, restaurateurs and lucky friends taste pairings from his extensive international wine collection matched to selections from his incredible stash of rare and cutting edge vinyl.
Sawyer is the recipient of many prestigious awards and industry honors. Most recently he was voted Best Sommelier in Sonoma County by readers in The Bohemian's Best of the North Bay issue 2014 through 2023.