Here is Part Two of my conversation with superstar Master Sommelier and winemaker Larry Stone of Lingua Franca in Oregon! Watch and read this additional discussion on The Varietal Show.
My interview begins here & video further below: CHRIS (to Larry):  Estate is the flagship wine of this property, of the brand. It's a great example of Oregon and the potential of Oregon is.  We are celebrating Oregon Wine Month, but the fact is every month is Oregon Wine Month.  
You started winning at the Wine & Spirits Top 100, you've been pretty consistent, you have been there many times in just a small amount of years that you have been bottling these things. Tell everyone a little bit about the estate wine and why it is a composite of the different parts of the estate, why some up on the hill, some down here, you have different clones, but how do you put this together and why is it consistently delicious?
LARRY: Before I planted this I had some experience of planting vineyards or managing vineyards and wineries so I looked at the soil and I looked at the maps that we had available on the different soils we had, and I knew from our experience right across the road because this vineyard, the upper blocks of this vineyard, are a direct continuation of Seven Springs so I go, OK in this part it's going to be lower yielding, it's going to be more expressive, more powerful, instead of planting something that's more productive like Pommard up here I am going to plant these clones, and Massale selection of sub-clones from vineyards, that reflect the power and potential yields that these sites will have, as well as the nuances so in some parts I planted 777, in others Calera, in others 943 & 115. They reflected the individual soil structures and potential, and I think the potential complexity of each clone within that block, so when we get to The Plow . . . (continues below)
(Watch Part One of my Lingua Franca conversation with Larry Stone on EP #47 of The Varietal Show!)
The Plow is planted on what I thought would be the most complex, and most valuable soil we had in the whole vineyard and my estimation was justified by Pedro Parra when he came into the vineyard, that's the best part: That was a scientific analysis and mine was more intuition based on experience evaluation. But I had 23 blocks all planted in different combinations of clone and root stock, and the upper blocks are pretty much notoriously, and frustratingly to some people in my company, lower yielding but that's part of the structure of the soil as well as the clones I planted.
On the lower blocks where we have Jory soil, so everything is volcanic based, which is 4-8 feet deep, Jelderman blocks are 2-4, some are less than 2, but on the lower blocks the top is 2-4 where my Chardonnay, on the top of the lower blocks, but the rest goes into Jory then there's even some wood burnt, there's sediment that washed over on the bottom north side, and then on the bottom south side there's volcanic soils again that are a little different called Helvetia.So I planted on Helvetia, I planted 667 which I thought could be moderately sized berries but have a lot of spice. I planted Pommard on Jory soil that had wood burnt parts on it.
They all worked out beautifully so there are all these personalities that reflect the place within the vineyard. Microscopic structures of the soil that vary one from another. So as a result every block has a slightly different profile, and when we make the estate we try to get the best of the vineyard, the most expressive, so that means the upper block, because the lower yield, the more concentrated but also more expressive, less of fruit but of mineral, of savory floral notes.

CHRIS: We were just tasting the savoriness, it was so interesting, we tasted the estate which is just very complex. It is probably the one you can get your hands on the most, you produce the most of that and it is really the composite. But as you get into The Plow: The Plow is a very interesting wine, it's got a lot of personality as we saw, we tasted one that was open a couple days, it was very showy. Whereas we popped open a new bottle, that savoriness was so cool you and I were kinda buggin' on it. There's the Chinese 5 spice and then there's some unami mushroomy kinda thing going on, but there's fruit and it started to open up. These are very complex wines that really exemplify the place, and in that case it's 777 just the one clone by itself
You hear three digits together 777, 115, 667, 828: It is so interesting that these are all Dijon Clones thanks to Oregon State University which is just down the road here in Corvallis, and a really interesting project but that one exemplifies exactly what a wine is supposed to do if it is a very world-class wine. It is not supposed to taste one dimensional, it is supposed to expand as it opens up in the glass and as we saw here with a couple of days in the bottle it was like amazing wine but you were saying it was supposed to punch you in the face sometimes, but this one was kind of delicate and it was showing some individual traits, it just kind of wanted to be our friend today. Whereas sometimes you have to be patient and that is hard with wine, especially great wine sometimes, but you do, that's a complex wine. That was fun this morning.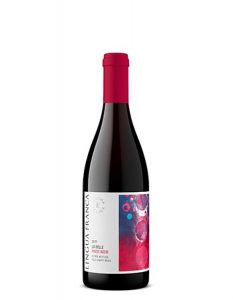 LARRY: This is interesting to see all the variations, and the estate is kind of like the composite of the best that we have that year, but it has to include lower block wine from Pommard because otherwise it will be very mineral, probably beyond the expectation of what most people would expect for a New World wine. And the fruit quality of the Pommard from the bottom is absolutely wonderful as well. We have made a Cuvee of it by itself, we call it La Belle because it was so pretty, but it is complex too.
So all the fruit here because of the place, the way we treat the vineyard, we have not disturbed the microbiome in the soil, we keep promoting it by not tilling very much, in fact we didn't till enough probably for a while. We didn't till for 6 years, the idea is that you keep the microbiome intact and then those bacteria, those microscopic organisms in the soil, they really help to increase the complexity of the wine in a way. You mentioned earlier in our conversation about the leaves, the natural surroundings, we have fir needles that may fall on part of the vineyards where this is closest to. But on the whole it is really coming from the microbiome, but also the macro, the biosphere around us, we have wild animals all over here, we have foxes, deer, rabbits, moles, voles, gophers, hawks, owls. Owls kind of like our buildings, we have lots of owls we have to clean up from them every day, they eat a lot of the mice so they keep it in check.
~FIN~ Thanks everyone for reading! Chris & Larry