As the glowing colors of summer change to the brilliant hues of autumn, it seems rather fitting that August 31 represented International Cabernet Sauvignon Day and the last official day of the extremely successful Washington State Wine Month. Twenty years ago, if you would have mentioned Washington State, my mind probably would have focused on vivid images of downtown Seattle, the Space Needle, Pike's Market, Pugent Sound, loud grunge rock songs and SubPop records, roasted coffee beans, some hip micro-breweries on the rise, and a maybe a handful of popular Riesling and Merlot releases from big wine brands like Chateau St. Michelle and Hogue Cellars.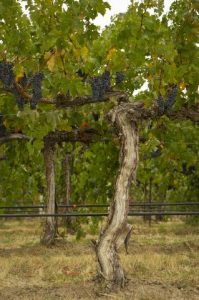 Today, the interest in the state has shifted dramatically. For beyond the well-known revenue-generating companies like Amazon, Starbucks, Microsoft and the Seattle Seahawks, Washington has earned a reputation for its wide range of fresh seafood coming from the coast; the hot new "farm to table" styles of fine cuisine born in the Seattle area; and the fact that the state has become the nation's top producers of hops, apples, and other yummy agricultural products primarily grown in the warmer zones east of the Cascade Mountains.
Luckily, these risks-meet-rewards scenarios have paid off for the Washington wine industry too. This exciting new growth has been led by the expansion of vineyards planted in the Columbia Valley, Yakima Valley, Walla Walla Valley, Red Mountain and the other ten appellations located within the borders of the state over the past two decades. As a result, Washington now ranks #2 in the nation, behind only California, in terms of production of fine wines.
While it's true that Merlot vineyards led the first wave of large-scale plantings in the 1980s and 1990s, the more recent focus on Cabernet Sauvignon and Rhone varieties like Syrah, Grenache and Mourvedre has helped diversify the styles of wine being made by producers, both big and boutique, who now call Washington State home. Therefore, as the strength of the great sites began to shine, the real turning point came when the winemakers began to put more emphasis on crafting more elegant and refined styles.
A person who watched these transitions happen is veteran winemaker Charlie Hoppes, who started making wine for Chateau St. Michelle and young brands like Snoqualmie, Waterbrook and Canoe Ridge in the early 1990s. After joining forces with the Antinori family of Tuscany to help make some of the early vintages of the highly-touted Col Solare wines from 1995 to 1998, Hoppes went on to start started his own brand Fidelitas in 2000. Since then, he has gone on to make a wide range of Cabernet and Merlot-based wines with fruit from revered sites that include the Ciel Du Cheval Vineyard, Quintessence Vineyard, and vines planted on his own estate property in the Red Mountain appellation.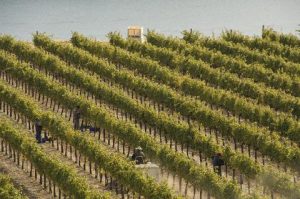 This harvest will be Hoppes's 30th vintage in Washington. From the soil to each bottle he produces, Hoppes says his goal has always been to produce world-class wines with unique flavors. For that reason, he sees great opportunities for red grapes to flourish even more in Red Mountain and the greater Columbia Valley.
"As the vines mature, we've started to grow more ultra-premium red grapes that have that true Washington character. For these reasons, it's great to see other wineries using more artisan winemaking practices to let the flavors speak for themselves."
With these thoughts in mind, below is a list of some of my favorite picks of Cabernets, Merlots, and Bordeaux-style or Proprietary blends that I've tasted over the past year. Stay tuned for my upcoming article on Rhone style wines from Washington State this fall too. In the meantime, for more information about these fantastic styles of wine, upcoming events and travel ideas; check out the Washington State Wine Commission Website, www.washingtonwine.org.
Bordeaux Varieties
Maryhill 2014 Cabernet Franc, Columbia Valley $20 / 90 pts
Family-owned and operated since 1999, Maryhill was the Winery of the Year at the prestigious San Francisco International Wine Competition in 2014. While they are known for their silky smooth Merlot and many other specialty wines available in restaurants and retail shops across America; one of their small production gems is the 2014 Cabernet Franc, which was made with pristine fruit from the Tudor Hills Vineyard (89%) and Gunkel Vineyard (11%). Accented with fragrant notes of ripe berries, rose petals, cinnamon and clove, the profile is highlighted with vibrant notes of red currant, blueberry, licorice, chocolate, roasted nuts, and layers of spice at the end. Pleasurable on the palate and a compliment to with grilled veggies, pasta, and roasted meats. Great American version of Cabernet Franc, especially for the price! www.maryhillwinery.com.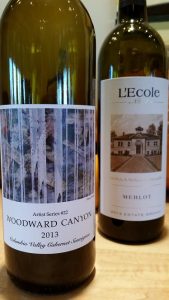 L'Ecole No 41 2014 Merlot, Estate Grown, Walla Walla Valley $36 / 92 pts
From the time Marty and Megan Clubb produced their inaugural release of Merlot in 1983 to the present, L'Ecole No. 41 has earned a reputation for crafting wines with a brilliant balance of power, elegance and finesse. In keeping with the tradition of being one of Washington State's top Merlot producers, this new release was made with world-class grapes grown on the hallowed estate grounds at Seven Hills Vineyard and Ferguson Vineyard. Once the cork is popped, the wine soothes the senses with alluring whiffs of dark fruits, allspice, dried lavender and earth tones. The flavors are equally generous with lavish tastes of ripe plum, black cherry, pomegranate, supple texture, and a burst of tangy acidity leading to a long, reward finish. www.lecole.com.
Amavi Cellars 2014 Cabernet Sauvignon, Walla Walla Valley $33 / 92 pts
As a special side project Pepper Bridge, one of the pioneer wineries of Washinton State and Walla Walla Valley, a selection of special sites and gifted Swiss Winemaker/Partner Jean-Francois Pellet; this scrumptious new release is made with Cabernet and smaller fractions of Cabernet Franc, Merlot and Malbec from a set of sustainably farmed estate vineyards: Pepper Bridge, Seven Hills, Summit View, Les Collines, Octave and Goff. With the use of only 24% new oak barrels, this wine is bursting at the seams with fresh aromas of red and black fruits, cocoa, baking spices, and toasted hazelnuts. On the palate, the dynamic flavors expand with vibrant notes of ripe blackberry, black raspberry, dark cherry, fresh plum and pepper, complimented with velvety tannins and a long, smooth finish. Charming, sophisticated and very food-friendly, it's a great Cabernet to pair with fine cheeses, grilled veggies, fresh pasta with wild mushrooms, grilled meats and sausages, and savory stews. One of the finest 2014 releases I've tasted for under $35 per bottle. One again, proving that quality and price do matter!
Woodward Canyon 2013 Cabernet Sauvignon, Artist Series #22, Columbia Valley $59 / 94 pts
If you are looking for a sophisticated red wine to share with close friends, family or to simply age in the cellar, then I would suggest getting your hands on some bottles of the Woodward Canyon Artist Series. Located next to the historic L'Ecole No. 42 Schoolhouse and near the quaint town of Lowden in Walla Walla Valley; the proprietors of Woodward Canyon started making this special series of red wines in the 1990s. When I visited the winery at the conclusion of the 2016 harvest, I got to taste the 2013 Artist Series #22, which is made with the high-quality fruit from the estate and other distinguished sites that include Champoux Vineyard, Sagemoor Vineyard, Charbonneau, Discovery, Spring Creek and Summit View. Ensconced with a stylish label featuring a provocative modern painting by local artist Diana Wooley; this gorgeous bottle contains a blend of 87% Cabernet Sauvignon, 11% Petit Verdot and 2% Cabernet Franc. Past the lofty aromas of dark fruits, black olive, licorice and a hint of smoke; the concentrated flavors of ripe blackberries, dark plums, currants and fresh cranberries are integrated masterfully with notes of fresh herbs and spicy oak, fine tannins, rich texture, and a graceful finish. The end result is an expansive wine that becomes even more complex and elegant as it opens up in the glass. A true collectable gem from Washington State.  www.woodwardcanyon.com
Col Solare 2014 Cabernet Sauvignon, Red Mountain $75 / 93 pts
Let's face it: When a big name Italian wine family wants in, you know you're doing something right. In Washington State, such was the case when the well-respected Antinori family of Tuscany formed a partnership with Chateau Ste. Michelle to make the the first vintage of Col Solare wine with fruit from the Red Mountains region in the 1994. To mark the 20-year anniversary of the brand, the new release is comprised of 85% Cabernet Sauvignon, 9% Cabernet Franc, 4% Merlot and 2% Syrah. The end result is a powerful, elegant and refined wine highlighted with deep flavors of dark cherry, ripe currents, cassis, cocoa, vanilla and roasted walnuts. To add more complexity, the profile is enhanced with a supple, creamy texture and lingering notes of fresh sage, dried berries and allspice. While this wine is definitely worth cellaring; it's also admirable it tastes when young, especially when its paired with grilled steaks, rack of lamb, hard cheeses, and flourless chocolate cake with fresh berries.  www.colsolare.com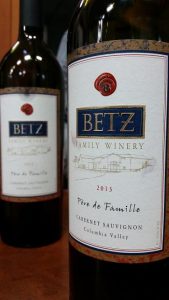 Betz 2013 Pere de Famille Cabernet Sauvignon $80 / 95 pts
In hindsight, 2013 was an early vintage which meant the pure varietal flavors were balanced with plenty of natural acidity and pH to help create fine tannins and the structural integrity the winemaking team at Betz Family Winery is always gunning for when they start crafting their annual release of the Pere de Famille Cabernet Sauvignon. Stylish, heady and opulent; the profile of this new release is highlighted with floral aromas and deep flavors of ripe blackberry, red currents, blueberry, cassis, crushed peppercorns, lavender and fresh violets. Add in a silky texture, firm tannins and a long, dry finish lifted with subtle nuances of tobacco, leather and fine French oak, and you have a pristine wine that is graceful, seamless and ageworthy. Hands down, one of my favorite Cabs of this past year. www.betzfamilywinery.com
Bordeaux Blend/Proprietary Blends
Bookwalter 2014 Suspense Red Wine, Conner Lee Vineyard, Columbia Valley $60 / 94 pts
Looking for a sexy wine? Then try the Suspense Red Wine from by J. Bookwalter . Crafted by gifted winemaker Caleb Foster, this brilliant blend of Merlot 65% and Cabernet Franc 35% immediately seduces the palate with fragrant scents of wild berries, fresh herbs and spicy cedar. In the glass, the flavors are equally stimulating with deep notes of ripe raspberry, black cherry, huckleberry, black tea, cardamom and dark chocolate. Sexy and debonair from start to finish. In addition to pairing nicely with red meats, rich sauces and blue cheese, this wine is also fun to taste side-by-side with its mate, the J. Bookwalter 2014 Protagonist Red Wine ($60), a blend of Cabernet Sauvignon and smaller portions of Syrah and Malbec. www.bookwalterwines.com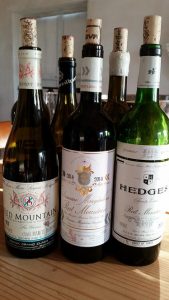 Hedges Family Estate 2012 Red Mountain Estate Red Wine, Estate Grown, Red Mountain $35 / 92 pts
As in the years past, the core of this flagship wine from Hedges Family Estate is based around Cabernet Sauvignon (60%) and Merlot (26%), with smaller amounts of Syrah, Cabernet Franc and Malbec. Interlaced with spicy notes generated by the use of French, American and Hungarian barrels; this stunning wine has a dark purple hue and generous helpings of dark berries, cherry, licorice, savory spices, bright acidity, chewy tannins, and yet still preserves that true sense of place. better yet, the earth tones on the smooth finish also make this a great wine to pair with everything from fine cheeses and risotto with wild mushroom to seared duck breast with a wild berry reduction sauce or slow roasted meats garnered with fresh herbs and savory spices. www.hedgesfamilyestate.com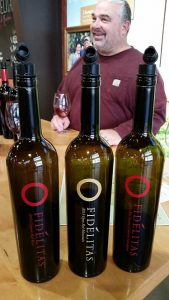 Fidelitas 2014 Optu Red Wine, Red Mountain $50 / 92 pts
As the signature red wine from Fidelitas Winery, a boutique brand started by longtime winemaker Charlie Hoppes in 2000; this new release is made with 73% Cabernet and smaller lots of Merlot (15%), Petit Verdot (8%) and Cabernet Franc (4%). In the glass, fragrant aromas of ripe red fruits, cocoa, sage and cedar lead to plush layers of black raspberry, dark cherry, blueberry, fresh currants and a kiss of bittersweet chocolate on the finish. To compliment these deep, rich flavors, the tannins are also nicely balanced and the firm structure makes it a great wine to drink young or cellar for more than a decade. www.fidelitaswines.com
Novelty Hill 2014 Cascadia Red Wine, Columbia Valley $50 / 91 pts
This spirited proprietary blend is comprised of 52% Cabernet Sauvignon from Quintessence Vineyard, 45% Merlot and 2% Malbec from the Stillwater Creek Vineyard, and aged in 50% new oak. With a dark purple-blue hue, the wine opens up with a nice mixture of expressive aromas and deep flavors of ripe blackberry, cassis, fresh blueberry, baking spices, roasted espresso, and lovely notes of dark chocolate truffle and fresh sage which gracefully appear on the finish. With a brilliant combination of vibrant acidity, velvety texture and firm structure, this wine is tasting great young and worthy of aging for 10-15 years. www.noveltyhilljnuik.com