Continuing my reflection on The French Adventurers: Burgundians Making Pinot Noir in Oregon, the Grand Seminar event at the 31st Annual International Pinot Noir Celebration, some background on French-born winemakers Dominique Lafon, Alexandrine Roy, Jacques Lardiere and Jean-Nicolas Méo.  As well as some reviews of their exciting Oregon wines!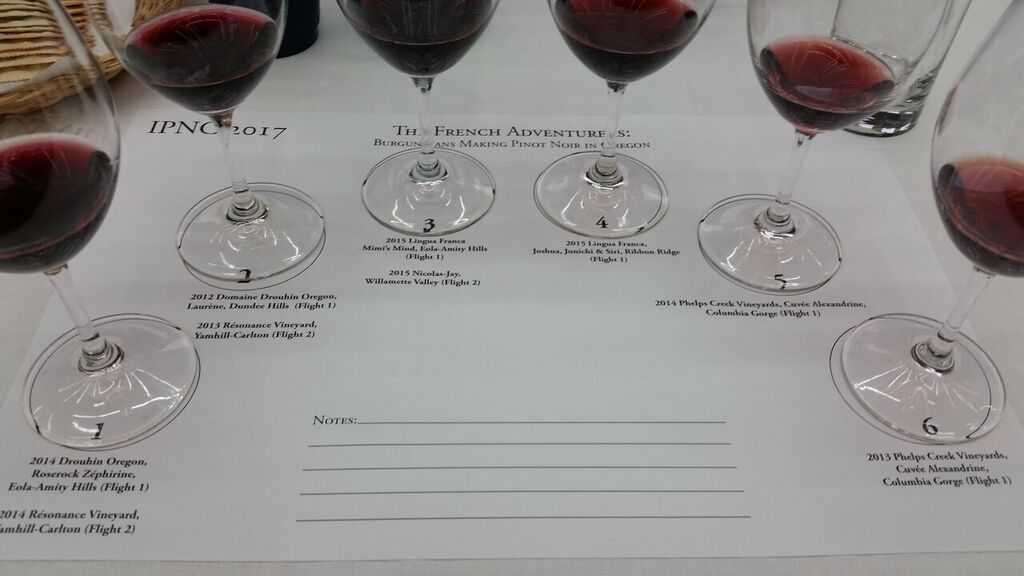 Dominique Lafon – Lingua Franca, Eola-Amity Hills
As the namesake, wine director, and winemaker of one of the great estates of Meursault, Dominique is a descendant of Jules Lafon, who created the revered wine festival, La Paulée.  After taking over the family's winery in the 80s, Dominique revitalized its red and white winemaking approach in the 1990s.  As an adventurer, Dominique's first visits to the Willamette Valley occurred in the 1990s.  And as the connections between Oregon and Burgundy became stronger, he fell in love with the property that eventually became the Seven Springs Vineyard in Eola-Amity Hills, which is now home to the base fruit that he and partners Master Sommelier Larry Stone, co-winemaker Thomas Savre and CFO David Honig work with for the Lingua Franca label.
Lingua Franca 2015 Joshua, Junichi & Siri, Ribbon Ridge – 92 pts
The name of this wine is a tribute to the valiant workers who made this vintage happen in 2015.  This full-bodied wine starts with alluring aromas of black raspberry, cherry and earth, which lead to expressive flavors of ripe berries, black plum, a kiss of French oak, and a long dry finish. $50
Lingua Franca 2015 Mimi's Mind, Eola-Amity Hills – 94 pts
Named after Mimi Casteel of Bethel Height Winery and Vineyard, founded in theEola-Amity Hills in 1977; this special vineyard selection included a percentage of whole clusters, which added more layers of flavor, structure and balance to the finished wine. The end result is a very complex Pinot Noir with concentrated notes of blackberry, cola root, dried strawberry, fresh violets and lavender. Still very young, but deep, dense and rewarding. $90.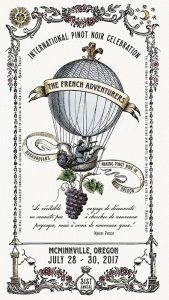 Alexandrine Roy – Phelps Creek Vineyard, Hood River
As proprietor, winemaker, and the fourth-generation member of a family that has been farming in the famed Burgundy region of Gevrey-Chambertin, Alexandrine Roy of Domaine Marc Roy made her first visit to IPNC in 2004. Three years later she met Bob Morus, who was starting an adventurous Pinot Noir program in the Columbia Gorge, a few hours east of Portland. After being approached by Bob, Alexandrine was hesitant about taking part in the project since she was committed to making wine in Burgundy.  But after seeing the beautiful property near the quaint town of Hood River and realizing there was nearly a month between harvest dates in Europe (early September) and Oregon (early October); she agreed to take part in this unique project. Today, Alexandrine crafts the Philips Creek Pinot Noir primarily with grapes from the Pommard vines that are influenced by the volcanic soils, warm days and chilly nights. "My goal is to make something distinctive that expresses the site I'm working with," says Roy.
Phelps Creek Vineyards 2014 Cuvée Alexandrine, Columbia Gorge / $54 – 92 pts
Complex wine with rich flavors of dark fruits, wild berries, fresh fungi and a true sense of this special site influenced by the surrounding forest, volcanic soils and moderate temperature in the area of Hood River, Oregon.
Phelps Creek Vineyards 2013 Cuvée Alexandrine, Columbia Gorge / $54 – 94 pts
Although 2013 was a challenging vintage in western Oregon, the pristine blocks of the Pommard grapes planted inland on the 34-acre Phelps Creek Vineyard near the small town of Hood River had a long, balanced ripening season. The end result shows in this elegant wine layered with generous flavors of ripe red fruits, wild strawberry, rhubarb, mineral, earth tones and rustic spices. In the end, the only downside to this wine is the fact that it's still rather young and taunt. For that reason, decant if serving it over the next couple years or simply age in the cellar for up to 15 years.
Jacques Lardiere, Resonance Vineyard, Yamhill-Carlton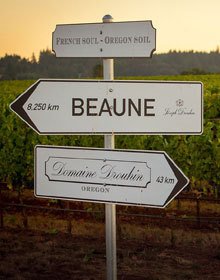 Jacque Lardiere is a stud, but you'd never know it at first glance. With a full head of white hair, he's a fun man to be around. But when you bring up the topic of Pinot Noir, you quickly realize the advantage he had working with prestigious grape at Maison Louis Jadot near Beaune for 37 years  when he talks about working with fruit in Willamette Valley. For that reason, Jacque has a very Burgundian approach to the wines he makes under the new Resonance Vineyard label started in the small Yamhill-Carlton AVA in 2013. Today, Jacque and his team work with a 12-acre parcel near the quaint town of Yamhill and currently rent space from James Frey at Trisaetum Winery.  But plans are in the works to develop their own state of the art winery within the next couple years. "I'm not a young chicken, of course," says Jacque with a smile. "But for us, it's a great opportunity to start from the beginning from the ground up in Willamette Valley."  Oui, alors.
Resonance Vineyard 2014, Yamhill-Carlton/ $65 – 93 pts
From the Kevin Chambers Vineyard, this flavorful wine is made with Pommard, 777 and Wadenswil clones of Pinot Noir. Deep, concentrated scents of wild berries and savory spices. On the palate, a high-toned combination of ripe raspberry, dark cherry and cardamom; chewy tannins; broad structure; and a long, generous finish. Ripe lively, earthy and elegant. Very approachable now, but worthy of aging for 20 years. Great with slow-roasted lamb, as tasted with Jacques, at the Salud! charity for vineyard workers hosted at Stoller Vineyards near McMinnville the night before IPNC began.
Resonance Vineyard 2013, Yamhill-Carlton / $65 – 92 pts
Lofty aromas of dark berries, toasted brioche, soy sauce, allspice and a hint of smoke. Dark cherry-cola, huckleberry and licorice; elegant mouthfeel finish. Approachable now or cellar for 7-12 years.
Jean-Nicolas Méo – Nicolas-Jay, Dundee
In 2012, talented Burgundy winemaker Jean-Nicolas Méo partnered with longtime friend and visionary music guru Jay Boberg to start the Nicholas-Jay brand in Dundee. Today, Jean-Nicholas applies the skills he developed while working with fruit from the prestigious Burgundy sites in the Echezeaux, Richebourg, Clos de Vougeot and Corton Clos Rognet to the Pinot Noir grapes he uses from the winery's organically-farmed Bishop Creek Vineyard property in Yamhill-Carlton and specialty blends made with a selection of other famous vineyards in Willamette Valley.  At the IPNC seminar, Jean-Nicolas joked about his original response to Jay's inquiry about the partnership. "I enthusiastically said maybe," he quipped, with a smile. Needless to say, we're all glad he said yes in the end.
Nicholas-Jay 2015 Willamette Valley / $65 – 95 pts
From the Nicholas-Jay estate Bishop Creek Vineyard in Yamhill-Carlton comes a deep, dense and sexy style of Pinot Noir with lovely aromas of black and blue fruits, wet rocks, and subtle spices. On the palate, ripe blueberry, blackberry, plum and fresh mountain herbs. Very subtle, sexy and complex. Combination of structure, finesse and power in every sip.