As much as I enjoy writing about new wine trends, I'm always happy to hear about the resurgence of classic grape varieties that suddenly come back in style after years of being overlooked. One of the exciting cases in point is the recent Oregon Riesling Revival.
With a rich history dating back over 2,000 years, this noble white grape is known for its fragrant aromas, complex flavors, and a wide range of stylish world-class wines crafted with varying levels of sweetness, bright acidity, and balance.  After gaining notoriety in Germany, the love for this grape spread to Austria and the Alsace region of France before becoming a very productive varietal planted in premiere winegrowing regions in the New World over the past century.
In Oregon, it's a journey that began when University of California Davis graduate Richard Sommer planted the first Riesling vines in the Umpqua Valley near Rosenburg in 1961. A few years after Sommer released the debut of the 1963 Riesling under his Hillcrest Vineyards label, a new series of pioneer winegrowers began planting the varietal further north in the cool climate region of Willamette Valley.
In the 1970s, this trend was helped along by the growing popularity of sweet wines in the US marketplace. As a result, Riesling accounted for nearly a quarter of Oregon's total wine production by the early 1980s. But when the focus began to shift toward the exciting new plantings of Pinot Noir, Chardonnay and Pinot Gris later that decade, a large percentage of Riesling and other aromatic white grapes like Gewurztraminer, Muller Thurgau and Pinot Blanc were either pulled out or the fruit was used to make simple white wines or sold on the bulk market.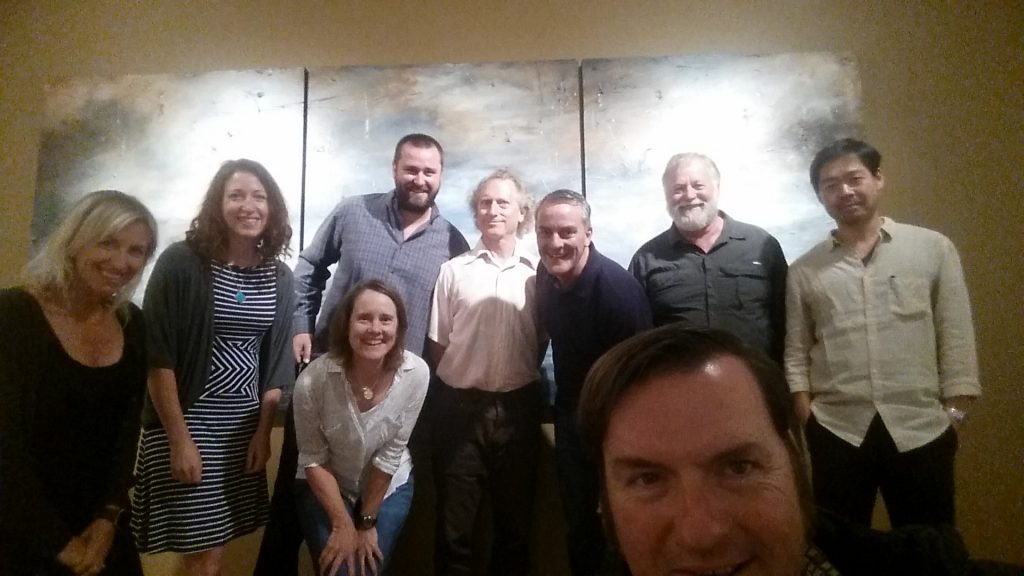 Around fifteen years ago, the rebirth of the varietal in Oregon began when a new wave of vintners, growers and winemakers with a passion for Riesling banded together and eventually formed the Oregon Riesling Alliance. In 2009, my first encounter with this energetic group came when vintner Harry Peterson-Nedry of Chehalem Winery, a ORA member, invited me and Master of Wine/Master Sommelier Doug Frost to a secret pop-up dinner at the luxurious Joel Palmer House in the quaint town of Dayton in Willamette Valley. Since there was no discussion about the theme of the dinner and the event happened on the eve of the annual International Pinot Noir Celebration, Doug and I were convinced that the seven winemakers participating in the dinner would bring their latest Pinot Noir gems to share with us. Therefore, we were very excited when the mysterious wines hidden in brown bags turned out to be magnificent offerings of fine local Rieslings. On top of that, we were able to taste these finely-crafted wines along with delicious dishes created by rising star Chef Christopher Czarnecki, who had just taken over his family's business at the Joel Palmer House in 2008. Needless to say, it was an enlightening evening that Doug and I will never forget!
For these reasons, it gives me great pleasure to say that the Oregon Riesling movement has gained much more momentum since that memorable night. Furthermore, the restoration of old vineyards and the development of new sites has resulted in the increase of Riesling vines planted in the state to 749 acres, with more room to grow. Better yet, with the help of better farming practices and access to a wider range of Riesling clones from Germany, France, Italy and Argentina, the quality to fruit is at its highest level as well.
Same is true in the cellars, where a growing number of Oregon producers are now using a new series of innovative techniques to capture the character of the grapes and pure expressions of the vineyards in the finished wines. This attention to detail includes everything from picking the fruit at higher levels of acidity and less sweetness; using more native yeasts and controlling the temperature during fermentation; preserving fresh, fruity flavors and adding more texture to the finished blends with the use of stainless steel tanks, neutral oak barrels, larger barrels or puncheons and concrete eggs; and keeping the best lots separate to make more limited-release single-vineyard designate wines. While the majority of these hip, modern-style of Oregon Rieslings are dry or medium-dry; there are plenty of tasty offerings of medium sweet and sweeter styles that balanced instead of being too sugary or cloying.
With these thoughts in mind, below is Part 1 of my list of favorite Oregon Rieslings I've tasted over the past six months. Besides being crisp, clean, elegant and very food-friendly, the affordable price points of $16-$36 make these wines that much more tempting, and another reason to visit the great winegrowing regions of Oregon!
For more information about the vintners and growers that are part of this current movement, visit the ORA website at www.oregonriesling.net or www.oregonwine.org.
#SawyerSomm: Thrilling Oregon Rieslings of 2017, Part I
More than any white grape varietal, the flavor profile of a well-made Riesling can offer a true sense of place. That is especially true in Willamette Valley, the well-respected winegrowing region south and southwest of Portland, which encompasses a wide array of microclimates, soil types and elevations that can produce very distinctive flavors. A few months ago, the Oregon Wine Board and the Oregon Riesling Alliance were nice enough to provided me and a handful of other wine writers with a rare opportunity to sit down with four passionate winemakers/proprietors—Lynn Penner-Ash of Penner-Ash Winery, Rudy Marchesi of Montinore Wines, Bryan Weil of Alexana Wines, and our gracious host James Frey of Trisaetum Vineyards and Gallery in Newberg, OR—to taste through a stylish assortment of world-class wines they make with Riesling grapes grown in Willamette Valley. Here is a collection of the "#SawyerSommReviews from that fantastic experience.
Penner-Ash 2015 Riesling, Willamette Valley – $24 / 93 pts
Following her love for Riesling, gifted winemaker Lynn Penner-Ash made this elegant white wine with pristine fruit from a series of well-respected vineyards located in the northern section of Willamette Valley. In the glass, the personality of these special sites come through with attractive scents ripe pear, orange blossom, oolong tea, ginger and fresh honey. On the palate, the gracious flavors of ripe pear, green apple, apricot and pineapple are underscored with crisp acidity, creamy texture, and hints of spice leading to a lip-smacking finish. Clean, crisp, elegant and dry, it's a rockstar Riesling that over-delivers for the price.
Penner-Ash 2015 Old Vine Riesling, Hyland Vineyard, McMinnville – $35 / 96 pts
With 200 acres of vines planted at 600-800 feet in the foothills of the Coastal Range near Dundee, the Hylands Estate is one of the largest and most historic vineyard sites in Oregon. Lynn Penner-Ash is one of a handful of winemakers lucky enough to work with the Riesling blocks that were planted on a unique outcropping of ancient basalt soil in 1971. On the nose, the terroir-driven aromas of fresh gardenia flowers, ripe stone fruits, lychee and zesty citrus are enhanced with intriguing notes of orange peel, honeycomb, juniper berries and savory spices. In the glass, the delicious flavors of ripe white peach, Anjou pear, key lime pie, ginger snaps, mineral and roasted hazelnuts are balanced with a brilliant combination of silky texture, tangy acidity, great length, and a seamless finish. Elegant, refined and ageworthy. This is a great representative of the Oregon Riesling heritage and the priceless personality of a special site, all in one!
Alexana 2016 Estate Riesling, Revana Vineyard, Dundee Hills – $32 / 95 pts
Located in the Dundee Hills appellation, the Revana Estate is home to 55 acres of vineyards planted in a unique mixture of sedimentary silt and stones; volcanic stone and clay; and bedrock comprised of sedimentary and basalt below the surface. This new release of the Alexana 2016 Estate Riesling comes from a three-acre parcel on the south-east corner of the property, which provides plenty of cool breezes in the afternoon that help preserve the natural acidity in the berries. The result is a lovely aromatic gem with alluring scents of freshly picked stone fruits, honeysuckle, fresh lime zest, wet stones, and a hint of kerosene. In the mouth, the thirsty-quenching notes of green apple, lychee, lemon and grapefruit are balanced with a rich texture, structure, and a long, crisp and tangy finish. www.alexanawinery.com
Trisaetum 2016 Estate Riesling, Ribbon Ridge – $32 / 96 pts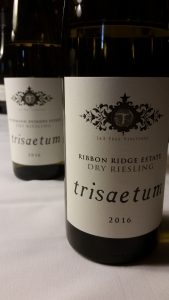 With captivating scents of ripe tropical fruits, fresh citrus, honeycomb, tangerine blossom and sandstone, there is no doubt this is a lively and complex Riesling from the moment it hits the glass. On the palate, expressive flavors of ripe guava, papaya, lemon-lime and fresh quince are integrated with layers of subtle spices, creamy texture, and a tingly, mineral-driven finish. Flavorful and sophisticated, it's a wine that gets better with more time in the glass and the cellar. www.trisaetum.com.
Trisaetum 2016 Estate Riesling, Wichmann Vineyard, Dundee Hills – $32 / 93 pts
Guided by smooth texture, natural acidity and a touch of sweetness; this elegant Riesling opens up with lofty aromas of fresh white flowers, ripe melons and candied fruits layered with attractive hints of honeysuckle, lemon verbena, white pepper and wet stones. These dazzling notes carry over to the palate, where sophisticated flavors of ripe pineapple, tangerine, mango and Meyer lemon lead to a long, dry finish that makes you want more. Lip-smacking goodness in every sip! www.trisaetum.com.
Trisaetum 2016 Coast Range Estate Dry Riesling, Yamhill-Carlton – $32 / 94 pts
Located in the Yamhill-Carlton AVA, the vines at Trisaetum Coast Range Estate are planted on old volcanic soils dating back 45 million years. Therefore, the character of the site immediately pops with mineral-driven aromas interweaved with more fragrant notes of spring flowers, citrus and fresh stone fruits. On the palate, delicious flavors of white peach, poached pear, papaya and raw honey are balanced with a burst of perky acidity, a touch of French oak, and a bone-dry finish. Great presence from start to finish. www.trisaetum.com.
Montinore 2015 Reserve Riesling, Montinore Vineyard, Willamette Valley – $22 / 93 pts
From the Montinore Estate, a Demeter Certified Biodynamic vineyard near Forest Grove, comes the latest offering of the winery's Reserve Riesling. With a lovely light golden hue, this complex wine opens up with fragrant scents of exotic fruits and zesty citrus mixed with more savory nuances of wild herbs, green olive and anise. In the glass, the tangy, fruit-driven flavors of ripe peach, passionfruit, fresh guava, grapefruit and lemon harmonize with hints of fresh thyme, forest floor, and spicy accents. Sassy, savory and oh so refreshing! www.montinore.com
Montinore 2015 Riesling Sweet Reserve, Montinore Vineyard, Willamette Valley – $18 / 91 pts
If you are looking for a little sweetness in your Riesling, Montimore has you covered! On the nose, this medium-sweet wine is brimming with aromatic notes of ripe tropical fruits, candied pineapple, fresh lime, beeswax and spring flowers. The core flavors of crisp apple, fresh lychee, ripe peach and lemon are punctuated with hints fresh ginger, mineral, and savory spices. Sweet, but perfectly balanced with bright acidity and a soft, graceful texture. www.montinore.com
Stay tuned for Part II of my
Oregon Riesling reviews for 2017!