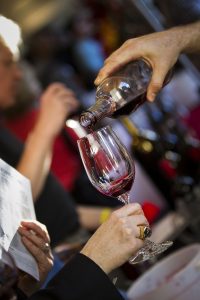 Get ready San Francisco, because here comes Zin EX, January 30-February 1!  Three spectacular days to celebrate the marvelous varietal Zinfandel.  It starts with the Opening Night Dinner at Le Colonial (SOLD OUT, sorry!).
Moving on, there is a fantastic seminar, Legendary Zinfandel Vineyards – As seen through the Eyes of Their Caretakers on Friday January 31, 10:30 to 1pm at The Palace Hotel, with moderator extraordinaire Joel Peterson, founding winemaker at Ravenswood Winery (TICKETS Available!). Later in the evening comes Havana Nights, the SOLD OUT Winemaker Auction & Dinner.
Saving the best for last is the Grand Tasting on Saturday February 1st, at Pier 27:  This Zinfandel expedition will have over 100 participating wineries and culinary stations to sample delectable bites from leading chefs!  BE SURE to include the code #ZigSaw for $10 OFF your PUBLIC Grand Tasting entry at 2pm!
Looking forward to an ZIN-tastic weekend!
Cheers, Chris & Ziggy (aka #ZIGSAW)