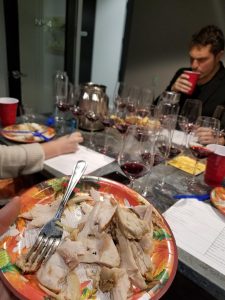 This years WINNING wines that pair perfectly with your Thanksgiving Turkey!  A big thanks to our 16 judges who (blindly) judged almost 175 wines together with turkey.  Near each wine you'll find descriptions of the wine as well as the winery link.  Need wines shipped to you?  No problem, the wineries can do that! So can Bottle Barn. Yay!
Thank you to Grand Cru Custom Crush & Olivers Markets
for sponsoring this years epic competition.
CHAMPAGNE/SPARKLING
Claypool Cellars, Champagne $55.
Extraordinary, Apple-y, Brioche, Balanced, Pear Brûlée, Stone-fruit, Complex, Love…
ROSÉ
2014 Josh Cellars, Rosé, CA $14.
Succulent, Watermelons, Wild Strawberry, Tango's with Turkey, Yummy, Easy Drinkin'
WHITE WINE *TIE*
2018 Alexander Valley Vineyards, Gewürztraminer, Mendocino $14.
Turkey Perfect, Exotic, Spicy, Crowd Pleaser, Ginger-not-Marianne, Luscious Lychee, Floral
2017 Dry Creek Vineyard, Chenin Blanc, Clarksburg $15.
White peaches, Crowd Pleaser, earth n spice & everything nice, Tropical fruits, Chamomile, Meyer Lemon
RED WINE
2014 Marimar Estate, Pinot Noir, Mas Cavalls, Doña Margarita Vnyd, Sonoma Coast $47.
Thanksgiving Velvet, Black Raspberries, Forest Floor, Dried Figs, Spiced Berries, Dancing in the Dark, Baking Spices, Cranberries-not the band, Elegant, Succulent, Gorgeous, Impressive
DESSERT WINE
2014 Gloria Ferrer, Demi-Sec Reserve Cuvée, Carneros. $40.
Fruitful, Succulent, Delicious, Creamy-Yum, Pretty, Ripe Juicy Green Apples, Ripe Pears