Flavor! Napa Valley is just six weeks away, March 22 through 26!  Make sure to get your tickets for my seminars now.  Many are already SOLD OUT, so get them while you can!  To get both your palate and cerebellum ready, enjoy this article I wrote about Napa Valley below for BuyWine.com.  
Napa Valley, California
Mention Napa Valley, and most people have a story to tell about a memorable wine they've had from the region. It's an interesting point when you consider that the valley is only 30 miles long, a few miles wide, and represents roughly 4% of the amount of grapes picked in California. But despite being a relatively small area, the big reputation is built on making world-class wines with fruit grown on family-owned vineyards.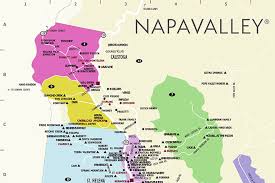 Squeezed between the Mayacamas and Vaca Mountain ranges, 45 minutes north of San Francisco, Napa Valley was the first American Viticultural Area or AVA to be designated in California in 1981. Back then, there was only a handful of wineries in the region. But today, there are 500-plus wineries and a shared dedication to growing premiere vineyards in diverse soils and warm, arid climate conditions that are similar to those found in the famous winegrowing regions along the Mediterranean. The end result is an elaborate matrix of vineyards varying in elevation from sea-level to 2,600 feet that produce low yields and high-quality fruit used to make some of the most prolific wines enjoyed in America and around the globe.
Grape Expectations
Whites: Sauvignon Blanc is the dominant white grape planted in the gravelly soils on the valley floor, particularly in the warmer segments in the northern part of the valley. Whereas, ….In the more clay and sandy-based soils stretching from Yountville to San Pablo Bay at the southern end of the valley, Chardonnay is the most widely planted white grape at the southern end of the valley. Smaller offerings to look for include: Semillon, Pinot Blanc, Pinot Gris and Riesling.
Reds: For red grapes, Napa Valley is best known for Cabernet Sauvignon, Merlot, and Bordeaux-style blends made with smaller portions of Cabernet Franc, Petit Verdot, and Malbec. Other specialty plantings in the region include: Zinfandel, Petite Sirah, Syrah, Grenache, and Pinot Noir.
Tasty Sensations
White Wines: The diverse styles of Sauvignon Blanc vary in style from racy and tangy to elegant and complex. Some are aged entirely in stainless steel tanks to preserve the purity of the grape; some have a portion of the blend aged in egg-shaped concrete fermenters; and others have a touch of neutral or new oak. The Chardonnays tend to be riper and more full-bodied than those from the more coastal regions of California. And in addition to being blended with Sauvignon Blanc to make a more complex, Bordeaux-style white wine; Semillon is also used to make aromatic sweet wines with flavors of ripe tropical fruits.
Red Wines: There's no denying that Cabernet Sauvignon is the king of Napa Valley. The styles of the region range from earthy, tangy and spicy with emphasis on red fruits; to bolder styles with notes of dark berries, cherry, chocolate and varying levels of oak; to the more full-bodied opulent flavors, and the potential to age for decades in the cellar. Most of the Merlots are medium to full-bodied with emphasis on ripe red fruits, milk chocolate, and spice. The Zinfandels and Petite Sirahs are mainly from old vines—many of which are still farmed by the families who planted these vineyards before the focus of the valley shifted towards Bordeaux varietals. For that reason, many of the wines made with these grapes have distinctive fruit flavors and layers of spice.
Food Pairings
As a rule, many of the Sauvignon Blancs from Napa Valley match perfectly with a wide range of cuisine, including oysters on the half-shell, goat cheese, gourmet salads, sushi and lighter meats on the grill, to spicier dishes that fall under the categories of Mexican, Vietnamese and Thai cuisine. For Chardonnay, the lighter styles pair nicely with appetizers and starting courses; while the more full-bodied offerings are fantastic to pair with seafood, poultry, pork, pasta, and white sauces.
In the red wine category, the more elegant styles of Cabernet Sauvignon are very compatible with daintier dishes like grilled vegetables, seared Ahi tuna, roasted chicken and Asian cuisine with plum sauce. For the bolder and more complex styles, rib-eye steak, lamb and blue cheese are great choices. For Merlot, Cabernet Franc, and Bordeaux-style blends; think wild mushrooms, quinoa, salmon, quail, and meats seasoned with herb-based rubs. While Zinfandels and Petite Sirahs are sassy, savory, and ideal for pairing with grilled red meats, veggies, and elaborate pizza.