As winter and the holidays arrive, it's time to start thinking about hearty meals paired with spectacular red wines. While Pinot Noir, Syrah, Zinfandel and Cabernet Sauvignon are heavy hitters in this category, it's also time to start taking a serious look at Merlot.
Yes, I'm talking about the same grape that took the blunt from the famous lines said by lead character Miles (Paul Giamatti) in the film Sideways: "If anyone orders Merlot, I'm leaving. I'm not drinking any f*#@ing Merlot!"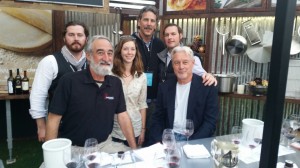 After rising to star status in the wine industry during the 1980s and 1990s; Merlot was already going through a midlife crisis when the film was released a decade ago. Frankly, there were too many weak versions of the wine in the marketplace that were sweet, green, herbaceous, vegetative or insipid. But thanks to the sensitive message in the film, many of the vines planted in the wrong locations have been torn out and the level of quality has recently risen to its highest point in decades.
Following the 10-year anniversary screening of the Sideways at the recent Napa Valley Film Festival, the delights of these charming new wines were explored at a provocative, thought-provoking seminar aptly titled "We're Drinking Merlot!"
Held at the Traditional Home Culinary Stage next to Barrel Room 1870 in Yountville on November 14; I joined in on tasting through the delicious wines with the allstar panel which included Jim Laube, Editor, Wine Spectator; Winemaker Tom Rinaldi, Winemaker, Provenance Vineyards; Hailey Trefethen, Trefethen Family Vineyards; Chris Carpenter, Winemaker, La Jota Vineyard Company; and panel moderated by NVFF Wine Program Manager Sean Quinn.
"I'm going to preach it, I love Merlot," says Rinaldi, who started working with the grape variety when he became the winemaker at Duckhorn Wine Company in 1978. "It's really versatile with a wide range of foods."
Rinaldi says he rarely puts out wines that are 100% Merlot. Instead, he follows the Old World style by blending in small portions of Cabernet Sauvignon and other Bordeaux varietals. And through the years, he says common traits of the fruit he works with are red fruits, tobacco leaf, rum raisin, and dark tea.
Laube agreed, saying that his favorite styles of Merlot are filled with delicate flavors and texture with layers of elegance and finesse. "They are wines that are far beyond "Dumber and Dumber" for adults."
Today, many of the best selections are made with grapes grown at the terroir-driven sites sprinkled throughout the beautiful landscape of Napa Valley. Many of these vineyards are planted in the clay soils in the cool windy region of Carneros. Some are grown at high elevations in the rugged volcanic soils of Howell Mountain or surrounded by forests in the sub-AVAs of Mount Veeder, Spring Mountain and Diamond Mountain. On the valley floor, others are planted on special sites feature gravelly and alluvial-based soils, warm days, and cool nights.
According to Carpenter, the rugged growing conditions of the grapes he works with winery's estate vineyards on Howell Mountain help add more natural tannins, burliness and wild flavors to the La Jota Merlots. The end result is deep lush flavors with hints of gritty minerals and herbal accents.
The quality has also improved considerably thanks to growing the varietal in the right conditions, newer clones, angling the rows for optimum sun exposure in the mornings and late afternoons, and ultimately picking the fruit at the optimum brix with lower sugar and higher acidity.
Although the wines are not as tannic as Cabernet Sauvignon, many of them do have the ability to age. For instance, Trefethen shared a few bottles of the 1999 vintage made with fruit from her family's estate. The wine was silky smooth and still had deep flavors of cherry, plum and subtle spices. As a result, it's an ideal cellar selection to share with friends and family during the holidays.
"I hope people continue to grow Merlot where it works best," says Trefethen, representing the third generation of her family, who originally started their winery in 1973. "It's a very expressive grape with lovely flavors, supple tannins, and worthy of being back at the top of the world-class scale for drinking and cellaring.
Thanks to the combination of soft tannins and finesse, the distinct flavors of these high-quality Merlots are also very approachable and fantastic with winter dishes. Beyond pork, poultry and Turducken, Rinaldi likes to pair his Merlots with anything grilled, especially eggplant and steaks. Trefethen says the smoky character of the style of Merlot her family makes provide flexibility that allows her to pair with pastas with tomato-based sauces. And Carpenter loves to have his style of wine with leg of lamb, rosemary, and red wine reduction sauce.
With those pairings in mind, I'm going to open another bottle of Merlot.
Happy Holidays from SawyerSomm.com!
 _____________________________
SawyerSomm: Top Napa Valley Merlot Picks for the Holidays
Trefethen 2011 Merlot, Trefethen Estate Vineyards, Oak Knoll District ($40)
Lovely blend of 77% Merlot, 15 Malbec and 11% Cabernet Sauvignon. Festive aromas of red berries, cinnamon, nutmeg, leather and tobacco. Fresh and lively flavors of cherry, raspberry, black pepper, clove, and a long, elegant finish. www.trefethen.com.
Rutherford Hill 2011 Merlot, Napa Valley ($30)
From the Terlato family, this powerful new release is made with Merlot and small dollops of Cabernet Sauvignon, Cabernet Franc and Syrah. The aromas are deep with notes of ripe fruits, cocoa, vanilla and smoke. On the palate, the wine is full-bodied with generous notes of cherry, plum, red currant, anise, and fine-grained French oak. Tasted at the NVFF Merlot Seminar with winemaker Marisa Taylor. www.rutherfordhill.com.
Freemark Abbey 2012 Merlot, Napa Valley ($34)
Legendary Napa Valley winery known for working with Merlot over the past three decades. The latest release features lovely notes of ripe red berries, dark chocolate, clove and orange peel. Rich mouthfeel, supple texture, and long finish. Solid! www.freemarkabbey.com.
Markham 2012 Merlot, Napa Valley ($20)
Crafted by star winemaker Kimberlee Nicholls and tasted by the panelists as the mystery wine at the Napa Valley Film Festival seminar, this purist expression of Merlot is young, bright and grapey. Carpenter liked the notes of blueberry and lush tannins. Trefethen liked the spicy notes. Rinaldi liked the maraschino cherry and mushroom attributes. And I liked the lively fruit flavors, spicy layers of mint, cinnamon and clove, and how the wine opened up with more time in the glass. Young, vibrant, and very food-friendly! www.markhamvineyards.com.
Provenance 2011 Merlot, Three Palms Vineyard, Napa Valley ($65)
Dense, full-bodied wine, with aromas of dark fruits, dried herbs, mineral and cedar. Ripe and juicy flavors of black cherry, blackberry, cassis, cranberry, mineral, earth, and fine-grained tannins. Overall, a fantastic Merlot with deep flavors, elegant texture, and a long, generous finish. www.provenancevineyards.com.
La Jota 2011 Merlot, Estate Grown, Howell Mountain ($75)
Planted on red volcanic and Ryholitic tufa soils at elevations above 1,700 feet; this deep, dense wine features attractive aromas of wild berries, cocoa, licorice, wild mountain sage, and cedar. On the palate, the flavors are complex with notes of black raspberry, dark cherry, milk chocolate, mineral, roasted almonds, and allspice. Overall, the wine features rich texture, chewy tannins, and velvety finish. www.lajotavineyardco.com.
More tasty Napa Valley Merlots recommendations:
Silverado 2010 Merlot, Estate Grown, Mt George Vineyard, Napa Valley ($35)
Attractive aromas of wild berries, cocoa powder and spice. Deep flavors of blackberry, blueberry, red currant, milk chocolate, licorice, wild mountain herbs, and forest. Great wine with pork, poultry and gourmet burgers. Tasted at the Flavor Napa Valley "Grapes & Grills" event, #FlavorNapa. www.silveradovineyards.com.
Grgich Hills 2010 Merlot, Estate Grown, Napa Valley ($42)
Elegant Merlot with lovely aromas of ripe red fruits, licorice, cardamom, and roasted walnuts. Flavors of ripe plums, wild strawberries, mint, and layers of spice. Firm structure, chewy tannins, and a long, silky finish. Great wine with baked ham, roasted meats, and blue cheese. Tasted at SawyerSomm.com HQ. www.grgich.com.
Goosecross Cellars 2010 Merlot, State Lane Estate Vineyard, Yountville ($48)
This is a hidden gem from a lovely winery off State Lane east of the downtown Yountville. Made with 100% estate fruit, the wine is big, rich, and powerful. Aromas and flavors of dark cherry, wild berry, black trumpet mushroom, firm structure, chewy tannins, and great length. Get some of this wine before it's gone! Tasted with Goosecross proprietors Christi Coors Ficeli and David Ficeli; winemaker Bill Nancarrow; and fellow wine writer Linda Murphy. www.goosecross.com.
St. Supery 2011 Merlot, Estate Vineyard, Rutherford ($50)
Dark, rich and opulent style of Merlot made with fruit grown at the St. Supery Estate Vineyard in Rutherford. The aromas and bouquet are laden with alluring notes of dark cherry, cassis, mochaccino, licorice, and pipe tobacco. On the palate, deep flavors of cherry, blackberry, cassis, plum, milk chocolate, vanilla and fine French oak. Supple tannins and velvety texture. Each sip makes you want more—it's that good! The wine was tasted, along with a fantastic pairing of a Grass-Fed Beef Burger with Melted Gruyere, Sherry Carmelized Onions on a Brioche Bun made by Chef Adam Ross of 1313 Main Restaurant, at the Flavor Napa Valley "Grapes & Grills" event at St. Supery Winery. www.stsupery.com.
Duckhorn 2011 Merlot, Napa Valley ($54)
Elegant, complex and worthy of cellaring, this new release is made with fruit from the estate and other special sites, including the Three Palms Vineyard, which makes up about 30% of the current vintage. On the nose, stimulating hints of red fruit, roasted almonds, and cedar. In the glass, the wine opens up with lavish flavors of blackberry, black raspberry, cherry and mineral; firm structure, silky smooth tannins, and opulent finish. Tasted at SawyerSomm.com HQ. www.Duckhorn.com.
SawyerSomm's Cellar Selection: Paloma 2007 Merlot, Spring Mountain District ($54)
This magnificent cellar selection was made by Sheldon Richard with Merlot and smaller fraction of Cabernet sauvignon from his family's high elevation estate vineyard on the Mayacamas Mountains west of St. Helena. Fragrant aromas and complex flavors of fresh tobacco, violets, blueberries, cassis, milk chocolate, forest floor, wild herbs, and a long, engaging finish. Rich, supple, graceful, and eager to please! The new 2010 is equally dynamic, but requires decanting or more aging in the cellar. Tasted at the NVFF Merlot Seminar and the fantastic Spring Mountain Tasting held at Farmstead at Long Meadow Ranch. www.palomavineyard.com.