Back in March, The Varietal Show featured Part 1 of these delightful musings with by pal Daedalus Howell: Technical difficulties prevented the remainder being shared, but lucky you, we were able to transcribe Part 2 for your reading pleasure, enjoy with a glass of Seghesio if you have it handy. (Then watch Part 3 with a Zinfandel of your choice.) Cheers! Chris & Daedalus
CHRIS: So we are down in the cellar and we are going to start the second part of this conversation based on a couple old selections that I just pulled out for Daedalus. And since we are in Sonoma County where I thought we'd pull a few.
This is the Omaggio, and this is an old old Seghasio brand called the Four Generations: It is a 1996 Sonoma County blend. It is a table wine, a Super Tuscan from Sonoma County, go figure.

There are a lot of people in Sonoma County with names that end with "I" or an "O". Guess where they're from originally, the families? It's called italy and the fact is that the Omaggio to me was one of those great ones that Pete and Ted Seghasio, I used to do these blind tastings with them all the time. They invited me to do them and we would have the funnest times. They'd make me dinner and we would have such a great time but I always you know

"Chris why do you want to bottle up take home?"
"Give me some more Omaggio, this stuff's good!
I love their Zinfandels, and I did a great thing with one of their family name zinfandel that was on ZAP: So if you guys love Zinfandel Advocates and Producers please go and check out that amazing show that we did with the Dry Creek producers. That's the home ranch and that's where really the Sangiovese part of this is from, and then the rest of it the Merlot and the Cabernet are from certain spots of Sonoma County. This is a 1996, are you liking this
DAEDALUS: I haven't tried it yet, I've just been hitting the nose which is brilliant.
CHRIS: The nose is amazing. When Ii tasted it before you came, I opened it to make sure that it was good, it would smell great! I mean it was amazing, there's so much fruit in this for being a '96.
DAEDALUS : And it's 25 years old and that's what's crazy! You know, we think a table wine is not something you're going to shelf for a while and here it is. It's all the better for it, this is really wonderful. It's just the nose, the aromatics alone are pretty amazing
CHRIS: This is kind of one of those moment kind of wines that makes me remember about when I was with Wine X magazine. Back in the old days and making the transition from UC Davis into what I do, working for Wine X magazine, is just an amazing magazine. I mean it really was a trendsetter. It went against everything anyone told you about wine: Let's do Wine Raves in Boston, and Texas and let's go down to Florida and do the same thing. "Okay, that sounds fun!"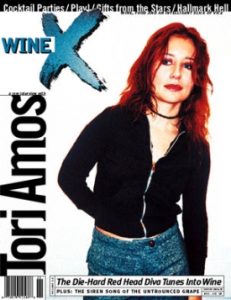 DAEDALUS : Just the term Wine Raves . . . (serious laughter)
CHRIS: I never said no to any offer that I got but I became a better person for that. This is one of those wines that I think about you know when I go back to my time, and how I grew up. Especially after you and I went to high school and we went to Petaluma High, go go Trojans and stuff, but you know it goes way back to the time when the transition was being made in Sonoma County, back in the 90s and here here to that
GLASSES CLINKING
CHRIS: I'll probably give you the rest of this bottle to take home and just enjoy with your dinner but this is a real interesting wine, isn't that amazing? Seghasio obviously has become a big brand and what I really want to say is the Journeyman, the amazing deli up in Healdsburg, Pete and Kathy Seghasio own that and I wish I had some of their fabulous sausages here and their salumis which are amazing
DAEDALUS: You need all Italian sausages hanging, and a cheese wheel
CHRIS: Actually that's a good idea, I need to be curing a piece of a pig right here just because that's the right thing to do. Especially if you live in a place where the Italian culture is big.But you know what this is an amazing wine, how it's holding up. This is actually, if we could have those Super Tuscan wines in America, this is a really good example.
DAEDALUS : Yeah, a little bit of leather on it too. Finish falls off a bit, but what are you going to expect after 25 years.
CHRIS: Well yeah I mean, but you put it with risotto, with wild mushrooms or maybe you just stick a piece of meat on top of that and what else you know.
DAEDALUS: Your pairing ideas are always spot on that's great. Earlier we're talking about music and we're talking about sort of tangentially about music and pairing and all that we pair our lives with music all the time, right?
We're always putting something on to create a mood or sort of like bring us into a moment that kind of thing or to have a memory why it's exactly the same, right? And I think you always approach it that way like "how am I going to bring myself back to this moment".
This bottle you opened up, it's not just the vintage that's bringing us back to '96, it's like the flavors, the things that you remember tasting is fascinating to me you've always been like that. It's cool to see it in action like if you ever want to get a tour of the 80s and 90s and it's all right here.

CHRIS: Yeah and it's locked in my brain too. I can't remember certain things about here and now but I can tell you anything about the 80s and 90s. And it's just because it was really the time period. What an interesting time for us to grow up, especially here in Sonoma County and watch this culture kind of grow with us.
DAEDALUS: The transition, yeah it was pretty dramatic. And I remember when I was living in L.A. you would come down and on doing stories and stuff like that you talking to me about like what was happening. I couldn't really believe it. I just was like, "What? Sonoma County, it can't be where it's at."
Came back up and absolutely it was the scene, wine was happening so hard and so fast, so interestingly in the area we're talking like early aughts, like especially 2003-4. That's when the pivot had completed and I think it was full board at that point.
On to Part 3, just scroll down!