While it's true that millions of bottles of bubbly from the famous Champagne region of France are popped, sabered and consumed to celebrate New Year, truth is that the flavors of these sparkling gems can easily be celebrated all year long!  However, it helps to have a perspective of what to expect, especially when it comes to the higher-priced Champagnes.

With these points in mind, the Sawyer-Casale Wine Education Series invited a group of talented sparkling winemakers, sommeliers, and other wine professionals to taste through some high-end Champagnes and one special selection from Northern California we slipped in for fun! The price of the Champagnes and sparkling gems featured in this blind tasting range from $99 to $199 per bottle.

The special guests participating on the panel included winemakers Steve Urberg of Gloria Ferrer Wine Caves, James Hall of Patz & Hall Winery and Mike Cox of Schug Winery; sommeliers, wine buyers and wine consultants Michele Fano (Cole's Chop House), Tammi Herron (Court of Master Sommeliers/GuildSomm) and myself (SawyerSomm.com); and wine pros Anne Moses (Patz & Hall), Jennifer Brown (Wilson Daniels), my colleague Keith Casale (3 Badges), and our gracious host Don Sebastiani.
All the wines were tasted blind and ranked on a 1-6 scale. #1 being the highest ranked of the bunch, #6 being the lowest. The five imports from Champagne were purchased from K & L Wine Merchants in San Francisco, www.klwines.com; while the ringer, a high-end domestic sparkling wine from the North Coast appellation, was provided by Jennifer and the good people at Wilson Daniels in St. Helena, www.wilsondaniels.com.
Here are summaries, rankings and notes for each wine in the order we tasted them blind
Bollinger 2005 La Grande Année Brut, Champagne, France
Group Ranking: #4 of 6 / Price: $109
 Details: Established in 1829, Bollinger was formed from the de Villermont family's holdings in the charming village of Ay near Rheims in Champagne. After Jacques Bollinger married the de Villermont daughter Louise Charlotte, he became an official French citizen in 1837. Then, after the house started to ship low dosage Champagne to Britain in 1865, Bollinger became the Official Purveyor of Champagne to Queen Victoria in 1884. As the official Champagne of the Parliament, the special sparklers from the brand are preferred by James Bond as well.
The 2005 vintage was complicated by a rather hot summer and rain in the early part September which resulted in some botrytis. Thus, the fruit for this vintage was picked between September 15-27. The Pinot Noir portion of the blend (70%) is from around the winery in Ay and the winery's holdings in Verzenay and the Chardonnay (30%) is from Avize, Chouilly and Le Mesnil.
Panel descriptors:  Warm toasty nose with aromatic notes of fresh framboise, stone fruits, dried flowers, honey, vanilla, roasted hazelnuts, mineral, a slight mustiness, and fino sherry tones. On the palate, hip descriptors included wild berry compote, baked peach, apple pie filling, crème brulée, gingerbread, candied fruit, kaffir lime, dried mango, orange peel, flint, and exotic spices.
Group discussion: From the sommelier's angle, Herron enjoyed the wine's medium to medium-plus concentration, round and creamy texture, and balanced acidity. While Sebastiani was more intrigued by the musty character of the wine and liked the long, crisp finish.
Other panelists were disappointed by its lack of effervescence and mousse. Hall, Cox and Casale felt that the wine was oxidative and a little reductive. For those reasons, Hall compared the oxidation to an older "English Style" wine with notes of almonds, toast, honey, and wet towel. And although he felt the wine was resolved, round, smooth and layered; he also felt it was tasting a little too old and oxidized for his taste.
On the flipside, Fano was quick to point out that the oxidation wasn't offensive to her. Instead, as this wine started to warm up, she felt she got to taste what this wine is all about. Urberg concurred. "When I stuck my nose in the glass, the first thing I got was pickle juice. But that's not an uncommon character for some of the styles of Champagne," he said. "From there, it took me a while to get to the pleasant black fruit characteristics that opened up with more air. But along the way, it became quite clear that the flavor profile was really driven by the toasty characteristics that went almost all the way to smoky. In my opinion it doesn't taste too old, but exactly the way they producer wants it to taste."
In the end, the panel agreed that this was a wine for people with a much more developed palate instead of those who simply buy a bottle of Veuve-Cliquot Yellow Label on a sale rack for the holidays.
Dom Perignon 2006 Vintage Brut, Champagne, France
Group Ranking: #3 of 6 / Price: $169
Details: In 1668 Dom Pierre Perignon became the official treasurer/cellar master at the Abbey of Hautvillers, where he would spend the next 47 years developing practical techniques of farming red and white grapes, making still wines, and through a variety of trials and tribulations created the secondary fermentation process which would eventually become a foundation for the methode champenoise process that is now used to make popular styles of Champagne and sparkling wines around the world. This classic vintage brut from Dom Perignon is a blend of Pinot Noir and Chardonnay Panel descriptors: As a rule, Dom Perignon is relatively reduced and tight when it's first poured. The 2006 vintage is no exception. For that reason, the aromas were rather funky at first with hints of raw yeast, unbaked sourdough bread, candied fruit, petrol and smoke. But as it opened up, the more attractive sniffs of fresh picked flowers, anise, roasted coffee and sea foam started to emerge. On the palate, the flavors were complex and engaging with dazzling flavors of green apple, yellow pear, smoked nectarine, citrus, candied fruits, dark chocolate, and toasted nuts. Silky smooth, weighty and complex, the flavors are further enhanced with roasty, toasty and smoky notes; tangy acidity; and slight briny taste leading to a long elegant finish.
Group discussion: At first, I thought the wine was a little skunky on the nose, but enjoyed it so much more as the concentrated flavors of ripe fruits, wild mushrooms, lemon meringue, sea smoke, and briny character began to emerge. Cox agreed. He too thought the wine was a bit too much at the beginning, but liked the way it opened up. "On the first few sniffs, it was yeasty, smoky and wild," he said. "In the end, what saved it was the mouthfeel."
A devoted Champagne lover and producer of a limited release of sparkling wine under the Patz & Hall label, Hall thought it was Dom Perignon from the beginning. "For the first couple smells, it's always has that smell of burnt rubber," he said. "But as it opens, it was cool how the classic reductive character changed to more complex flavors lifted by a relatively high level of dosage. As a contrast, while Moses enjoyed the smoky, lessy and floral accents at the beginning, she felt the smoke killed the purity of the wine.
Louis Roederer 2009 Cristal Brut Millesime, Champagne, France
Group Ranking: #1 of 6 / Price: $199
Details:  Since the house of Louis Roederer began crafting the first vintage of Cristal for Russian Tsar Alexander II in 1876, this elite Champagne has been made exclusively with estate fruit from old vines grown on limestone soils. For that reason, this famous wine has always been known for conveying a true sense place. Made with 60% Pinot Noir and 40% Chardonnay, the 2009 Cristal is no exception. Panel descriptors:  From the very first sniffs and sips, this wine was fresh, fruity, young and eager to please. Invigorating aromas of honeysuckle, apple, quince, lemon peel, honey and wet stone. On the palate, the dynamic flavors of ripe raspberry, plum, yellow apple, apricot and grapefruit are combined with charming nuances of fresh ginger, marzipan, and roasted hazelnuts. In comparison to the more full-bodied offerings at the table, the wine is relatively lean and delicate but holds its own with layers of complex flavors, fine mousse, and a smooth texture leading to an extended tart, tangy and dry finish. Elegance in motion from start to finish.
Group discussion: The panel was impressed by the way this wine opened up. For starters, it was more fruit-driven than many of the other wines on the table. Steven loved the nose and the balance of the wine. "To me, it suggests that it is higher in acidic to start with or simply has a lower dosage," he said.
For Moses and I, what set this wine apart was the structure, balance, and the unique burst of natural minerality towards the end. On top of that, we loved the acid-driven flavors and subtle nuances of red fruits, crisp apple, Meyer lemon peel, ginger, almond paste, and elegant toasty notes on the tart and cleansing finish. Michelle also enjoyed the Chardonnay-based flavors enhanced with supple notes of lime zest, chalk, toasted brioche, smoke, and the sour tart note leading to the long cleansing finish. Youthful, very pronounced, dry and dazzling on all levels. Drink now or age for 20 years.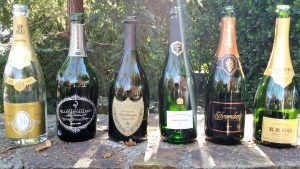 Billecart-Salmon 1999 "Cuvée Nicolas Francois Billecart" Brut, Champagne, France
Group Ranking: #2 of 6 / Price: $99
Details: Although Billecart-Salmon is best known for producing one of the world's finest versions of Brut Rosé, they also accel at crafting more dynamic, refined and ageworthy cuvée styles of brut. This latest offering from the 1999 vintage is 60% Pinot Noir from montage de Reims and 40% Chardonnay from the Cote des Blancs. Panel descriptors:  Lovely floral-citrus aromas with inviting notes ripe peach, fresh lychee, honey, forest, and flan custard characteristics. Bright, clean and crisp Pinot Noir flavors of wild strawberry, plum, blueberry, red apple skin, ruby grapefruit and spice; coupled with classic Chardonnay notes of stone fruits, poached pear, dried apricot, Hand of Buddha and honey; and creamy texture with fine-grained mousse and active layers of tiny bubbles. Rich, round, stimulating and rewarding.
Group discussion: Although this was the oldest and most inexpensive wine on the table ($99), the elegant, complex and refined traits of this wine made it one of the panel's favorite picks in this blind tasting.
Despite the slight oxidation from the age of the wine, the group loved the way the flavors popped open up in the glass. For example, I was fascinated by the way the ripe red fruits were lifted by the racy acidity and texture. Cox agreed, and noted that the fruit tannins caused by the Pinot Noir added a new layer of power and sophistication that separated this wine from the others samples we tasted. Sebastiani also liked the delicate toast, pleasant flavors and creamy mouthfeel. And we all agreed that the crisp, clean, tart and expressive flavors made it a contender to pair with a complex surf and turf dish served on New Year's Eve.
Schramsberg 2007 Reserve Brut, North Coast, California
Group Ranking: #5 of 6 / Price: $119
Details:  As the secret brown-bag special for this round, Jennifer Brown of Wilson Daniels was nice enough to supply this lovely gem from St.Helena-based Schramsberg Vineyards. The complex blend for the 2007 vintage features 76% Pinot Noir which comes from specialty vineyards that includes Staltonstall (Petaluma Gap/Sonoma Coast), Stevens (Marin County) and Juster (Mendocino). Whereas, most of the 24% Chardonnay comes from the Carneros District of Napa Valley. The finished wine is produced in the historic caves at Schramsberg on Diamond Mountain. Panel descriptors: With a more pronounced style that suggests new world, the wine starts with perfumed aromas of mixed fruits, raw honey, fig, Meyer lemon, orange peel, vanilla, lanolin and toasty brioche. On the palate, bright flavors of fresh berry compote, peach, exotic melon, tangerine and roasted nuts are further enhanced with hints of toffee, caramel and crystalized ginger.
Group discussion: Although Casale thought it started off tasting oxidated, smoky and leesy; he loved the full-bodied flavors of the wine as it opened up. Whereas, Brown was fascinated by the classic brut nose and the flavors of red berries, lemon chiffon, the tart "Sour Patch Kids" burst and stony notes that lead to a lingering dry finish.
Favo and Moses liked the mixture of ripe fruit flavors mixed with notes of orange peel, Grand Marnier, smoky notes and the touch of sweetness on the finish. "It was very showy," said Moses.  "I liked how the fruit character came across in so many different ways as the wine opened up in the glass." And I enjoyed the balance of the wine, the way it filled the entire mouth and the subtle hint of white truffle as the wine opened up.
The winemakers enjoyed the wine too. For example, Urberg immediately detected the more mature character of this 2007 vintage, as well as the concentrated flavors, moderate acidity and soft texture. James was fascinated by the balance of the acid and the brilliant level of dosage.  For that reason, he thought it was the freshest wine of the day. "Order another bottle and let's go!"
Krug NV Grand Cuvée Brut, Champagne, France
Group Ranking: #6 of 6 / Price: $149
Details:  One of the classic brands of Rheims, this winery was founded by German-born winemaker Johann Joseph Krug in 1843. Unlike the other Champagne producers featured in our tasting, which tend to put more emphasis on crafting vintage wines; Krug is much better known prestige cuvees, including their flagship Grand Cuvée, and using barrel fermentation of a percentage of the base wines to create complex flavors with subtle nuances of oak. Panel descriptors:  Fragrant aromas of dried flowers, lemon oil, mustard seed, pastry, hay, fennel, yeast, and a hint of smoke. Bright acidity opens up the palate to flavors of pear, green apple, wild berry, bergamot, and toasted almonds. Full-bodied with big tannic structure, rich texture, creamy mousse, a lively mineral burst at the midpalate, and warm and toasty accents leading to a long finish.
Group discussion: Straight forward and pleasant, but nothing too jumps out like the y did in the other samples we tasted. And while the flavors were tart and crisp, the texture was rather one-dimensional. On the more extreme end, Casale didn't like this wine and compared the profile to the classic Rombauer Chardonnay style with notes of vanilla and buttered popcorn. As a group, we agreed that the wine would be best if served with food.
Gosset NV Grand Blanc de Blancs, Champagne, France
Not Ranked / Price: $100
Details:  To prepare our palates for this special tasting of high-end Bruts, we also sampled a special offering of the Grand Blanc de Blancs from Gosset, the first wine house in the Champagne region, founded by Pierre Gosset near Ay in 1584. The winery has gone on to be family-owned for 17 generations. And the recent release is made with 100% Chardonnay grapes grown in Grand Cru and Premier Cru vineyards in Avize, Chouilly, Cramant, Villers-Marmery and Trépail.
Panel descriptors:  Lofty aromas of fresh citrus blossom, green tea, ginger ale and fresh squeezed lemon. Anchored around moderate weight and a silky mouthfeel, the palate is lifted with fresh notes of crisp apple, kiwi, grapefruit, chalk, mineral and subtle spices. All this is helped along with a nice balanced attack of vibrant acidity, creamy texture, and a generous finish. Group discussion: Overall, the panel liked the acid-driven flavors, particularly the crisp apple and tart lemon notes. And all agreed that the warmer it got, the rounder it became. In the end, this process really helped the complex flavors shine. Brown also liked the clean flavors and how the wines was still light on its feet instead of being cloying. For sommelier pairings, I suggested fresh oysters and crab cakes; while Favo favored a creamy Emmental or Petite Basque cheese. However, she was also quick to point out that the bitter flavors of the wine made her shy away from suggesting goat cheese.
Panel Conclusion
In the end, the panel was impressed when they found out the #1 and #2 ranked wines, the Louis Roederer Cristal and Billecart-Salmon, were the highest and lowest priced wines in the tasting. It was also nice to see that each wine had its own merits and what really set them apart from one another was a difference in style.
While it's true that everyone has their own personal preference for how they like their Champagne served, here are some helpful hints to consider:
While ice cold temperatures can hide flaws in wines, the judges prefer to have their elite Champagnes served between 49-54 degrees (9-12 Celsius). This slightly warmer temperature gives more room for the flavors to expand as the temperature rises in the glass.
To open up the aromas, many of the judges like to drink high-end Champagne and classy sparkling wines in more elegant styles of Chardonnay or Sauvignon Blanc-shaped glasses with wider rims instead of flutes, which generally are more closed at the top and harder to sniff.
As a cool trick, Hall says he likes to have only half the regular amount poured in his glass. That way he can have more control over the temperature and the exposure of more oxidative wines.
Here are some more sommelier food pairings ideas:
For the leaner or medium-bodied styles of high-end Champagnes, great options include raw oysters on the half shell, sushi, crab, prawns, goat cheese, caviar, dainty salads, delicate soups, grilled fish, chicken, pork stew.
For Chardonnay-based medium to full-bodied styles; medium cheeses, roasted chestnuts, creamy soups, pasta with white sauce, seafood medley, pan-seared scallops, lobster, halibut, roasted chicken with fresh herbs, slow roasted pork.
For Pinot Noir or Pinot Meunier-based bruts; oysters with red onion mignonette, medium bodied cheeses with nuts and dried berries, tangy soups, tuna tartare, spicy sushi, crab cioppino, salmon, trout, artichokes, roasted vegetables, eggplant parmesan, spicy sausage, gamey meats, duck breast, pomegranate chicken, grilled pork chops, lamb sliders, beef stroganoff, prime rib.
For richer, more complex styles of bruts; full-bodied cheeses, mussels, crab cakes with tangy aioli, charcuterie, heavier soups and stews, richer fish dishes with beurre blanc sauces, pasta with truffles, extravagant Indian and Asian cuisine, pork roast, beef bourguignon, juicy steaks, rack of lamb.
Finally, as a little extra insight on high-end Champagne, sommelier Michele Fano says its's always important to remember that every guest (or, in our case, wine judges) have slightly different palates. For that reason, she compared our blind tasting to ordering ice cream for dessert. "Do you like vanilla? Butter pecan? Chocolate? Or rainbow swirl? The ones you don't choose aren't bad. But instead it's a matter of taste. For that reason, just as ice cream is always fabulous, so is fine Champagne—especially when it's served to friends, family, and paired with delicious dishes that make your encounter that much more special," said Fano, with a smile. I couldn't agree more!
Happy New Year to all the fans of Champagne, SawyerSomm.com and the Sawyer-Casale Wine Education Series. Look forward to providing you with more fun wine programs in 2017! -CS