Located in the northwest corner of Spain, for centuries the Galicia region has been known for its abundance of fresh seafood, gorgeous beaches, plush landscape, and the visual tapestry created by its classic combination of Gothic and Baroque architecture. But more recently, this magnificent maritime province has started gaining more recognition for another one of its treasures: Albariño, one of the worlds most distinctive and delicious white wine grape varieties.
Known for its thick skin, green hue and relatively high juice level, the Albariño grape is primarily grown in granite and sandy loam soils in the Rias Baixas region, located between the famous monastic city of Santiago de Compostela to the north and the Portuguese border to the south. Due to its close proximity to the Atlantic Ocean, rivers and estuaries (rias in Spanish), the climate is typically mild and often quite damp.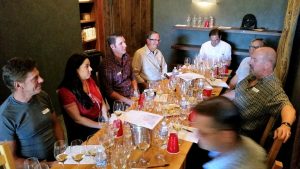 To compensate for these wet conditions and the natural vigor of the Albariño vines, most of the vineyards are trained with a traditional parra system, a seven-foot high canopy hoisted by granite posts quarried locally. This arbor-like arrangement is similar to the pergola system in Italy, which helps vineyard owners circulate air to avoid mildew and spread the leaves in order to capture as much sunlight as possible.
Currently, there are five sub zones of within the Rias Baixas denominacion de origen region established in 1988: Val do Salnés, Condado do Tea, O Rosal, Soutomaior, and Riberia do Ulla. Within these boundaries, more than 6,500 farmers have planted over 20,000 individual plots—some as small as only a half an acre.
During harvest in September, each producer is focused on creating their won signature style which showcases a balanced amount of ripe fruit flavors, bracing acidity, texture, and freshness on the finish. Thanks to the integration of new technology in the region over the past two decades, the process has been made much easier and the quality has steadily increased. As a result, the number of fine producers in the region tripled from 60 in 1990 to 192 in 2005.
However, it wasn't until the past decade that the wines from Galicia became widely available in the New World—particularly in the United States, which has quickly become the region's largest export market. So much like the great Spanish reds from Rioja, Priorat and Riberia del Duero have gained recognition in the international wine market, the same is true in the white wine category as delectable Albariños from Rias Baixas are now giving the fine Rieslings from Germany or Gruner Veltliners from Australia a run for the money with sommelier and consumers across the America.
Exploring the Rias Baixas Style
With these thoughts in mind, the Sawyer-Casale Wine Education Series invited a group of talented winemakers from Sonoma County and Napa Valley to a special blind tasting focused on a set of the higher-end offerings from the Rias Baixas ranging from $19.99 to $44.99.
The special guests participating on the panel included: winemakers Michael Havens (Cave Dog Wine), Michael Scorsone (Emmitt Scorsone Wines) and Alex Beloz (Tricycle Wine Co); sommeliers, wine buyers and wine consultants Darvarti Ananda (Basalt Restaurant), Brandon McEntire (Morimoto Napa), Sydney Paris (Massale Vintures), Bob Orlandi (Aabalat Fine and Rare Wines) and Mike Short (formerly of Sonoma & Glen Ellen Markets); our gracious host Don Sebastiani, my colleague Keith Casale, and myself.
All the wines were tasted blind and ranked on a 1-6 scale. #1 being the highest ranked of the bunch, #6 being the lowest. The five imports from Rias Baixas were purchased from K & L Wine Merchants in San Francisco, www.klwines.com; while the ringer, a domestic Albarino from the Napa District of Carneros, was provided by Michael Havens, who now makes a similar style under his new label www.cavedogwine.com in Napa.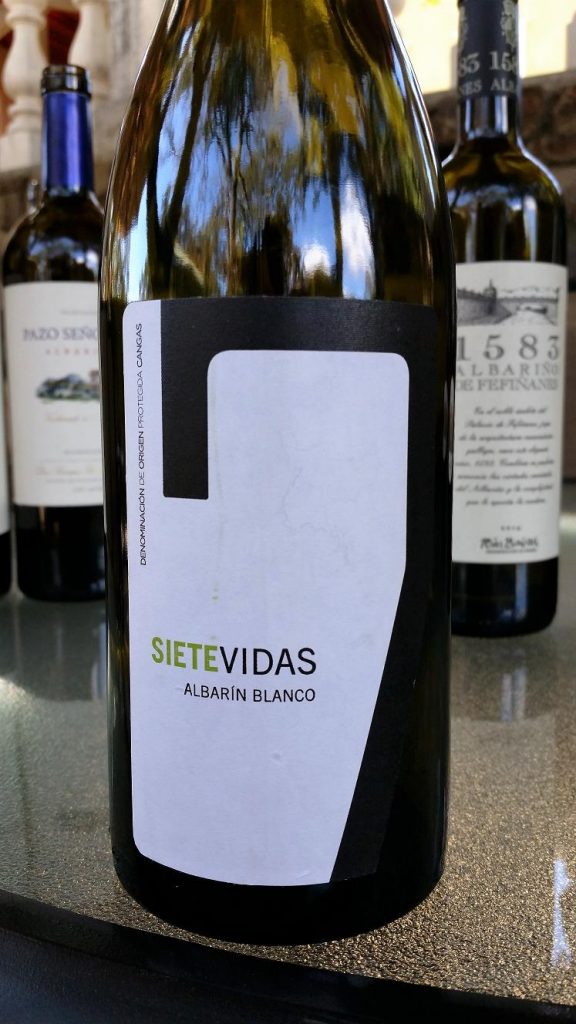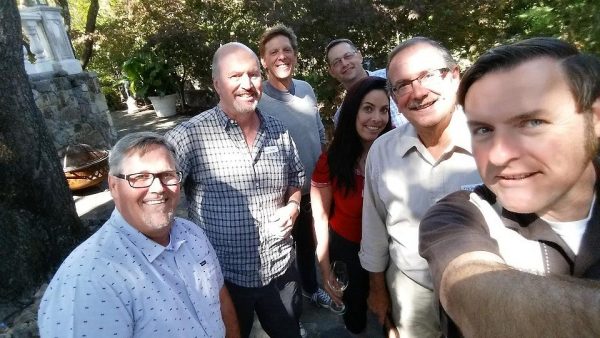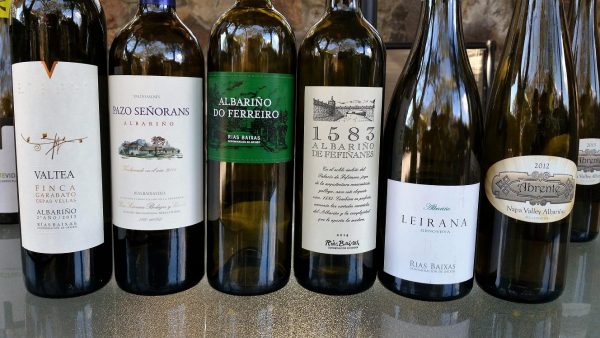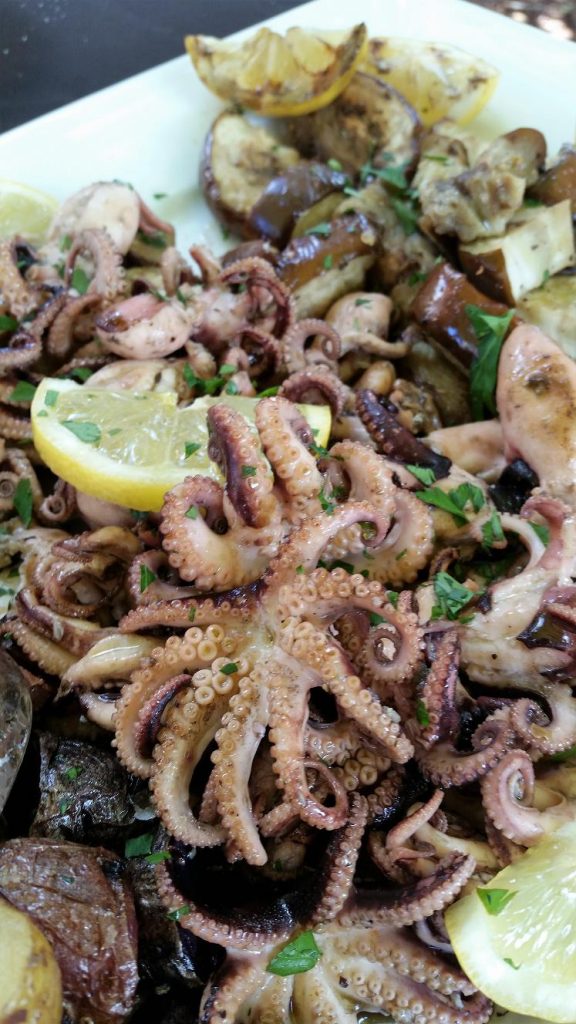 Clockwise (L to R) To prime our palates before the blind tasting, we sampled a special offering of Albarin from Cangas in the Asturias region of Spain, which is known for its cheeses and cider;  Classic #SawyerSelfieDeluxe with fellow Albarino tasters (l to r): Keith Casale, Michael Havens, Sydney Paris, Bob Orlandi, Darvarti Ananda, Mike Short, and me; Seafood extravaganza! At lunch, fabulous Albarino pairings prepared by Sonoma-based Chef Jason Meyer; The magnificent of selection of ultra-premium Albarino wines tasted from premiere producers Adegas Valtra, Pazo de Senoras, Do Ferreiro, Palacio de Fefinanes and Forjas de Salnes from the Rias Baixas region of Spain and a library selection of Abrente from the Carneros District of Napa Valley.
Here are the summaries and rankings of the wines we tasted blind:
Adegas Valtra 2013 Finca Garbato Albarino, Rias Baixas
Details: On the banks of the Mino River across from Portugal; Adegas Valtra is a cutting-edge winery that specializes in farming and working with special strains of Albarino. The oldest strain on the farm is in the Finca Garbato block, which has its own unique microclimate.
Panel descriptors: Slightly green hue with bright and expressive aromas of white spring flowers, tutti fruiti, fresh citrus, mustard seeds and wet stone. Lively flavors of fresh melon, mango, lemon pith, candied pineapple, and hints of raw almonds, dill and white vinegar lead to a long waxy finish. 13%
Group discussion: Overall, the team liked this wine quite a bit, particularly the alluring aromas, fresh fruity flavors, oily texture and vibrant acidity. However, Bob thought the finish was slightly short and not much on the front of the palate. Sydney also thought the wine was slightly astringent. For that reason, he suggested it would be a good pairing with creme fraiche. Keith agreed and made note of the slight hint of residual sugar and petrol he picked up on the mid-palate. The group agreed that it had enough weight to be paired with a fatty fish dish.  Group Ranking: #2 of 6 (tied) / Price: $19.99
 Pazo de Senorans 2014 Albarino, Rias Baixas
Details: Near the town of Meis in the historic Val do Salnés subzone of Rias Baixas, Pazo de Senorans winery is highlighted by an organically farmed estate vineyard that includes the traditional pergola-style trellis system and granite posts. Many of the grapes they work with are from some of the older vines. As a result, the winery has become one of the most respected Albarino producers in the world.
Panel descriptors: Waxy aromas with notes of ripe stone fruits, anise, wild herbs, smoke, and a drizzle of honey. On the palate, the wine is lean and gritty. Crisp flavors of white peach, pear, lemon, lime, granite, pine, and a delicate finish. 12.5%
Group discussion: For starters, there was a lot going on in this wine. McEntire, for instance, was intrigued by the slight funk factor in the aromas that included decomposing flowers and overripe pineapple and followed through with the slightly tropical notes in the flavor profile. Short felt the nose was faint, he really enjoyed the slightly creamy texture, tart flavors, and crisp finish. While Havens also liked the wine, he detected a high level of SO2, a technique that can hide sweetness. The team agreed that the lean character and burst of bright acidity would make this wine very appealing to people who like the more complex styles of Chablis and Pinot Grigio.  Group Ranking: #2 of 6 (tied) / Price: $19.99 
Do Ferreiro 2014 Albarino, Rias Baixas
Details: Founded in 1973, Do Ferreiro is one of the older wineries in the Salnés Valley. Along with 10 hectares of organically grown grapes on the estate property, proprietor Gerardo Mendez farms 130 plots in the valley. For the 2014 vintage, the 15-50 year old vines used in this blend are grown on a mixture of sand and granite-based soils. Beyond Albarino, the other specialty of the Do Ferreiro brand is Oruja, a traditional style of brand made with grape pomace. In Spanish, the traditional term aquardiente de oruja means "pomace firewater."
Panel descriptors: Lovely light emerald hue. Lofty floral aromas of fresh citrus, green apple jolly rancher, fresh herbs, peppercorn, and sea foam. Pronounced flavors of crisp apple, green fig, lime, lemon zest, and fresh pineapple. Full-bodied with round mouthfeel, bright acidity, creamy texture, and touch of sweetness on the finish. 12.5%.
Group discussion: The panel thought this wine was young, generous and sophisticated. Sebastiani liked the floral aromas and racy acidity. Sydney noted the way the flavors integrated with the tension generated by acid and skin contact. Casale thought it was solid, well-balanced, and liked the way it opened up in the glass. The only downside was that it was young and tasted much more complex when we enjoyed the open bottles with lunch. As a group, we agreed it would be fun to taste this wine after a few more years in bottle.  Group Ranking: #4 of 6 / Price: $25.99
1583 by Palacio de Fefinanes 2014 Albarino, Rias Baixas
Details: Within the stone walls of a fortress in the coastal resort town of Cambodos, Palacio de Fefinanes was established in 1904. According to proprietor Count Juan Gil Gonzalez de Careaga, who began the commercial venture at the winery in 1985, the key to the Fefinanes brand is purity. To make this happen, the winery procures Albariño grapes from over 50 separate old vine growers. Today, the top fruit is used to make 1583, a very elite high-end offering named after the birth year of the Viscount of Fefinanes, who built the historic Fefinanes castle in 1647. The first vintage of this wine was produced in 1995.
Panel descriptors: Big, weighty, wild, and complex. Deep aromas of butterscotch, fresh citrus, ripe melon, lemon verbena, mint, and mineral. Vibrant fruit flavors of ripe peach, honeydew, cantaloupe, kaffir lime, almonds, and zippy acidity. Silky texture, rich mouthfeel, and lingering notes of roasted nuts, sea salt and enchanting savory notes lead to a long, elegant finish. 12.5%
Group discussion: Beyond the lovely aromas, Scorsone loved the peach and citrus overlay of the flavor profile, as well as the overall balance of the wine. Davarti and Sebastiani both thought it was a great food wine. And McIntire said he'd love to match the complex flavors of the wine with spicy Indian or Vietnamese-style cuisine. Overall, the mastery of this wine is based on how the naturally sweet flavors combined with the high level of crisp acidity and oak aging create a rich and smooth texture. A magnificent wine to drink now or cellar for 5-10 years.  Group Ranking: #1 of 6 / Price: $39.99
Forjas de Salnes 2013 "Leirana" Albarino, Finca Genovera Vineyard, Rias Baixas
Details: Of the five subzones of Rias Biaxas, the Salnes Valley is the oldest, largest, and most affected by the cool, wet and damp conditions caused by its close proximity to the ocean. As a result, the wines tend to be soft, round, and often quite salty.  Forjas de Salnes is a boutique family-owned winery known for this style. At the high end of their portfolio, the fruit for the Leirana Albarino comes from stately old vines at the Finca Genovera Vineyard, owned by a 90-year old woman and a portion of the vines are 150-200 years old. History in ever sip!
Panel descriptors: Full-body with a pale yellow hue. This expressive wine features sexy aromas of spring flowers, pie crust, stone fruit, citrus, honeycomb, mineral, and sea smoke. On the palate, the flavors are layered with ripe apple, Asian pear, quince, grapefruit pith, nougat, cinnamon, and a harmony of sweet, sour and salty notes on the finish. 12.5%
Group discussion: While the wood influence was more pronounced than the other examples in this flight, the salty character and style of winemaking helped showcase the crisp and clean attributes of this wine. But in the end, everyone had a different view of this high-end offering. Casale and Sebastiani, for instance, used terms like "yeasty," "earthy" and "salty" in their descriptors. Others felt it was slightly sour and bitter. And while Short liked the well-rounded mouthfeel, he felt the wine needed more acidity to support its weight, especially on the finish.  Group Ranking: #5 of 6 / Price: $44.99
Abrente 2012 Albarino, Napa District, Carneros

Thanks to his travels as a young man, Napa Valley-based winemaker Michael Havens has been in love with Albarino long before wines from Rias Baixas hit the US market on a large scale. As a result, he was one of the first winemakers to start working with the grape in the new world. For that reason, he was generous enough to slip a library selection of the Abrente 2012 Albarino, which he made with fruit grown in Carneros, into our blind tasting. Today, Havens bottles his annual releases of Albarino under his Dog Wine Cave label.
Panel descriptors: This special cellar selection has a light hay color with green edges. In the glass, the aromatic notes are bursting at the seams with ripe melon, apricot, lime oil, candied pineapple, petrol, savory herbs, and stones. On the palate, vivacious flavors of ripe peach, golden delicious apple and pineapple combine with hints of yellow heirloom tomatoes, white pepper, and roasted nuts.13%.
Group discussion: After the wines were revealed at the end, Havens said the wine was made in 100% stainless steel tanks with whole clusters that went direct to press and spent three months on the lees (with skins). Despite being a year or two older than the other wines in the blind tasting, the purity of the fruit showed. As a result, the panel was impressed by the wine's mouthwatering character, generous flavors, vibrant acidity, and the long follow-through on the finish. Overall, a very lovely fruit-forward style of Albarino from America.  Group Ranking: #6 of 6 / Price: $24.99 
Bodega Vidas  2013 Siete Vidas Albarino, Cangas
Details: Outside of the Rias Baixas region, Albarino is also a popular grape to grow in Cangas, where the grape variety is called Albarin. So to prime our palates, prior to tasting the grouping our team ranked, we sampled this delicious release from Bodega Vidas.
Panel descriptors: Very floral with notes of lavender honey, light mineral, butterscotch, pineapple, and vanillin. Lively flavors of slate, almond, pineapple, white peach and apple. Medium-bodied wine with layers of fruity flavors and lavish texture 12.5%.
Group discussion: Overall, the wine was very well received. Havens liked the complex nose, nice phenolics, and firm structure. The team also liked the wine's combination of minerality and grainy texture, neutral oak, medium to high acidity, and round mouthfeel.  Not ranked / Price: $27.99
Panel Conclusion
On the gastronomical side, Albariños pair nicely with spices, salsas, olives, shellfish, grilled fish, white meats, classic Spanish ham and medium-bodied cheeses. They also work great served chilled as aperitifs or by themselves in the afternoon or evening during the warmer months. For more information about the Rias Baixas region, the producers, finished wines and more food pairings, visit www.riasbaixaswines.com.
Also, stay tuned for our new reports on high-end Champagne and Super Tuscan-style wines coming up in late December and early January. In the meantime, holidays cheers to our great followers and the fabulous winemakers, wine buyers, and sommeliers that have participated on the panels for the Sawyer-Casale Series in 2016. More to come in 2017!