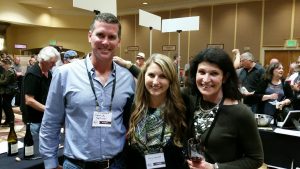 Figs & Prosciutto!  How can two such succulent flavors not be fabulous together?  Here is a recipe from Trombetta Family Wines to share at those upcoming holiday events.  Your guests will thank you for it!  Pair, of course, with some fabulous wines.
Figs & Prosciutto
Wash figs and pat dry
Cut in halves from the stem to the bottom
Rub 2-3 drops of Balsamic vinegar on the exposed inside of the fig
Cut prosciutto into long thin strips, 1/2 inch wide by about 3 inches long
Wrap the prosciutto around the middle of the fig
Cut Fontina cheese into small 1/4 inch thick by 1/2 inch long pieces
Place the cheese on top of the fig
Place figs on cookie sheet and place under the broiler until the cheese melts (a couple of minutes)
Serve warm or at room temperature
Enjoy!