In anticipation of the upcoming Flavor! Napa Valley, March 22-26, I would like to share some summaries I have written about the area.  Read more about Oakville below: This article and others in the region are posted at BuyWine.com.  A note about Flavor! Many of my seminars are SOLD OUT already, but some still have tickets available.  Get them while you can!
Oakville, Napa Valley, CA
If there is an epicenter of high-end Cabernet Sauvignons in the United States, there's a good argument that it's the Oakville appellation in Napa Valley.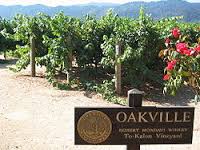 Named after the beautiful oak trees native to the area, Oakville is located between the small towns of Yountville and Rutherford in Napa Valley. With a population of less than 300 people, the region is easy to recognize by nearly 4,000 acres of sweeping vineyards; the dazzling architecture of pristine wine destinations which include Robert Mondavi Winery, Far Niente, Turnbull and Opus One; a historic wine production building and current home of Napa Wine Company on the corner of Highway 29 and Oakville Crossroad, which was originally constructed by Brun & Chaix Winery in the 1880s; and the iconic gourmet food stop, the Oakville Grocery.
The first major grape plantings were developed by Hiram Crabb, who purchased 240-acres of property in the region in 1865. After initially selling table grapes and raisins, Crabb changed his focus to making wine with grapes in 1872. And by the end of the 1880s, he had over 400 grape varieties planted at his To Kalon Estate.
In Greek, To Kalon means beautiful. Following Crabb's death, the property was sold to E.W. Churchill family in 1899. After the lovely wooden winemaking facility burned to the ground in 1939, the Churchills sold the property the following year. The section with the most diverse plantings, the Old Federal Vineyard, eventually became home to the University of California Davis Station, one of the greatest vineyard test-sites in the world. Another section became the coveted vineyard blocks owned by Robert Mondavi Winery.
When Mondavi finished building his winery in Oakville in 1966, his vision for the Oakville region and Napa Valley quickly blossomed. The elegant California mission-design of the winery was appealing to tourists and Mondavi's focus on producing world-class wines made with Cabernet Sauvignon and Sauvignon Blanc was a big departure from the old wines made in the region with Zinfandel and German white grape varieties.
Another legendary site in the region is Martha's Vineyard, which was planted by Bernard and Belle Rhodes near the UC Davis experimental station in 1959. The original vineyard was 14 acres of White Riesling and 12 acres of Cabernet Sauvignon, but eventually was converted to all Cabernet before Martha and Tom May purchased the property in 1963. In 1965, the family started selling grapes to Joe Heitz, a talented winemaker who went on to make a huge name for his brand and the site with a series of Martha's Vineyard designate wines he made in the 1960s and 1970s.
As the number of vineyards increased during the late 1970s to the present, many important new brands and cult wineries were developed in Oakville, including Groth, Joseph Phelps, Franciscan Estate, Silver Oak, Swanson, Turnbull, Rudd Estate, Miner Family, Dalla Valle, Harlan Estate, and Screaming Eagle.
In 1993, Oakville became an official appellation. Stretching across the valley from the Mayacamas Mountains to the Vaca Mountains, the region is two miles wide. From a geographical standpoint, the vineyards are influenced by sunny days, cool nights, and well-drained soils that produce a plethora of elegant, complex and age worthy wines on a yearly basis. www.oakvillewinegrowers.com.
Grape Expectations
Whites: Sauvignon Blanc, Chardonnay.
Reds: Cabernet Sauvignon, Merlot, Cabernet Franc, Petit Verdot, Malbec, Zinfandel, Sangiovese.
Taste Sensations
White Wines:  The Sauvignon Blancs from Oakville typically feature lively aromas of fresh fruit, citrus, lemongrass, ginger, herbs, and fresh-cut grass. The flavors are vibrant with notes of green apple, ripe melon, grapefruit, fig, passion fruit, mineral, spice, and tangy acidity.
The Chardonnays are elegant and refined with notes of ripe apple, stone fruits, caramel, vanilla, nutmeg and cinnamon.
Red Wines: There is no doubt that Cabernet Sauvignon is the definitive red grape variety grown in Oakville. The profiles of the finished wines are broad, elegant and sophisticated with enticing floral aromas and concentrated flavors of dark fruits, dark cherry, black currants, blackberry, cassis, plum, fresh mint, dried herbs, and cedar; lush texture; firm tannins; and long, rewarding finishes. Many of the Cabernets are made like Bordeaux blends with smaller portions of Merlot to provide smooth, soft and elegant texture; Cabernet Franc to add balance and spice; Malbec and Petit Verdot to add more color, tannins, and depth of flavor. Although it is no longer as widely planted in the region, the Zinfandel vines that still remain produce magnificent wines with bright and expressive jammy flavors of ripe berries, licorice, and black pepper. And the Sangiovese produced by Showket, Swanson and a few other wineries in Oakville feature lively notes of ripe red fruits, cherry, plum, mineral and allspice.
Food Pairings
The vibrant flavors of the Sauvignon Blancs from Oakville pair nicely with oysters and a tangy citrus-based mignonette, prosciutto with melon, chilled soups, arugula salads with goat cheese, grilled asparagus, pan-seared white fish, and tarragon chicken. The complex Chardonnays are better to pair with fine cheeses; rich soups; salads with creamy dressings; seared scallops; lobster risotto; roasted game hens; and pork chops.
With the Cabernet Sauvignons and Bordeaux-style blends, try roasted vegetables, gourmet mac & cheese, char-grilled steaks, rack of lamb, hearty stews, and dark chocolate truffles. Zinfandels are fantastic with gourmet sausages, barbecued ribs, and spicy Mexican or Indian cuisine.
Sangiovese is a great match with ripe cheeses, salumi, creamy soups, roasted beets, pasta in a hearty red sauce, gnocchi, pork tenderloin, and grilled meats.