Check out this cool story by the Sonoma County Farm Bureau on one of my favorite winegrowing families, the Sangiacomos!
Sangiacomo Family, Passionate About Agriculture and Family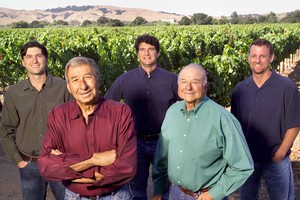 Currently, the family grows Chardonnay, Pinot Gris, Pinot Noir, Merlot and cool-climate Syrah grapes used by over 80 top producers in Sonoma and Napa counties. This impressive list includes special vineyard designate clients that include Neyers, Saintsbury, Sojourn Cellars, LaFollette, MacRostie, Rams Gate, B.R. Cohn, Ravenswood, Ancien and Chausseur.
In addition to being loyal members of the Sonoma County Farm Bureau, the family is also very active with other fantastic organizations like the Sonoma County Vintners, Sonoma Valley Vintners & Growers, Carneros Wine Alliance, and the Petaluma Gap Winegrowers Alliance. For more information about the vineyards and the family, visit www.sangiacomo-vineyards.com.