Looking for a wine gift to give someone special—or yourself for that matter? Then a great option is to get your hands on fine ports that can match up with a wide range of cheeses and desserts; sip gracefully when you are relaxing by the fire in the winter months; or hosting festive gatherings with friends and family all year long!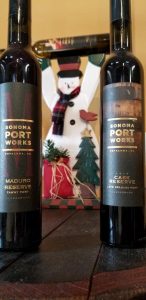 Twenty years ago, Portmaker Bill Reading took these thoughts to mind when he and his wife Caryn started developing DECO, a special port-style beverage infused with dark chocolate. Today, Bill makes a wide range of drinkable delights at Sonoma Portworks in Petaluma, California. In addition to DECO and DUET (an after-dinner Sherry with essence of natural hazelnut), the portworks offers a wide selection that include newest releases of flavorful ports, grappa, sherry and the Sonomic Red and Sonomic Gold (sweet and tart vinegars with a kick). See below for my recent reviews of the Aris Petite Sirah Port, Aris Petit Verdot Port and the fabulous new Norton Port, the deep and complex Reserve Port, as well as the sultry Maduro Reserve Tawny Port.
These delicious products can be purchased online at www.portworks.com. Or, better yet, you can visit Sonoma Portworks, which is located next to the bustling Aqus Café, just a few blocks from downtown Petaluma. During the holiday season, the Portworks tasting room is open Noon to 5 pm daily, except on Christmas and New Year.
Sonoma Portworks
613 2nd Street, Petaluma, CA 94952
707.769.5203
Sonoma Portworks Norton Port, Clarksburg / $38 (375ml)
Newsbreak: Norton Port makes its debut in California! Known for its ability to produce rich, full-bodied red wines with deep colors, complex flavors and bright acidity, Norton is a classic American grape varietal named after pioneer grape grower Daniel N. Norton of Richmond, Virginia in the early 1820s. After a successful wave of early plantings in the eastern and midwestern segments of United States before the turn of last century, the majority of the vines were ripped out between prohibition and the modern era. But thanks to a renewed interest in this intriguing dark-colored grape, newer plantings are now on the rise in important winegrowing areas stretching from Virginia to Missouri, and the West Coast.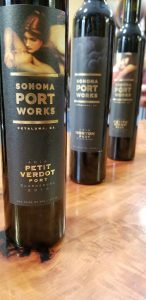 To commemorate the resurgence of this historic grape, portmaker/proprietor Bill Reading of Sonoma Portworks and his wife Caryn, recently launched the first ever port made with Norton grapes grown California. Crafted with grapes harvested in 2012 and 2014 from premium vines planted in the Clarksburg appellation near Sacramento. This wine offers alluring scents of ripe red fruits, wild berries, caramel-coated popcorn, anise, and integrated layers of earth and spice. Deep and dark with a rich, lavish texture, the flavor profile is packed to the brim with gracious notes of ripe plum, black raspberry, wild herbs, tangerine zest and lingering notes of fresh Mud Pie, a midwestern dessert classic made with chocolate, butter, cream, and fresh-made pastry crust. With a round mouthfeel, balanced tannins and long finish; the end result is a stately port that is generous, delicious and rewarding.
Suggested pairings: Earthy cheeses with dried fruits; nut-based tarts; Candy Capped Mushrooms; fresh S'mores; or an ample slice of German Chocolate Cake.
Score: 91
Sonoma Portworks 2012 Aris Petite Sirah Port, Clarksburg / $38 (375ml)
Recognized for its dark hue and rich, concentrated flavors of red and black fruits, fresh herbs and spice; Petite Sirah has been planted in California since the 1890s. While it's true that most of the grapes are used to make full-bodied red wines and complex proprietary blends; there are also a number of impressive Petite Sirah-style ports in the market as well.
One of these recent standouts is the Aris 2012 Petite Sirah Port. Crafted by winemaker Bill Reading and the team at Sonoma Portworks with pristine grapes grown in the historic appellation of Clarksburg near Sacramento. The wine was aged for 5 years in small neutral oak barrels and fortified with Cabernet Sauvignon grapes distilled in a single-batch Armagnac still.
Opulent, intense and engaging, the wine opens up with fragrant aromas of dried rose petals, dark red fruits, fresh dates, tangerine peel, pipe tobacco, leather, cinnamon, vanilla and roasted nuts. On the palate, the robust flavors of dark cherry, cola, huckleberry jam and ripe fig are interlaced with nuances of candied fruits, clove and fresh maple syrup. And unlike other vintage ports that sometimes taste over-ripe, coarse or too hot on the finish; the texture of this wine is soft, smooth and luxurious. The end result is a fortified gem that offers a perfect mixture of power, elegance, and finesse in every sip
Suggested pairings: Blue cheeses like Maytag Blue or Point Reyes Bay Blue; Chocolate Truffles; Flourless Chocolate Cake drizzled with Raspberry Coulis; or simply match with fine cigars, a toasty fire, and great conversations to finish the evening in style.
Score: 93
Sonoma Portworks 2014 Aris Petit Verdot Port, Clarksburg / $34 (375ml)
Although it's one of the five main grapes used to make the famous red wine blends in the Bordeaux region of France, Petit Verdot has been a mystery to most American consumers. But thanks to the recent series of new domestic plantings in the United States, the popularity of the grape has reached an all-time high over the past decade.
In Northern California, one of the big fans of the grape variety is portmaker Bill Reading of the Petaluma, California-based Sonoma Portworks, who makes his Aris Petit Verdot Port with high-quality, sustainably-framed grapes from the historic wine region of Clarksburg, an hour east of the San Francisco Bay Area.
From the highly-touted 2014 vintage, this new release immediately commands attention with a dark inky hue and tantalizing aromas of dark fruits, wild berries, ripe figs, tobacco and roasted chestnut. On the palate, the texture is rich and smooth, with concentrated flavors of dark cherry, ripe blackberry, cassis, pomegranate, blood orange peel, dark chocolate nibs, savory spices and earthy undertones leading to a lingering finish. Together, this gentle interplay of full-bodied flavors, grippy tannins, structure and a burst of vibrant acidity on the mid-palate, help keep the wine fresh, lively and delicious. Thus, instead of being one-dimensional, too sweet or cloying, it's a fantastic wine that is distinctive, flavorful, and extremely satisfying from the first sip to the last.
Suggested pairings: Ripe, tangy and creamy cheeses like Gorgonzola and Rogue River Blue; roasted figs wrapped in prosciutto; pan-seared Foie Gras drizzled with black cherry sauce; hickory-smoked almonds; and rich chocolate desserts.
Score: 92
Sonoma Portworks Maduro Reserve Tawny Port, Batch 2, Clarksburg / $48 (375ml)
Unlike the classic styles of "vintage," "late bottled vintage" and "ruby" ports that are based around capturing the ripe, fruit-forward flavors of the grapes and softening them out with more time in the bottle; tawny ports are matured for an extended amount of time in wooden barrels or casks to slowly build layers of complex flavors, smooth texture, and personality that make them user-friendly and approachable upon release.
In Petaluma, California, specialized portmaker Bill Reading of Sonoma Portworks kept these thoughts in mind when he began developing his family's signature style of Maduro Reserve Tawny Port, a limited release wine sold under the family label that he and his wife Caryn started two decades ago.
Made exclusively with ultra-premium Petit Sirah grapes. The new release of Batch 2 of the Maduro Reserve is aged in neutral oak barrels for 11 years and topped off with younger vintages annually to add more complex flavors as the wine matures in wood. The wine was fortified with a spirit made with Cabernet Sauvignon grapes that were distilled in a copper Armagnac still, and aged in oak for up to 36 months.
With a brilliant amber hue, this new release of the Maduro Reserve opens up with seductive aromas of ripe red and black fruits, fresh marmalade, buttered toffee, wild mushrooms and candied pecans. On the palate, the deep, rich and concentrated flavors of ripe plum, roasted figs and caramel-dipped red apple are further enhanced with lively hints of fresh quince, citrus zest, cinnamon and nutmeg; a silky texture; and a memorable finish that is long, luscious and smooth. Graceful, lengthy and a pleasure to sip, this elegant and sophisticated style of port can give well-known producers from the Old World a run for their money. Lip-smacking good, true tawny craftsmanship at its finest.
Suggested pairings: Hard and salty cheeses like Aged Gouda or Spanish Manchego served with spiced nuts and fresh honey; Crème Brulée; Pear Frangipane; Pecan Pie; Caramelized Onion Tart.
Score: 94
Sonoma Portworks Reserve Late Release Port, Clarksburg / $44 (375ml)
No matter if you are working with high-quality grapes grown on the steep terraces running along the rugged mountains ranges overlooking of the famous Douro Valley of Portugal or a special vineyard site in the New World, crafting a reserve style port requires patience, focus, and attention to detail. The latest case in point is the Reserve Late Release Port by Sonoma Portworks, a magnificent blend of premium Petite Sirah and Petit Verdot grapes from the 2006 and 2009 vintages, and slowly aged in wooden casks before being melded together in the final blend assembled in 2016.
With a lovely dark crimson hue, this complex wine features heady aromas of rich red fruits, fresh dates, ginger snaps, vanilla, sherry, roasted chestnuts, forest floor and cigar box. In the glass, the sweet core notes of ripe plum, cooked cherry, red currant and apple jacks are accented with spicy nuances of sassafras, cardamom, black pepper, mineral and seasoned oak. As the wine opens up, these concentrated flavors are kept in balanced with a harmonious mixture of bright acidity, soft tannins, firm structure, and a lingering finish that is sweet, spicy and persistent. The end result is a sophisticated wine that is classy, complex, and a true sensory experience to share with friends and family throughout the year.
Score:  93