With Washington State Wine Month now in full swing, there's no better time than the present to check out the refreshing styles of white wines from the Pacific Northwest. With these thoughts in mind, below is a special list of some of my favorite wines I've tasted since end of harvest in 2016 to the present. As a primer, here's a quick overview of what's happening with white grapes in the state…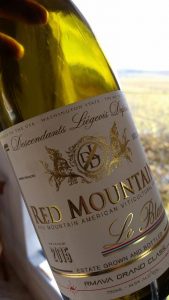 As in the years past, Washington's most popular white grape variety is Riesling, which is used to make dry, off-dry and dessert-style wines. Grown in the cool-climate conditions of the Puget Sound near Seattle and the greater Columbia Valley in the southeastern part of the state, the fruit is known for its expressive aromas and lively flavors of apricot, peach and ripe apple. For these reasons, Riesling continues to be the most widely planted grape in the state and represented 22.2% or 50,500 tons of grapes crushed in 2014.
Although Cabernet Sauvignon, Merlot and Syrah are very important varieties in Washington, the second most popular grape is still Chardonnay, which represented 19.3% or 43,800 tons crushed in 2014. Not surprising, the vast majority of the vines are planted in the Columbia Valley, which shares similar latitude with the famous Chardonnay vineyards in the Burgundy region of France. Therefore, instead of being rich, buttery and oaky, the Chardonnays tend to be more crisp and delicate with lively flavors of apple, citrus, and tropical notes.
While Pinot Gris (4%), Sauvignon Blanc (3%) and Gewurztraminer (1.6%) round out the Top 5 grape varieties planted in the state; it's also exciting to note that the remaining 2.4% of the white grapes includes a diverse mixture of Viognier, Roussanne, Marsanne, Chenin Blanc, Madeleine Angevine, Siegerebbe, Muller Thurgau, Orange Muscat, Muscat Canelli, Muscat Ottonel and Aligote. Once again proof that the vintners and growers of Washington are willing to go off the beaten path to experiment with a wide range of grapes that can perform well in the specialty soils and climate conditions that set the state apart from other winegrowing regions in America and beyond.
In keeping with popular styles of Washington cuisine, here are some of my favorite food picks to pair with flavorful white wines produced in the state: fresh oysters; steamed artichokes served with citrus-based aioli sauce; seasonal soups; specialty salads made with kale or arugala; fresh scallop with fruit salsa; pan-seared white fish with a squeeze of lemon; herb roasted chicken with parsnip puree; Indian and Pan-Asian cuisine.
SawyerSomm: Flavorful White Wine Picks
from Washington State 2017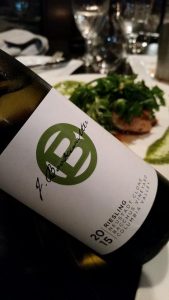 Bookwalter 2015 Riesling, Bacchus Vineyard, Columbia Valley ($18) / 93 Pts
Made with the specialty Neustadt clone of Riesling, here's a classic example of the Washington State style from J. Bookwalter Winery. With fresh floral aromas, the lively flavors of ripe pear, green apple and citrus are complimented with notes of grapefruit, honey and cinnamon as the wine opens up in the glass. Couple this with silky texture, vibrant acidity and a long elegant finish; the end result is a well-crafted wine that is ripe, sexy and refreshing. As a side note: I'd also recommend trying the J. Bookwalter Chenin Blanc ($26), which I truly believe is one of the finest offerings made with this aromatic grape variety outside France's Loire Valley. Located at winery in Richland, their delightful on-site restaurant, Fiction at Bookwalter, rocks too! www.bookwalterwines.com
Chateau Ste. Michelle 2015 Eroica Riesling, Columbia Valley ($22) / 92 Pts
Despite being the hottest year on record in Washington State, the 2015 vintage will be remembered for producing a dazzling range of white wines that made an immediate impact in the marketplace. An excellent example is the Eroica Riesling, a special collaboration by talented winemakers Bob Bertheau of Chateau St. Michelle and Ernst Loosen of Mosel in Germany. Layered primarily with pristine fruit from the Evergreen Vineyard in Yakima Valley; this spirited young wine features lifted aromas and vibrant flavors of ripe peach, exotic melon, raw coconut, orange blossom, fresh lime, mineral and white truffle; bright acidity; and a clean, crisp finish. As concluded at our special seminar at Sunset Magazine earlier this year, this wine can go head to head with the finest Rieslings in the world. A true signature wine of Washington State. www.ste-michelle.com
CMS 2016 Sauvignon Blanc, Washington State $15 / 89 pts
Crafted by gifted winemaker Sarah Hedges Goedhat and the team at Hedges Winery in Benton City, the fruit for this unique white wine was mainly grown on the famed Wahluke Slope and specialty sites in Yakima Valley. To compliment the fresh, acid-driven flavors of Sauvignon Blanc, smaller percentages of Chardonnay and Marsanne were added to create more complexity, mouthfeel and texture. As a result, this energetic wine stimulates the senses with notes of crisp green apple, tart lemon, pineapple upside down cake, roasted almonds, racy acidity, and a long, dry finish. Elegant and refreshing from start to finish. www.hedgesfamilyestate.com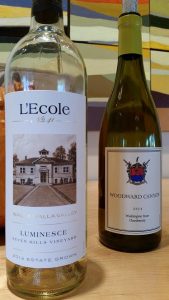 L'Ecole No. 41 2015 Estate Luminescence, Seven Hills Vineyard, Walla Walla Valley ($22) / 92 Pts
As one of the premiere white wine producers in the US, L'Ecole has been making this fascinating blend of Semillon and Sauvignon Blanc since 2007. Therefore, from the moment the cork is popped, this new release immediately draws attention with fresh aromas of ripe tropical fruits, honeysuckle, mineral and spring flowers. Same is true on the palate, which is filled with delicious notes of fresh quince, exotic melon, poached pear, guava and rich texture leading to a long elegant finish. Captivating, complex and a real steal for the price. www.lecole.com
Lauren Ashton 2014 Roussanne, Columbia Valley ($25) / 91 Pts
Following his passion to make his own signature style of world-class, Seattle-based dentist Kit Singh founded Lauren Ashton Cellars in Woodinville in 2009. Through the years, the winery has gained a reputation for producing a brilliant range of high-quality red and white wines which pair extremely well with fine cuisine. As tasted with Kit and his wife at Riinu at RN74 in Seattle, one of the new gems is the 2014 Roussanne. With a light golden hue and fragrant aromas, this lovely wine features lively notes of fresh stone fruits, peach and citrus interlaced with hints of chamomile and mineral; a burst of perky acidity; and a tangy finish that refreshes the palate after each sip. Overall, a fantastic example of the aromatic, energetic and thought-provoking Rhone-style whites coming out of Washington State! www.laurenashtoncellars.com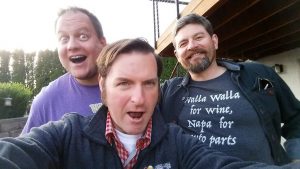 Dusted Valley 2015 Chardonnay, Olsen Vineyard, Yakima Valley ($34) / 92 Pts
With so many buttery Chardonnays in the marketplace, it's great when you find one that draws your attention with a bounty of fresh aromas and fruit-driven flavors. From the high-elevation Olsen Vineyard in Yakima Valley, this new release from Dusted Valley is an excellent example of this style. To capture the purity of the flavors, the wine was aged primarily in neutral barrels, stainless steel and concrete eggs. In the glass, this attention to detail shows with delicate notes of fresh Anjou pear, white peach, grapefruit, zippy acidity, and subtle nuances of wet stones and spice. Fabulous by itself or with fresh fish, herb-roasted chicken or grilled pork chops with a squeeze of lemon. www.dustedvalley.com
Woodward 2015 Chardonnay, Washington State ($44) / 94 Pts
Meticulously crafted with premium grapes planted at the Woodward Canyon Estate in Walla Walla Valley and the Celilo Vineyard in the Columbia Gorge appellation, here's a sophisticated wine for Chardonnay lovers. Led by tantalizing aromas of stone fruits, caramel, mineral and roasted hazelnuts, the wine opens up with rich flavors of Asian pear, baked apple, ginger spice, lemon rind, vanilla and nutmeg. Well-balanced with a silky, suede-like texture, vibrant acidity and a lingering finish, not only is this a sexy wine right out of the gate, but its one those gems that will reveal more of its natural personality and style when decanted or aged in the cellar for 5-10 years. Exquisite! www.woodwardcanyon.com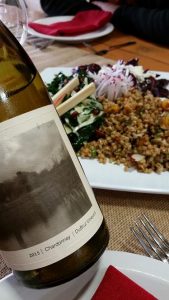 Owen Roe 2015 Chardonnay, DuBrul Vineyard, Yakima Valley ($48) / 93 Pts
Located on a sloping hillside along the western edge of Yakima Valley, the DuBrul Vineyard is known for growing world-class Chardonnay grapes bursting at the seams with a complex flavors, natural acidity and distinct characteristics based on where the vines are planted on the property. To capture this profile in the bottle, the team at Owen Roe takes a hand-off approach to let the vineyard speak for itself. The latest case in point is the stylish offering from the 2015 vintage. Anchored around the lively notes of fresh white peach, fresh pineapple, lemon and exotic melons, generated by the vines planted at the lower elevation; the flavors are further enhanced with subtle nuances of wild herbs, ginger, citrus, mineral and vibrant acidity from the higher blocks; and rounded out with creamy texture and a subtle kiss of oak that makes every sip count. www.owenroe.com
Novelty Hill 2014 Late Harvest Semillon, Stillwater Creek Vineyard, Columbia Valley ($25) / 92 Pts
If you're looking for dessert wine with personality and style, check out this limited-release Late Harvest Semillon from Novelty Hill. After gaining a reputation for crafting an expansive series of award-winning red, white and dessert wines during his tenure as head winemaker at Chateau Ste. Michelle in the 1990s, Mike Januik began developing his Januik and Novelty Hill labels in 1999. And although he has make two sweet wines under his Januik label, the Bacchus Vineyard Riesling and the Champoux Vineyard Muscat Canelli; the 2014 Late Harvest Semillon is only the third release made with precious fruit from his family's Stillwater Creek Vineyard (2007 and 2011 were the others). Aged in French barrels, the wine immediately dazzles the senses with aromas of fresh flowers, ripe tree fruits and beeswax. In the glass, the flavors are ripe, deep and explosive, with layers of pear, peaches, mango, citrus, ripe fig, and a lengthy finish that is rich and vivacious instead of being too sweet or cloying. Graceful and satisfying in every sip, it's a great wine to enjoy by the fire or serve with tangy cheeses, Key Lime Pie and a myriad of other fruit-based desserts. www.noveltyhilljanuik.com