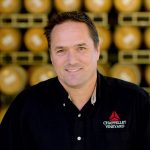 Join ME and Dominic Chappellet for a Wine & Food Pairing educational event Wine & Food Pairing with Sommelier Christopher Sawyer.
Thursday, August 27 at 5pm PST
We will guide you through the fundamentals of wine and food pairings and the key characteristics of Chardonnay, Pinot Noir and Cabernet Sauvignon, and principles behind pairing them. Plus, why certain combinations work and some don't, how to avoid common pitfalls, and how to develop successful food and wine pairings on your own. Get Registered HERE!
Cheers! Christopher