Writing my retrospective of the year reminded me to share these published articles from 2015! As written, some of my favorite memories from the past year were based on the accomplishments of gifted winemakers and family owned wineries. One of those was a celebration of a number of fun days spent with Sonoma County winemaker Richard Arrowood of Amapola Creek.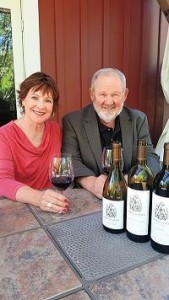 Last spring marked the monumental kickoff to Arrowood's 50th vintage and a series of retrospective tastings featuring over 60 wines from the iconic winemaker's private collection. My great mentor Master Sommelier Fred Dame and I were on hand to help with each of these tastings. I must say it was a pleasure to taste through this vast collection of gems. Highlights include: a rare series of vineyard designate wines made with Cabernet Sauvignon, Zinfandel, Riesling and Chardonnay grapes from legendary sites like the Laurel Glen, Wildwood and Glen Ellen (now Moon Mountain Vineyard) that were part of the Chateau St. Jean collection from 1974 to 1988; to a series of elegant and ageworthy wines from Arrowood Vineyards; and an impressive grouping of the more powerful styles made under the Amapola Creek label from 2005 to the present. You can read my stories on this experience in these two articles published by Napa Sonoma Magazine, Notes Worth Savoring: Richard Arrowood celebrates five decades of making fine wine, and The Tasting Panel, Celebrating 50 Years of Success with Richard Arrowood.
And now some special wine reviews —Into the Cellar: Six memorable Cabernet Sauvignon selections by Richard Arrowood
Here are six of my favorite cellar selections of Cabernet Sauvignon made by one of the great masters of the craft, Richard Arrowood. From a sommelier's standpoint, it's a wonder to taste these vintage wines over time. File under #Priceless! -CS
Chateau St. Jean 1975 Cabernet Sauvignon, Wildwood Vineyards, Sonoma Valley: Big, ripe and juicy flavors of wild berries, chocolate, black olive, mineral, and an ample amount of structure for a wine that is pushing 40-years since the grapes were picked. A true ethereal experience made with fruit from one of the most historic Cabernet Sauvignon vineyards in America. 97 pts
Chateau St. Jean 1977 Cabernet Sauvignon, Laurel Glen Vineyards, Sonoma Valley: Attractive aromas of leather, tobacco and seared meats; flavorful notes of wild mushrooms, soy and ripe berries; soft elegant texture; followed by a long, engaging finish. 98 pts
Chateau St. Jean 1978 Cabernet Sauvignon, Glen Ellen Vineyards, Sonoma Valley: Deep flavors of briary blackberries, blueberry, wild sage and mountain herbs, earthy tones, and a lingering finish. 96 pts
Arrowood 1993 Cabernet Sauvignon, Réserve Spéciale, Sonoma County: Sophisticated wine with aromas of dark fruits, bay leaf, tobacco and cedar leading to complex flavors of dark cherry, dried herbs, earth, rich texture, and a generous finish. 98 pts
Arrowood 2004 Cabernet Sauvignon, Monte Rosso Vineyard, Sonoma Valley: Magnificent Cabernet that still tastes young. Lively notes of ripe berries, tobacco, summer sausage, chocolate nibs, rich texture, and an impressive blast of vibrant acidity towards the end. 96 pts
Arrowood 2007 Cabernet Sauvignon, Réserve Spéciale, Sonoma Valley: Extremely concentrated wine with layers of dark cherries, plums, wild berries and dark chocolate enhanced with nuances of fresh mountain herbs, clove, cardamom, and chewy tannins. 97 pts
Make your special trip to Amapola Creek this year. Hours and tastings by appointment only.  392 London Way, Sonoma, CA                (707) 938-3783
Enjoy & Happy New Year to you all!!!!