The minute I first saw it, I knew it was only a matter of time until someone I knew would make it happen over #4thofJuly Weekend. Of course, I'm talking about making the ultimate Ice Cream Flag Cake featured in the July/August issue of Food Network Magazine. Imagine a dazzling red, white and blue cake made with raspberry sorbet, vanilla ice cream, 28 drops of blue gel food coloring, unsweetened cocoa powder, confectioner's sugar, and plenty of other goodies. It's a recipe for a holiday cake that makes you want to cut it out and eat it.
So it wasn't a surprise that my great friend Ilene Rapkin, President of I Openers in NYC, and her family completed the honorable task of making this magnificent culinary gem during their 4th of July Weekend activities in upstate New York.
So when Ilene sent me photos of the cake, she asked me what I would recommend for a wine pairing. My first instinct was to break open a bottle of the Gloria Ferrer NV Va de Vi Sparkling Wine, Sonoma County.
SawyerSomm notes: As a departure from the magnificently dry styles of elegant sparkling wines made at Gloria Ferrer Caves and Vineyards near Sonoma, California since 1982; the Va de Vi is young, perky style of bubbly with a hint of sweetness on the finish. Composed of 89% Pinot Noir, 8% Chardonnay and 3% Muscat, the wine features lively flavors of Bing cherries, fresh berries, Meyer lemon, vanilla and creamy texture. In essence, it's a melting pot of deliciousness.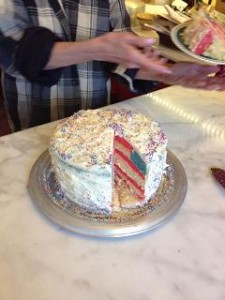 In addition to pairing extremely well with the ingredients used in the Ice Cream Flag Cake and more semi-sweet desserts; this sparkling gem can also easy be served as a fresh aperitif or as a compliment to spicy Indian or Thai cuisine.
Later this month, Va di Vi will be one of the featured sparkling wines paired with flavorful domestic interpretations of Spanish tapas at the 22nd Annual Catalan Festival at Gloria Ferrer Caves and Vineyards, July 19-20. For more information, visit www.GloriaFerrer.com
This fall, the Va de Vi and other sensational sparklers and still wines from Gloria Ferrer will also be featured at the Food Network in Concert at the Ravinia theater in Highland Park near Chicago on September 20th, including at the spicy "Hot, Hot, Hot" luncheon hosted by star chefs and wine seminars hosted by yours truly before the headliner John Maher takes the stage in the evening. In short, the Va de Vi is a fun and stimulating sparkling wine that's definitely worth getting to know in 2014!
Cheers, Christopher