Trekking along Hwy 128, THE VARIETAL SHOW made a stop at Domaine Anderson, to have a chat with winemaker Darrin Low. In a different part of Mendocino, this time just outside the town of Philo, for some wines with true Anderson Valley flavors. Together we discuss the growth of wineries in AV, how the ocean portal affects the grapes and being biodynamic with 100% estate fruit!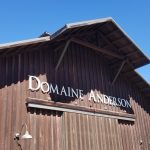 Taste with us: Domaine Anderson 2018 Chardonnay, 2021 Rose, 2018 & 2020 Pinot Noir. Plus we go "into the deep" with their 2014 Pinoli Vineyard Pinot Noir!
LIKE, SHARE & FOLLOW my You Tube channel, for notification about upcoming episodes, most Tuesdays @12:30pm!