While the trade portion gets going earlier in the week, you can still get the Zinfandel Experience with tickets to a few events that are not already sold out!
Flights: January 19, 10:30-1pm
Moderated by Joel Peterson, winemaker of Ravenswood Winery.
Aimed at the true wine aficionado with a keen curiosity, this seated seminar-style tasting allows attendees to experience the true character of Zinfandel through the eyes of experts.
Grand Tasting: January 20, 11am-5pm
The weekend's main event is the Grand Tasting, where you will meet the winemakers at the most comprehensive showing of Zinfandels and blends in the world and experience a selection of sumptuous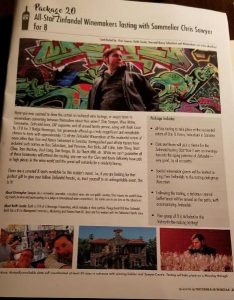 culinary samples from restaurants and winery chefs.
Winemaker Auction & Dinner: January 19
Unfortunately this event is already SOLD OUT.  However, if you happen to be a lucky ticket holder be sure to look for my special Auction Package #20 and bid high! The live and silent auctions will showcase one-of-a-kind lots, rare bottles, and winery experiences with proceeds benefitting ZAP's programming.