With a series of online events catered to your tasting experience, ZIN EX goes LIVE ONLINE on January 30 & 31, featuring more than three dozen outstanding California wineries. Registration is OPEN NOW which is offered FREE to the general public. In particular be sure to join my 2 Meet The Maker panels on Saturday Jan 30, of the 10 toal moderated sessions on both days between 1-4pm, featuring winemakers or winery principals, among the multiple memorable excursions:
Dry Creek Valley Legendary Zinfandel Vineyards – 2:15pm
Napa Valley Legendary Zinfandel Vineyards – 2:45pm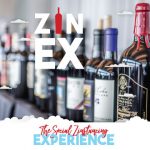 Attendees will be able to watch the Legendary Zinfandel Vineyards panel discussions via live stream on the Main Stage, they can ask questions via real-time chat, visit Virtual Booths to speak directly with key winery personnel. Participating wineries will offer special promotions before, during, and after the event with wine details. Guests can purchase the wine in advance to taste along or go shopping post-event.
See you there! Christopher