For your viewing pleasures, here is the second part of my annual Christmas film and wine pairings. Merry Christmas to all! Cheers, Christopher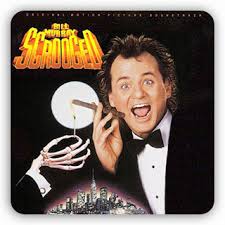 Scrooged (1988)  Based on the classic Charles Dickens' character Ebenezzer Scrooge, Bill Murray plays Francis Xavier Cross, a top New York television company executive with a serious chip on his shoulder. While trying to salvage relationships with his girlfriend, co-workers and family, Francis learns the hard facts of life from an amusing trio of Christmas ghosts representing the past, present and future.
Pairing: Ravenswood 2012 Zinfandel, Old Hill Ranch, Sonoma Valley ($60)         
Although he is the main character in this film, Murray's role is further enhanced by a great cast which includes Karen Allen, John Forsythe, Robert Mitchum, John Houseman, Lee Majors, David Johansen, Robert Goulet, Carol Cane, Bobcat Goldthwait and other fine actors. In many ways, a similar thing is happening inside a bottle of the Ravenswood Old Hill Zinfandel. Planted in the 1880s, this special site features a one-of-a-kind field blend of Zinfandel, Mataro (Mourvedre), Carignane, Grenache, Alicante Bouschet, Petite Sirah, and 20-plus other grape varieties. As a result, this intriguing selection of grapes produce a powerful wine with a substantial amount of depth, structure, and plenty of high-tone flavors of ripe blackberries, black raspberry, licorice, vanilla, violet, fine French oak, and complex notes of dried herbs, Mexican baking chocolate and black pepper spice on the finish. Pour yourself a glass, kick back, and notice how these supple flavors continue to expand along with the mixture of holiday drama, dark humor and the lavish music by Danny Elfman. www.RavenswoodWinery.com.
It's a Wonderful Life (1946)  Frustrated with his life, his job and his

awful boss, George Bailey (Jimmy Stewart) is ready to commit suicide when he meets his guardian angel Clarence. In turn, Clarence shows Bailey what life would be like if he was removed from the picture. When this emotional rollercoaster finally stops, Bailey goes on to correct the wrongs in time to celebrate Christmas with his family.
Pairing: Elks Cove 2013 Pinot Blanc, Willamette Valley  ($19)
Directed by Frank Capra, this holiday classic screams out to be paired with a wine of equal stature. In 2014, one of my favorite picks is the Elk Cove 2013 Pinot Blanc, a crisp, clean and favorable wine made with scrumptious grapes grown in Willamette Valley. The end result is a brilliant white wine with aromas and flavors of honeysuckle, ripe melon, pineapple, crisp apple, white cherry, honey and cardamom, hint of mineral, racy acidity, and a generous creamy note on the finish. Superb with this movie and a plethora of other holiday treats, warm soups, gourmet salads, or by itself when paired with this classic Christmas film. www.elkscove.com.
In the beloved Christmas tale Miracle on 34th Street, Edmund Gwenn stars as Kris Kringle, a sweet old man who plays Santa at the Macy's Day Parade. But once he claims to be the original jolly man from the North Pole, the story quickly become a bit more complicated. Is he nuts? Is he Santa? You have to wait for the court case to find out.
Pairing: Col Solare 2011 Red Wine, Red Mountain, Washington State ($75)
Given the fact that generosity and teamwork are the underlying themes that make this film a true Christmas classic, a taste-tempting sensation that addresses these important topics head-on is the Col Solare 2011 Red Wine, a joint project began in 1995 by Ted Baseler of Chateau Ste. Michele in Washington and Marchese Piero Antinori of Tuscany. Made by talented winemaker Darel Allwine and team this concentrated blend contains 77% Cabernet Sauvignon, 11% Merlot, 8% Cabernet Franc  and 4% Malbec grapes grown primarily at the Col Solare Estate in the Red Mountain AVA of Washington State. The end result is rich and complex wine featuring fruit-driven aromas and deep flavors of ripe cherries, black currants, mineral, milk chocolate and toasted almonds; smooth tannins; and a long, elegant finish. Besides pairing great with the powerful characters played by Gwenn, Maureen O'Hara and Fred Gailey, the vibrancy of the wine is enhanced by Natalie Woods' portrayal of the young girl. In short, it's a lively compliment to such a sentimental film. www.colsolare.com.