With only a few days until Christmas, it's time to start relaxing, opening bottles of fine wines, and absorbing the seasonal spirit with the help of true celluloid classics. Below are three of my favorite pairings. Stay tuned for more of my seasonal picks over the next few days.  Cheers! Christopher
__________________
 A Christmas Story (1983)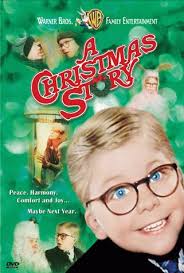 Set in rural Indiana in the 1940s, Peter Billingsley plays Ralphie Parker, a young boy who will do anything possible to get a shiny new Red Rider Air Rifle for Christmas. But it does not take long until Ralphie finds himself jumping through a series of comical hoops to convince Santa (a.k.a his father) that he deserves such an expensive present.
Pairing: Gloria Ferrer 2010 Brut Rosé, Carneros ($45)
Born in the 1940s, many Baby Boomers would have their first wine tasting experiences with Mateus and Lancer's, two sweet and enticing brands of pink wines from Portugal which flooded the American market in the 1960s and 70s. But today, pink wines are much more sophisticated and finish dry. This is especially true with delicious versions of vintage sparkling wines. A great example is the new release of the Gloria Ferrer 2010 Brut Rosé, a delicious sparkling wine made with premium Pinot Noir and a tiny splash of Chardonnay grapes (10%) grown in Carneros. In the flute, this delicate bubbly with a pale salmon pink hue features aromas and flavors notes of wild strawberries, ripe peach, Meyer lemon, raspberry and cherry; a rich, creamy texture; tangy acidity; and toasty notes of roasted almond on the finish. Hands down one of the best new sparkling wines to pair with holiday cuisine—especially roasted turkey, ham, salmon, and fine cheeses. www.GloriaFerrer.com.
Did you know? Freixenet, the parent company of Gloria Ferrer in Spain, is currently celebrating its 100-year anniversary in 2014. To celebrate the winter months with Freixenet wines, snacks and films, check out my new article published in the December issue of Food Network Magazine, focused on pairing Peppermint Popcorn with the Freixenet Sweet Cuvee Brut, www.FreixenetUSA.com.
__________________
White Christmas (1954)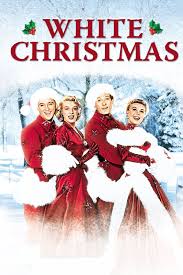 White Christmas is sweet, sentimental and fairly amusing film starring Bing Crosby, Danny Kaye, Rosemary Clooney and Vera-Ellen as musical entertainers who join forces to raise funds to help save a hip resort in the snowy hills of Vermont.
Pairing: Bouchaine 20102 Pinot Gris, Carneros ($24)
Aside from the classic ditty "White Christmas," another important Irving Berlin song in this film is "Count Your Blessings Instead of Sheep." In Spanish, the term "carneros" refers to a ram or sheep. In the past, the rolling hills in the Carneros region between Sonoma and Napa were known as a home to many of these cute and fluffy animals. However, today much of this beautiful landscape is blanketed with vineyards. Among the many delectable white wines made with the cherished fruit from the region is the Bouchaine 2012 Pinot Gris, a crisp, bright and sophisticated Alsatian-style wine featuring fresh aromas of fresh apple, citrus, orange blossom and mineral. On the palate, the generous flavors include ripe green apple, grapefruit, lemon and nectarine; and a long sassy finish that compliments this memorable holiday musical. Try this wine with medium cheeses, soups, salads, seafood, and roasted chicken with rosemary. www.Bounchaine.com.
__________________
Elf (2004)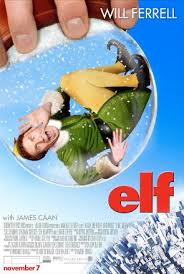 Hands down one of my favorite Christmas movies, Elf stars Will Ferrell as Buddy, an orphan accidentally whisked to the North Pole by Santa (Ed Asner). Once Buddy becomes an adult he quickly learns that it's hard to be an oversized human in Elf world. On the brink of deep depression, he travels to the seven levels of the candy cane forest, past the sea of swirling gum drops, and through the famous Lincoln Tunnel on his journey to New York City to find his father (James Caan), a hard-nosed businessman at the top of Santa's naughty list. Directed by Jon Favreau (Chef, Swingers), this film is jolly Christmas fun from start to finish!
 Pairing: Trombetta 2012 Pinot Noir, Gaps Crown Vineyard, Sonoma Coast ($65)
For a wine pairing with Elf: think Pinot Noir—a marvelous red-grape variety grown in cool climate conditions. Like Buddy and the rest of the elves, Pinot noir grapes come in many different shapes and sizes. The best styles of these wines are gentle, delicate, flavorful, complex and ageworthy. For a tasty example, try the new release of the Trombetta 2012 Pinot Noir, an admirable wine made with world-class fruit from the Gaps Crown Vineyard located in the Petaluma Gap section of southern Sonoma County. The wine features alluring aromas of dark cherry, wild berries, mineral, spice and homemade peanut butter crust. On the palate, the fantastic flavors are highlighted with memorable notes of cherry, blackberry, blueberry, black pepper, clove, and a hint of cola which pairs extremely well with the scene in which Buddy pounds a two-liter bottle of Coca-Cola. Overall, the full-bodied flavors and true complexity of this wine match perfectly with happy demeanor of Santa, Buddy and the rest of the elf clan. www.TrombettaWines.com.