From the moment I graduated from University of California Davis and started in the wine industry in the mid-1990s, I was fascinated by the wines produced with the high-quality fruit from the Hyde Vineyard in the winegrowing region of Carneros between the cities of Napa and Sonoma. Like other pro sommeliers, over the two decades, I've followed the evolution of spectacular releases from the vineyard crafted by respected producers like Patz & Hall, Ramey, Kistler Vineyards, and the long string of successful estate wines made by Larry Hyde, his extended family, and a talented French winemaker named Stephane Vivier that became known as the Hyde de Vallaine brand (otherwise known as HdV).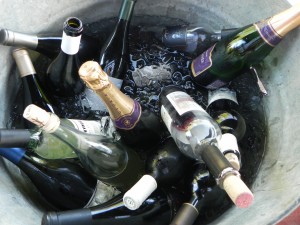 That's why when Stephane called me at Carneros Bistro at The Lodge at Sonoma late last sumer to show me a new limited release wine he produced under the HdV label, I was happy to set up an appointment to hear what he had to say. It was on that day that I tasted the inaugural release of the HdV 2011 "Le Début" Chardonnay, a magnificent proprietary blend of premiere Chardonnay fruit from the vineyard which immediately stimulated my senses with sexy aromas of Meyer lemon, lime, jasmine and honeysuckle. Then, upon the sip, my palate was dazzled with rich flavors of ripe stone fruit, white peach, tangerine, mineral, toasted oak and layers of spice. In essence it was a wine that could easily be mistaken for a classic white Burgundy but with a distinctive California swagger.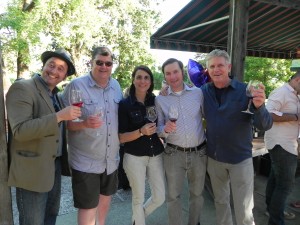 Needless to say, I ran "Le Début" by the glass at Carneros Bistro until the vintage was completely sold out earlier this year. It was a proud feeling that I had helped launch a great new wine from a legendary vineyard and pair it with the amazing dishes created by Chef Andrew Wilson, whom I've worked with since spring 2011.
I bring this subject up because today the old Frenchie term "le début" has an exciting new meaning in my life. In essence, it signifies the beginning of an exciting turning point for me that began this past April when I informed my co-workers at Carneros Bistro that I would be leaving as Head Sommelier and Wine Educator at The Lodge at Sonoma to pursue my new endeavors as a wine consultant, writer, wine educator and to develop my own personalized blog site.
Of course, the departure was bittersweet. On one hand, I'm honored to say that I was able to pair thousands of wines over the past decade with the masterful styles of California cuisine created by three amazing chefs—Andrew, Peter Smith and Janine Falvo—during my tenure at Carneros Bistro. I've also appreciated winning numerous awards for my wine list and wine flights, most recently being voted 2014 Best Sommelier in Sonoma County by readers in The Bohemian's Best of the North Bay issue and receiving The Wine Spectator Award of Excellence for 2014.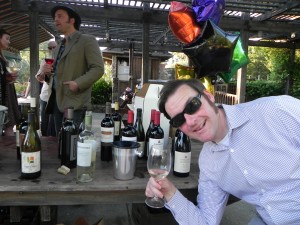 To help me make the transition smooth and seamless, my dear friend Jeff Bundschu and the multitude of other stars at Gundlach Bundschu Winery hosted a special "Independence Celebration" event in my honor on May 1st. The event featured a medley of local stars I've worked with through the years, including fellow journalists and social media personalities Kathleen Hill and David Bolling of Sonoma Index Tribune/Sonoma Magazine, Daedalus Howell of DHowell.com, Cindy Friedman of Twitter.com/@Vinegrl, Dyann Espinoza of Twitter.com/@Dywrite, and Tina Caputo of Vineyard & Winery Management magazine and ZesterDaily.com; winemakers and winery proprietors TJ Evans of Domaine Carneros, Jeff and Roberta Kunde of Kunde Estate, Squire Fridell of Glen Lyon/Two Amigos Wines, Bart Hansen of Dane Cellars and Lasseter Family Winery, Eva Bertran of Gloria Ferrer Winery & Caves, Greg Morthole of Davis Bynun, Danny Fay of Envolve, and Alex Schug of Schug Estate Winery; rockstar wine reps Michelle Hogan of Anaba Wines, Keith Lindstrom of The Estates Group, Luis Velez of Monterey Bay Wine Company, Cristina Bisio of Highway 12 Winery, Sean Riebli of Don Sebastiani & Sons, Steve and Deborah Van Horn of Bartholomew Park Winery, and Lisa Valentine of AWA and Canopy Wines; and other dear friends that I can't resist hanging out with that included Gary and Jennifer Buffo of Pure Luxury Transportation, Maureen and Adam Cottingham of Sonoma Valley Vintners & Grower Association, Brian Murphy of Petaluma's Cruise Ship Centers, and local artist Kelly Ostendorf.
In all, this gathering and the fantastic post-party hosted by Chef Matthew Nagan at The Schellville Grill was an amazing launching pad for many adventures, blogs and upcoming events to come on www.SawyerSomm.com. So stay tuned for more to come in the debut month of May 2014 and many years to come!
As a side note, I recently had a chance to taste the new HdV 2012 "Le Début" Chardonnay with my friend David Dennis of Chambers & Chambers. The second vintage is equally stunning and a testament to what a great vision of the future can bring.
For more fun party pictures from the big event visit:
http://www.pinterest.com/sawyersommelier/le-debut-of-wwwsawyersommcom/