Located in the foothills between Sacramento and South Lake Tahoe in Northern California, El Dorado County is known for its high elevation, pine forests and warm daytime temperatures. Following the discovery of gold in Coloma in 1848, the county became one of the top winegrowing regions in California before the turn of last century. The secret to this success was planting Zinfandel, Mission and other intriguing grape varieties used to make still wines, dessert wines and brandy in the combination of granitic soils and rugged sloping hillsides. But after a decline in plantings and the advent of Prohibition, the history of winemaking in the region was forgotten for nearly half a century.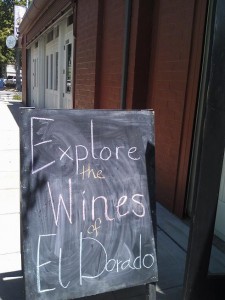 That changed when the first phase of plantings in the modern era happened in the 1970s. In addition to Zinfandel, the new vineyard blocks included fighting varieties such as Cabernet Sauvignon, Merlot, Chardonnay and Sauvignon Blanc. But it wasn't until 2008 that the amount of vineyards surpassed the 2,100 acres planted in 1904.
After the appellation was granted by BATF on October 13, 1983, El Dorado has become one of the most intriguing winegrowing regions in California with newer plantings of Bordeaux varieties as well as a concerted effort to make signature wines with European varieties from the Rhone Valley, Italy and Spain. Over the past two decades, the diversification of grapes planted has made a big splash with consumers searching for full-bodied wines with deep flavors and layers of spice.
Today, the appellation features over 70 wineries and over 2,400 acres of vineyards. Most of the wines are made with estate grown grapes and vineyard designates. Besides the regular draw of thirsty consumers from Sacramento and the greater Bay Area; the newest visitors to the region are talented winemakers and representatives from high profile wineries who are looking to strike it big with purchases of high quality fruit at admirable prices.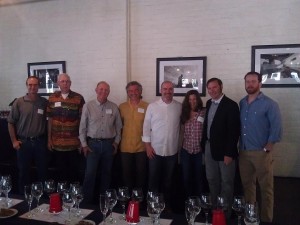 Last week, I was honored to moderate a special wine panel featuring some of the living legends, growers, and talented winemakers who work with the fruit from the region. Held in the charming events space at Mulvaney's Building & Loan, a hip restaurant located in downtown Sacramento, the "Taste at a Higher Level" panel discussion and walk-around tasting was organized by El Dorado Winery Association and Solterra Strategies. Below are my notes of the wines featured on the panel. Also look for more of my reviews of #ElDoradoWines in upcoming issues of the The Sommelier Files. For more information on the wineries, maps and varietals grown in the region, visit www.ElDoradoWines.org.
Madrona Vineyards 2010 Blanc de Blancs, Extra Brut ($35) / Guest panelist: Winemaker & Proprietor Paul Bush.
Paul's parents Richard and Leslie Bush purchased 52 acres of land on the ridge of Apple Hill a few miles from the Placerville in 1972. The family immediately rolled the dice by planting 32 acres of own-rooted vines at 3,000 feet, which made it the highest vineyard at the time in California. At third leaf, the family made the first wines down the road at Boeger Winery and the other young fruit was sold to Ravenswood, David Bruce and Robert Mondavi Winery. The winery, named after the native Madrona tree planted in the middle of the estate property, was completed in 1980.
SawyerSomm notes: Fresh, elegant and lively style of sparkling wine made with 100% Chardonnay planted at high elevations. Fragrant aromas and deep flavors of ripe stone fruit, grapefruit, Meyer lemon, a squeeze of lime, roasted almonds, mineral, high acidity, and a long crisp, dry finish. At the walk-around tasting, the winery also poured its stunning 2001 Cabernet Sauvignon that still tasted young, elegant and built to please. www.madronavineyards.com.
David Girard Vineyards 2013 Rosé ($22) / Guest panelist: Winemaker Grayson Hartley.
Founded in the mid -1990s by David Girard, the focus of this vineyard and winery has always been on French varietals. Today, the vines planted are all Rhone varieties and the winery produces 5,000 cases of Rhone style blends annually.
SawyerSomm notes: Food-friendly Rhone-style Rose for summertime made with 45% Mourvedre, 41% Grenache, 14% Counoise grown on the winery's estate vineyard. Attractive pink hue; bright aromas of ripe red fruits, rose petal and vanilla; fresh flavors of red plum, cherry, watermelon rind, subtle spices; and a refreshing burst of racy acidity on the finish. www.davidgirardvineyard.com.
Sierra Vista 2013 "Lynelle" Red Rhone Blend ($29) / Guest Panelist: Proprietor John MacCready
One of the true Rhone varietal pioneers of California, John and his family planted the first Syrah vines in El Dorado County and the Sierra Foothills in 1979. Today, John and his staff offer thirsty consumers a nice selection of crafted wines made with Rhone varietals, Zinfandel, Cabernet, Merlot, Sauvignon Blanc and Chardonnay.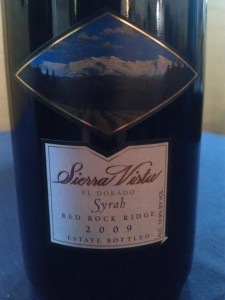 SawyerSomm notes: Young and perky, this new red blend made with Grenache, Cinsault, Syrah and Mourvedre hasn't been release yet but it's already rather tasty. With fresh aromas and vibrant flavors of ripe raspberry, dark cherry, granite, tobacco, red earth and savory spices, it reminds me of a fine medium-bodied French Rhone blend that you would drink when eating fresh caught fish from the Mediterranean. In this case, I'd be content with a glass of this wine and a nice filet of fresh Ahi tuna seared on the outside and pink in the middle. www.sierravistawinery.com.
Boeger Winery 2011 Barbera / Guest Panelist: Proprietor Greg Boeger
Known as the "Granddaddy" of modern winemaking and viticulture in the El Dorado appellation; Greg and his wife Susan purchased their original piece of property in 1972. Located a few miles north of the historic city of Placerville, the winery and estate vineyards are located on Carson Road, a well-traveled roadway which leads to "Apple Hill," a popular agriculture destination which attracts a million visitors per year. From the 1860s to 1920s, the property was home to the Lombardo/Fosatti winery and today the original winemaking facility is a California Historic landmark. Greg planted his first Barbera vines in 1976 and today the varietal represents up to one-third of the family's wine sales on a yearly basis.
SawyerSomm notes: Deep aromas and rich flavors of ripe blackberry, dark cherry, licorice, pepper, Mexican baking chocolate, blood orange peel, and a high level of natural acidity. Overall, a great food wine that Greg and Susan's son Justin loves to serve on a daily basis. "It's the wine I bring to a dinner when I don't know what's being served," says Justin, who took over head winemaking duties from his dad after he graduated with a degree in fermentation science from UCD in 1998. "I think it is such a versatile and dynamic wine that can pair with so many types of cuisine that it's great all year long. It's an all-around wine, and a true crowd pleaser."
Cedarville Vineyard 2012 Zinfandel ($25) / Guest Panelist: Winemaker & Proprietor Jonathan Lachs
On the southern edge of El Dorado is the Fair Play sub-appellation founded in 2001. At Cedarville Vineyards, UC Davis graduates Jonathon Lach and Susan Marks work with 25 acres of vineyards planted at 2,000 feet in the decomposed soils. And although they produce flavorful Rhone varietals, Zinfandel is the workhorse at the estate. "Everybody has a different course and direction towards gaining notoriety in the industry. In El Dorado, our course isn't going to be like what's already been done. Instead, it might just be based on the pure quality of fruit in this area," says Lach, who is a loyal member of the Zinfandel Advocates and Producers organization.
SawyerSomm notes: Unlike the coastal regions in California that are cooled by maritime winds, El Dorado is more continental and above the fog line. When the sun comes up at 6 a.m., high levels of UV rays hit the vines for an entire day of maturation. In the late afternoon, the AVA is cooled by breezes that are pulled down from the Sierras towards the Central Valley to the west and the American River to the north. As a result, the Cedarville Vineyards Zinfandel is loaded with fresh flavors of wild berries, licorice, pepper, cardamom, licorice and a velvety texture that feels gentle, sexy and stimulating on the palate.
Skinner Vineyards & Winery 2012 Mourvédre ($25) / Guest Panelist: Winemaker Chris Pittenger
The Skinner family originally established its first winery in El Dorado County in 1861. But after Prohibition the tradition was lost until Mike and Carey Skinner brought the family legacy back to life when they purchased the current property a mile away from the original winery in 2006. Since then the family has gone on to establish a reputation for producing world-class Rhone-style wines with the help of talented winemaker Chris Pittenger, who previously worked with William Seylem, Maccassin and Torbeck wineries before bringing his skills to El Dorado.
SawyerSomm notes: Known for its deep, rich flavors and meaty, earthy and rustic qualities, Mourvedre is commonly used for blending with Grenache and Syrah grapes in the Rhone Valley of France and Australia or bottled alone in Spain, where the varietal is called Monastrell. In California, only 800 acres are planted of which Skinner has about 3 acres planted at its two estate vineyards. This new release features attractive aromatics and generous flavors of ripe raspberry, blueberry, wild strawberry, green olives, fresh sage, chaparral and layers of spicy herbs.
Keplinger Wines 2012 "Caldera" Red Wine ($60) / Guest Panelist: Winemaker & Proprietor Helen Keplinger
One of the astonishing statistics from El Dorado is that the grape tonnage sold outside of El Dorado County increased 67% from 1,646 tons in 2011 to 2,741 in 2012. In addition to large-scale contracts with popular brands like Bogle and Delicato; on a smaller scale, hip indie wineries are purchasing fruit from the region, too. Long before she became the cover girl on the March 2014 issue of the Wine Spectator, Helen Keplinger developed a passion for making complex wines with the pristine fruit she purchases from the high-elevation Caldera Vineyard owned by Ron Mansfield which features a mélange of Aikens loam and ancient lava pebbles.
SawyerSomm notes: Big, dense and ethereal; this new release is a blend of Mourvedre, Grenache and Counoise. On the nose, the wine features tantalizing aromas of wild berries, thinly sliced prosciutto, leather, mineral, red earth and exotic spices. After the aromas cross over to the palate, they are further amplified with layers of core fruits, wild strawberry, black plum, blackberry and allspice; balanced structure; a generous amount of acidity to support the weight of the wine; and long dry finish. Superb, complex and worth the price. It's also worth noting that Helen makes a delicious Rhone-style white from the region. It's name? "El Dorado," of course. www.keplingerwines.com.
More Wine News of Note… Congratulations to the Napa Valley Vintners for the most successful wine auction of all time last weekend! With events held at the Meadowood Resort in St. Helena, Charles Krug Winery and other special sites throughout the valley, the 34th annual Auction Napa Valley raised $18.4 million for local charities. Kudos to the fantastic wineries, chefs, sommeliers, wine collectors and avid wine lovers who participated at the record-setting weekend event. For more information on the festivities, photos and more highlights, visit www.napavalleyvintners.com.
Coming later this month: Results from the Sunset International Wine Competition and California State Fair Commercial Wine Competition (both of which I recently judged)…Tips on the exciting new food and drink culture in Sacramento…A celebration of the accomplishments at the Bacigalupi Vineyard in Russian River Valley…Hot Pinot Noir picks from the Santa Cruz Mountains and tasty Barbera notes from the Sierra Foothills…Highlights from the Lake County Wine Competition and the San Francisco International Wine Competition which I'll be judging over the next couple weeks…a preview of the upcoming #SonomaWineCountryWeekend, August 29-31… and much more!
Cheers, Christopher