Talk about turning Wine into Water!  This September, Vineyards to Villages will host the 2nd Annual V2V Wine Safari, giving people the opportunity to drink boutique Sonoma County wines while bringing clean water to children in Kenya.
The "safari" tours will have complimentary tastings at 11 wineries in northern Sonoma County from September 3-11. Intimate tastings of exceptional high-end wines, often hosted by the owners themselves, will allow for a truly unique wine country experience. Visit any or all of the wineries at your own pace any time throughout the week. Participating wineries donate 1/3 of the sales price of these wines to V2V throughout the event.
The particpating wineries include: Christopher Creek Winery, Deux Amis Winery, Fritz Underground Winery, Merriam Vineyards, Pedroncelli Winery, Portalupi Wine, Thumbprint Cellars, Trione Winery, Williamson Wines, the Windsor Tasting Lounge, and Viszlay Vineyards.
Tickets available HERE!  $50 each (a $130 value),
and all ticket sales go directly to V2V.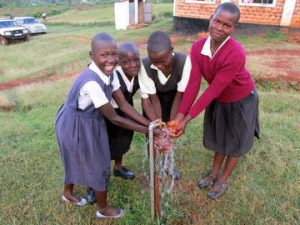 Also, with the purchase of every ticket, you will be entered to win wine raffle prizes! If you visit every "animal" (winery) on the safari and show your complete safari pass on the Facebook page, you'll get an additional 10 raffle tickets: Plus an extra raffle ticket with every purchase of V2V wine!