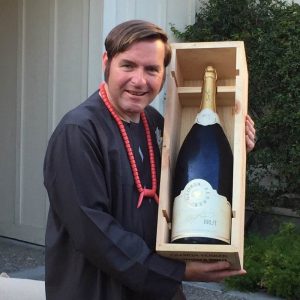 I have been saving this!  It was given to me by a wine colleague and waiting for just the right moment.  That moment came this weekend at Flying Cloud Farm for my brother Ethan's nuptials and celebration.  It was an amazing event with lots of wine (of course) and the ritual Nigerian style sharing of the Kola Nut in honor of my new sister-in-law Amaka's family heritage.  So when the time to toast the newly betrothed couple came I whipped out the Rehoboam of delectable Gloria Ferrer Brut and proceeded to fill almost every glass at the reception!
Congratulations to Ethan & Amaka!
Here's to many happy years together.  With wine.  XO from yer bro.