To celebrate the recent Zinfandel Experience 2015 and the San Francisco Chronicle Public Tasting happening at Fort Mason on Valentine's Day, below are my notes from some of the delicious Gold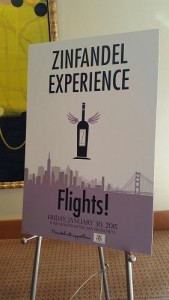 Medal winners in the under $30 category I judged at the #SFCWineComp in early January. Don't forget to also visit my Pinterest: The Zinfandel Experience album to enjoy some pictures from the fantastic ZAP events and check out the great article my friend  Julie Santiago of Examiner.com, who  wrote about the events in San Francisco: ZAP 2015 – An Epicurian Celebration of Zinfandel. For more information about the Zinfandel Advocates and Producers (a.k.a ZAP), visit www.zinfandel.org and www.zinfandelexperience.com. ______________________________________________________
For the Love of Zinfandel
Amador Cellars 2011 Zinfandel, Amador County ($28): Vibrant combination of ripe cherry, raspberry and blueberries accented with notes of wild herbs, mineral, fresh ground black pepper, cocoa, roasted walnuts, chewy tannins, and a lingering finish. Double Gold. www.amadorcellars.com / www.amadorwine.com. Mazzocco 2012 Reserve Zinfandel, Dry Creek Valley ($28): Made by talented winemaker Antoine Favero, this wine features a classic "field blend" combination of 76% Zinfandel and 24% Petite Sirah. Enchanting aromas and deep flavors of black raspberry, boysenberry, fresh currants, peppermint, allspice and a burst of fresh acidity of the long, refreshing finish. Best of Class. www.wilsonartisanwines.com / www.wdcv.com.
Pezzi King 2012 Zinfandel, Dry Creek Valley ($25): Another gem from the Dry Creek Valley appellation. This mixture of fruit from old and younger vines creates a playful profile with sweet core notes of brambly blackberry and raspberry, spicy flavors of clove, pepper and blood orange peel, and a rewarding combination of structure, acidity, and balanced tannins. Gold. Also worth noting that the winery's more limited release counterpart, the Pezzi King 2012 Row 14 Reserve Zinfandel won for the Sweepstakes Red Wine for the competition. Overall, a great showing for the brand! www.pezziking.com / www.wdcv.com
McNab Family Reserve 2012 Zinfandel, Old Vines, B-Bar-X Ranch, Mendocino County ($26): At the main ZAP Tasting event in late January, I had the great opportunity to do a seminar with Rich Parducci, whose family has been making wine in Mendocino County for four generations. As a result, we were able to pour this limited release wine (239 cases made) for a wide range of members of the media, trade, and curious consumers who were able to enjoy the lavish flavors of wild berries, white pepper, and chocolate bark this wine has to offer. It's a fantastic food pairing wine as well, especially with heavy red sauces. Kudos to the Parducci family for another great accomplishment! Gold. www.mcnabridge.com / www.mendowine.com.
Opolo Vineyards 2013 Mountain Zinfandel, Summit Creek, Paso Robles ($29): Medium to full-bodied wine with aromas of wild berries, violets, licorice, and hickory smoke. Bright fruit-driven flavors of ripe plum, raspberry, and hints of boysenberry jam, sweet potato, black pepper, and a long spicy finish. Unique and distinctive. Double Gold. www.opolo.com / www.pasowine.com.
Earthquake 2012 Zinfandel, Lodi ($26): From Michael David Winery in Lodi, the new release of the Earthquake Zinfandel features enticing aromas and concentrated flavors of dark cherry, raspberry, boysenberry, blueberry, wild herbs, cocoa, and a long, dry finish. The original fruit for the blend was made with berries from vines planted in 1906, the same year the famous San Francisco earthquake occurred. In addition to helping preserving these old vineyards and promoting sustainable farming practices in the region, the winery has also become an integral part of enhancing the true wine country experience for consumers who visit the Lodi appellation over. The commitment to quality shows in this wine. Gold. www.MichaelDavid.com / www.lodiwine.com.
Miro Cellars 2012 Zinfandel Reserve, Wolcott-Bevill Vineyard, Dry Creek Valley ($28): This fantastic single-vineyard designate is made by my fellow wine judge Miro Tcholakov, a Bulgarian native who made his first splash in the US while working at Dry Creek Vineyards. Today, his latest offering from his Miro Cellars label is loaded with deep aromas of ripe dark fruits and berries, roasted espresso beans, and savory spices. On the palate, the wine delights the senses with integrated flavors of blackberry, dark cherry cola, wild strawberry, vanillin, sarsaparilla and dark chocolate. Dazzling from start to finish. Double Gold. www.mirocellars.com / www.wdcv.com.
Pozzan Gold Series 2012 Zinfandel, Back Barn, Oakville ($25): This gracious wine made by Michael Pozzan Wines features sultry aromas of ripe berries, sandalwood, and smoked meats. In the glass, the wine continues to expand with deep flavors of dark plum, huckleberry, boysenberry jam, cinnamon, nutmeg, clove, cracked black pepper, and finishes with a tingly sensation at the tip of the tongue that makes you want more. Made with pure Oakville fruit, this Zin is a fantastic bottle at only $25 per bottle. Gold. www.michaelpozzanwinery.com.
For more information about the Zinfandel Advocates
and Producers (a.k.a ZAP), visit www.zinfandel.org
and www.zinfandelexperience.com.
#ZinEx #ZAP #Zinfandel @TheZinfandelOrg