With the main snow season for 2015 still on hold, it's time to look at the great wine tasting opportunities that are happening in Northern California.
San Francisco: Zinfandel Experience, January 29-31
Each year, fans of red wine from around the United States flock to San Francisco to participate in the annual event put on by the Zinfandel Advocates and Producers (a.k.a. ZAP), a non-profit organization devoted to preserving the history and pageantry of world class wines made with California's "sweet-heart" grape. Highlights of this year's three-day event include: Epicurian, a magnificent wine and food pairing event at the Golden Gate Club in the Presidio, on Thursday, January 29; Flights!, a thought-provoking tasting hosted by legendary winemaker Joel Peterson at the Four Seasons in San Francisco on Friday, January 30; and the annual Grand Tasting featuring over 500 wines being poured by the top California producers, a silent auction, and opportunities to learn about special wines from the important appellation where the cherished grape is grown at Sommelier & Winemakers Terroir Workshops on Saturday January 31, at the Presidio, Golden Gate Club & Film Centre. If you make it to the Grand Tasting, be sure to make time for my 2pm Workshop about Lake County & Mendocino AVA too! For ticket information to all these events, visit www.zinfandelexperience.com.
Anderson Valley, Mendocino: International Alsace Varietals Festival, February 7-8
If you like aromatic white wines with fragrant aromas and distinctive flavors, I would suggest you get in the car and head directly to Mendocino County for the 10th Annual Alsace festival in Anderson Valley, an event focused on rockstar wines made with Riesling, Gewurztraminer, Pinot Gris, Pinot Blanc and Muscat grapes grown in the Alsace region of France, California, Oregon, Michigan, New York, and other special appellations around the globe.
On Saturday, February 7th, the festivities kick-off with two special events at the County Fairgrounds in downtown Boonville (14400 Highway 128). The first is the Educational Session, a fantastic interactive event from 8:30 am to 12:30 pm, which allows guests to listen to and interact with winemakers from around the world as they discuss the topics of grape growing, winemaking and food pairing specific to Alsace varietals.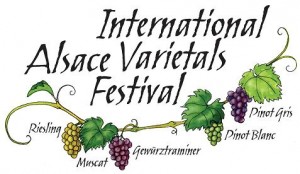 The special 10-year anniversary Session will include a discussion on the Appellation of Crus in Alsace, complimented by a tasting of the 8 Grand Crus produced by Domaines Schlumberger. On the sommeliers side, I will be leading a special Pinot Blanc tasting focusing on wines from three wineries using grapes grown in the same vineyard (Schrader Ranch); fellow sommelier Christie Dufault, Instructor of Wine and Beverage Studies at the CIA Greystone, will do a presentation on how to pair food with Gewürztraminer; and the morning will be rounded out with a Cooking Demonstration done by talented Chef Francois de Melogue.
In the afternoon, the Grand Tasting will offer chances to taste over 100 Alsace Varietal wines made by producers from around the world, including local producers like Balo Vineyards, Brooks Wines, Claiborne & Churchill, Cutruzzola Vineyards, Elke Vineyards, FEL Wines, Foris Vineyards, Handley Cellars, Lula Cellars, Navarro Vineyards, Phillips Hill Winery, Philo Ridge Vineyards, Robert Sinskey Vineyards, Saintsbury and Tatomer Wines, as well as special selections from the New Zealand Winegrowers and Wines of Alsace. To complement the wines, fresh oysters, Tarte Flambée and Pork Belly dishes will be served on the food tables at the event.
In the evening, the activities will conclude with the Winemakers Dinner at Scharffenberger Cellars in Philo (8501 Highway 128). The dinner will feature fabulous dishes made by Chef Janelle Weaver (Owner/Chef at The Bewildered Pig, Executive Chef at Peter Michael Winery, and former Executive Chef for Kuleto Estate), which emphasize the unique flavors of the wine s and how well they work with the bounty of the local area.
The Educational Session is $45 per person, and the Grand Tasting is $65 per person, but if you want to attend both a combined ticket is only $100. The Winemakers Dinner is $130 per person. To learn more and buy tickets visit International Alsace Varietals Festival.
Lodi: Wine & Chocolates Weekend, February 7-8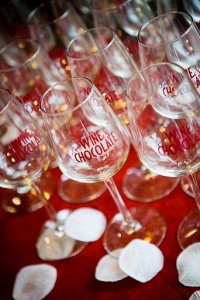 With Valentine's Day just around the corner, it's time to start thinking about aphrodisiac wine and food pairings. For many, an easy choice is chocolate. This is what the Lodi Winegrape Commission had in mind when they started the popular Wine & Chocolate Weekend eighteen years ago. And this year's event is bigger than ever!
Taste handcrafted sweet and savory chocolate bites with rich, spicy and complex wines at over 50 wineries. At $55 in advance and $65 at the door, tickets include an event wine glass, a chocolate treat from sponsor BRIX Chocolates, wine tasting, and admission to all participating wineries. Designated drivers are free of charge. www.Lodiwine.com.
Other upcoming events:
SRJC Wine Classic: February 8th, 2-5pm
San Francisco Chronicle Wine Competition Public Tasting: February 14th, 1:30-5pm