If you need a break from Christmas shopping, group events, or simply want to slip away for an enjoyable winter evening with someone special, I'd suggest a staycation at your local movie theater.
Beyond the big box-office hits and holiday genre films, coming to a movie circuit near you are some of the brilliant new releases highlighted at the Napa Valley Film Festival in November. Below are some of my top picks and special seasonal wine pairings from vintners featured @NapaFilmFest, along with tasty delights offered by star chefs, galas, red carpet events, exclusive dinners, post-parties and interviews I did with www.FeastItForward.com!
For more information about all the films that played at this year's festival, DVD releases, upcoming events, and much more, visit www.NVFF.org. And don't forget to stay tuned for my classic Christmas movie pairings coming up next week!
 The Imitation Game
If you've never heard of computer pioneer Alan Turing, you're not alone. While working for Britain's top-secret Government Code and Cipher School during World War II, Turing created the world's first legitimate computer that was able to break the famous Enigma encryption code used by the German army. Surrounded by a crew of other intellectuals, Turing used this powerful tool to save an estimated 2 to 3 million lives and helped stop the war two years early.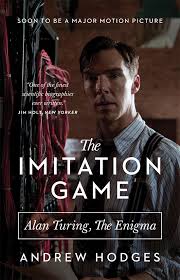 The film features a terrific cast with Benedict Cumberbatch in the lead, and Keira Knightley, Mathew Goode, Mark Strong, Charles Dance and Allen Leech (the chauffer in Downton Abbey) as his associates. And beyond exploring his accomplishments with science and computers, the film also looks into the darker side of Turing's personal life, which was heavily influenced by a turbulent period as a teen and his post-war conviction for a now outdated criminal offense. As a result, he died at an early age and was not honored by the government for his services until 2013.
SawyerSomm Pairing: Although its impact isn't nearly as great as Turing's invention of the computer; a lesser known grape of great importance is Pinot Meunier, a fairly obscure red variety planted primarily in the Champagne region of France. Known for its deep flavors and ability to grow in wetter conditions, the varietal is often blended with Pinot Noir and Chardonnay to make some of the world's finest Champagnes but rarely bottled separately.
In the United States, an exception to the rule is the Domaine Chandon 2012 Pinot Meunier, Carneros ($35), an elegant wine with lively aromas of red fruits, cinnamon, nutmeg, and earth. On the palate, the flavors expand with notes of dark plum, cherry, pomegranate, wild mushroom, black tea and clove. Great with fine cheeses, grilled winter vegetables, fresh salmon, pork chops, and roasted chicken. And like the film, it's a secret worth investigating! www.domainechandon.com.
Supermensch
Wayne's World meet your maker! In his directorial debut, Mike Myers' magnificent documentary follows the life of Shep Gordon, a bon vivant who began his career in the entertainment industry after accidentally running into Janis Joplin and Jimi Hendrix while staying in a hotel in Los Angeles in 1968. He then went on to build the music careers of Alice Cooper, Anne Murray, Teddy Pendergrass and Blondie; afterwhich he produced movies, created celebrity chefs, and worked with the Dalai Lama.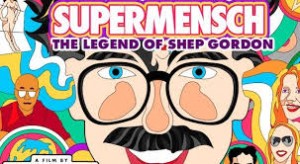 In Hebrew, a mensch is a person of integrity with a willingness to help others. The positive energy Gordon gives off to others can be seen throughout the film with dazzling archive footage, interviews, and guest appearances by Michael Douglas, Sylvester Stallone, Alice Cooper, Emeril Lagasse and many other personalities who think Gordon is the bomb. Hands down, an ultimate fantasy documentary for those who love rock n' roll, cinema, and fine cuisine!
SawyerSomm Pick: As noted before the screening of the film, Shep drinks wine on a daily basis. And to match his character, you need a wine with flavors that run deep. A fantastic example is the Cornerstone 2011 Black Label Cabernet Sauvignon, Napa Valley ($65), a magnificent wine made with premium fruit grown in the Howell Mountain and Rutherford appellations, and small amount of Merlot (12%) grown in Oakville. From the moment the cork is pulled, the aromas and lush flavors are bursting with notes of pretty blue fruits, blueberry, cassis, black raspberry, Himalayan blackberry jam, black olive and dried mountain herbs; soft tannins; velvety texture; and a long, elegant finish. Thus, instead of being big, powerful and brazen; this seductive wine is best described as soft, balanced, sultry, and sexy like Gordon.
With food, try this delectable new release with wild mushroom strudel, fresh gnocchi with black truffle, grilled sausage, slow-cooked ribs, lamb sliders, beef wellington with peppercorn sauce, hearty stews, and complex cheeses. www.cornerstonecellars.com.
Black or White
Kevin Costner stars as Elliot Anderson, a successful attorney, who suddenly loses his wife and finds himself raising his grandaughter Eloise: She has been in his family's custody since his daughter died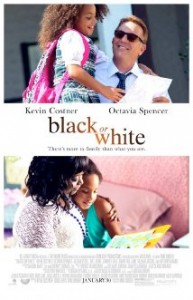 during childbirth. To make matters worse, Eloise's African-American paternal grandmother Rowena (Octavia Spenser) files papers to get custody of the child back to her son, who suddenly resurfaces after attempting to clean himself up from drug addiction. Packed with racial tension, class struggles and family values, this is a powerful movie that demonstrates the importance of making the right decision in hard situations.
SawyerSomm Pick: Granted this is a heavy movie, but it also makes it clear that the world would be a better place if the adult characters could find their way to chill out, relax, and see the values in each other. For that reason, at the Q & A following the Red Carpet Screening of the film at the Uptown in Napa, Costner said it was very important that he and director Mike Binder made sure the film was rated "PG" instead of "R" in order to open up the conversation to a wider audience.
In the sommelier circuit, "PG" often refers to Pinot Grigio, a light, perky and refreshing style of wine which matches nicely with the cultural scenes in the movie that revolve around the families playing on the lawn, the swimming pool, singing, and playing instruments. For a classy style with body and texture, I would suggest the Benessere 2013 Pinot Grigio, Napa Valley ($22). With fragrant aromas of spring flowers, peach and citrus, the freshness of the wine is expressive and alluring. In the glass, the flavors open up with notes of melon, guava and lime; vibrant acidity; and a long crisp finish. Not hard to get along with his wine, especially when served with fancy appetizers, hot soups, gourmet salads and shellfish during the winter months. www.benesserevineyards.com.
Glen Campbell: I'll Be Me
Directed by James Keach (Walk the Line), this touching documentary follows the life of musical legend Glen Campbell and the final tour he played while suffering from the Alzheimer's disease.
Before becoming a country music icon, Campbell was known as a talented session guitarist, who played with Elvis, Frank Sinatra, the Beach Boys, the Monkees, and the talented team called the "Wrecking Crew." After going solo, Campbell sold over 50 million albums, won five Grammy awards and was inducted into the Country Music Hall of Fame. As a consummate entertainer, he starred with John Wayne in the cowboy classic True Grit and had his own variety show, The Glen Campbell Goodtime Hour.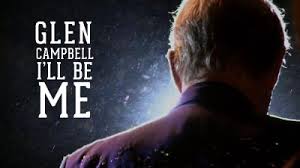 Through the years, other well-known musicians like Bruce Springsteen, Willy Nelson, Keith Urban, Brad Paisley, The Edge and Brad Smith from the Red Hot Chili Peppers (all of whom appear in the film), were touched by his style of music. If life is about memories, then this is a movie that is hard to forget.
SawyerSomm Pick: When Campbell's hit song "Rhinestone Cowboy" came out in 1975, red grapes like Merlot and Cabernet Sauvignon were still in their infant stages in America. As a result, the typical red wines were made with Zinfandel. Today, a star-spangled selection that keeps these spirits alive is the Robert Biale 2013 Zinfandel, R.W. Moore Vineyard, Coombsville District ($50), a small appellation just a few miles south of where Campbell played his last show at the Uptown Theater in Napa. Originally planted in 1905, the aromas and flavors of the fruit are plush and elegant, with deep flavors of raspberry, wild strawberries, plums, dark chocolate, wild herbs, cardamom, clove, and a long, silk finish. Think mushroom risotto, duck breast, osso buco, and spicy lamb meatballs. Like Campbell, the vines do their best to weather the storm no matter what the circumstances ahead may bring. www.robertbialevineyards.com.
Escobar: Paradise Lost
In this historic thriller focused on the life of Columbian drug lord Pablo Escobar, Josh Hutcherson (Hunger Games) commands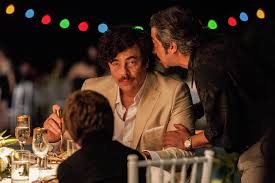 attention with his outstanding performance as Nick, a young Canadian man who moves to Columbia with his brother to start a surfing business. Soon after meeting a lovely young girl, he is introduced to Escobar (Benicio Del Toro), who hires him to help with odd jobs. But after Nick catches on to the cover up of drug trafficking and murder, the lives of he and his loved ones are in jeopardy.
SawyerSomm Pick: To match the intensity of the film, try the Hope & Grace 2011 Malbec, Oak Knoll, Napa Valley ($75). Deep and rich with an inky hue; the wine starts off soft and plush and finishes spicy with layers of ripe blackberry, dark chocolate, licorice, black pepper and baking spices. To stay with the South American theme, the wine is also great to pair with chicken mole, barbecued pork, roasted goat, tri-tip with a green sauce, and hard cheeses. www.hopeandgracewines.com.