The final tally is upon us.  Just a reminder if you have not already mailed or dropped off your ballot that Tuesday November 8th is the final day cast your vote!  Your voice matters.
After you participate in the general election, use that momentum to participate in the Bohemian Best of Sonoma 2017!  Please consider voting for me as Best Sommelier for Sonoma County?
Just type in Christopher Sawyer!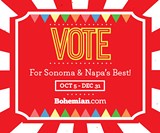 Many thanks for your support!