Feeling blue because Valentine's week is over? Well no worries! For every day can have a romantic twist if you master the skills of working with aphrodisiac cuisine or simply surprise your loved one with meals that follow this romantic theme.
The root of the word "aphrodisiac" is from the Greek goddess Aphrodite, an expert in the fields of sensuality and love. In contemporary times, an aphrodisiac can provide an internal stimulus based on sensory experiences.
For starters, many of these specialty ingredients are things we eat (or want to eat) on a daily basis, including : oysters, garlic, sweet basil, fennel, hearts of palm, radish, carrot, blood orange, pineapple, sweet potato, artichoke, olive, pine nuts, wild mushrooms, truffle, coffee, cocoa, and chocolate.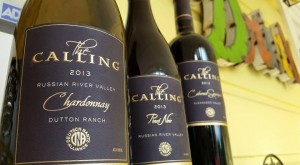 For wine lovers, there is always the health-conscious aspect to consider. Wines made with pinot noir and other red grapes naturally contain resveratrol, an antioxidant that helps boost blood flow and improves circulation before and during physical intimacy:  So that's a positive on many different angles!
Like other forms of classy cuisine, aphrodisiac-style dishes can be even more elegant, sophisticated and complex when the dishes are matched up with superb wines.
With these factors in mind, a few weeks ago my colleague Ziggy the Wine Gal gathered together a great group of food and wine pros to taste through flavorful dishes with distinctive attributes designed by gifted chef Daniel Kedan of Backyard restaurant in Forestville, CA. Other special guests who joined in this special tasting including myself were wine writer Virginie Boone, wine and spirits pro Tim McDonald, and chef and author Michele Anna Jordan.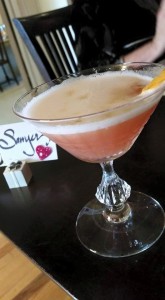 In addition to a specialty sangria and Redemption High Rye Bourbon served at the beginning and the end of this provocative culinary experience, the main courses were paired with the new releases of The Calling, a high-quality brand started by Emmy Award-winning sportscaster Jim Nancy and Peter Deutsch of Deutsch Family Wines.
Here are the pairings, notes and special ingredients used in this sexy dining experience:
Aphrodisiac Inspiration & Deutsch Family Wine
Passed Appetizers
Citrus & Ceviche
Bodega Bay Rock Cod, Winter Citrus, Beet Chips
Sips: Eppa Superfruita Organic Red Sangria
Notes: This lively and expressive fruit-driven sangria helped open up the palate with perky sensations of fresh berries and pomegranate, which complemented the tangy and slightly salty flavors of the fresh seafood and citrus. Taste-tempting, crisp, fruity, and refreshing!
First Course
Point Reyes Oysters with Blood Orange Granita, Lemon Cream Lobster Bisque with Butter Poached Lobster, Chives
Sips: The Calling 2013 Dutton Ranch Vineyards Chardonnay, Russian River Valley ($32)
Notes: This power duo of raw oysters and lobster bisque matched perfectly with the attractive aromas, bright acidity, creamy texture and engaging flavors of melon, citrus and roasted nuts this wine offers in each sip.
Second Course
Roasted Maitake Mushroom
Sour Cherry & Fennel Pan Perdue, Poached Cherries
Sips: The Calling 2013 Pinot Noir, Russian River Valley
Notes: When done right, the pairing of exotic mushrooms and Pinot Noir can be a match made in heaven. This course was no exception. Made with fruit from selected vineyards in the Russian River Valley, the combination of wild berries, ripe cherry, dried cranberries, earth, smooth tannins, and long engaging finish helped bring out the deep flavors in this magnificent combination of cherries and mushroom that shined in this dish.
Third Course
The Calling Cabernet Sauvignon
Cocoa & Cayenne Crusted Ribeye
Wild Arugula, Pickled Pearl Onions, King Trumpet Mushrooms
Sips: The Calling 2012 Cabernet Sauvignon, Alexander Valley ($37)
Notes: One of the trademarks of a fine cabernet Sauvignon from Alexander Valley is the combination of deep flavors and smooth tannins. On top of these classic characteristics, this new release was layered with notes of espresso beans, briary blackberry, ripe plum, blueberry, chocolate nibs, and roasted black walnuts. Our group felt this special profile worked wonders with the deep flavors and spicy tones that resonate in the Ribeye steak from the 5 Dot Ranch, the sautéed mushrooms, and even the slight bitterness of the arugula.

Fourth Course
"Cupid's Arrow" Redemption High Rye Bourbon Profiteroles Candy Cap Ice Cream, Salted Caramel
Sips: "Cupid's Arrow" Redemption High Rye Bourbon
Notes: Who says cocktails always have to be served at the beginning of the meal? Ziggy's special cocktail helped reinvigorated the palate at the end of a long enjoyable luncheon. And the delectable combination of bourbon, fresh egg whites, simple syrup, ginger, citrus, and a touch of bitterness on the finish helped bring out the sweet and salty flavors in the dessert. Sexy and ohhhh so stimulating! For a recipe for this cocktail, visit www.ziggythewinegal.com.