At Christmas, Santa comes in so many different forms. Besides supposedly working with reindeer and elves, sometimes he's simply the nice person that opens the door for you when you're shopping or the fun wine pro who tips you off on a flavorful new wine in a tasting room. Or, if you are very lucky, the person that fixes you an amazing dish that far exceeds your expectations. In short, hospitality, fine wines, and tasty cooking are an easy route to thrills and memories during the holidays and the winter months leading into the New Year.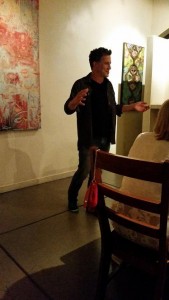 I bring this subject up because of my recent encounter with my old friend Chef Bob Blumer, who lit up the countdown to the holidays with a special dinner he designed for friends and wine lovers at Jessup Cellars in Yountville.
Gastronaut Bob's other name is the The Surreal Gourmet, an admirable title he's earned via the artistic styles of food he's been creating since he broke into the national scene in the early 1990s. Since then, Bob has gone on to become a master of molecular gastronomy; star in shows on Food Network; publish books; and do live cooking demonstrations at big events around the globe.
If that wasn't cool enough, in 2010 Bob broke two memorable world records. The first was the Guinness World Record for removing grains of rice from a bowl with chopsticks (134 grains in 3 minutes in Taiwan).
The second was the fastest time for peeling of 50 pounds of onions at the Walla Walla Sweet Onion Festival in Washington, with a record time of 2 minutes and 39 seconds.
Although he was born and raised in Montreal, Quebec, he now calls Los Angeles his home. Along the way, I was lucky enough to work with Bob and wine PR guru Joel Quigley worked for the Wine Brats organization and mythical cult magazine Wine X over a ten year period starting in the mid-1990s. What I learned is that Bob is more than a chef. Instead, he's an artist who is willing to push the boundaries of how to prepare dishes and attract the attention of the soon-to-be eaters with his amazing presentations.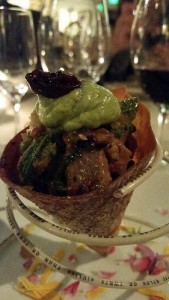 At the recent dinner at Jessup Cellars, Bob showed his skills by creating a masterful menu that was paired with their new releases. Highlights of the special Tastemakers Dinner included:
– The classic Shrimp-on-the-Barbie, which included spicy grilled marinated prawns served via Barbie dolls on the plate; a tangy dipping sauce; and sips of the charming aromatic gem, Jessup Cellars 2014 Viognier.
– Cracker Jacks Soup made with variations of corn (including popcorn) and a great pairing with the extremely balanced 2013 Jessup Cellars Chardonnay.
– Duck Sno-Cones, a lovely combination of Duck with fresh herbs and spices. As seen, paired with 2012 Manny's Blend, a dynamic cepage of old vine Zinfandel planted by Robert Mondavi in 1972 and a smaller portion of Petite Sirah. Jammy flavors and a long engaging finish. Yum!
– Life is a Box of Chocolates paired with the 2011 Juel, a Bordeaux style blend with lively notes of wild berries, tobacco, and fresh sage.
– The finishing touches were the Caramelized Pear and Walnut Pizza, a great recipe from B, paired with the stately 2009 Jessup Cellars Zinfandel Port.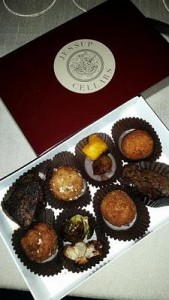 Across the board, each dish was paired perfectly with the wines crafted by Executive Winemaker Rob Lloyd, who also makes the Handwritten and Humanitas wines that are also part of The Good Life Wine Collective.
Although the seating for the dinner was very limited, the great thing is that Bob can come to your house on a daily basis if you buy his great books and share these festive styles of food with friends and family throughout the year. Great last-minute presents too! Visit www.bobblumer.com to find out more about his books available online.
In the meantime, if you are in the Napa Valley area during the holidays or the New Year, don't forget to stop by Jessup Cellars to taste all the fabulous wines they make!
Jessup Cellars Tasting Room
6740 Washington St, Yountville, CA 94599
(707) 944-8523