Every year I receive great gifts from wineries as a thank you for articles I've written, speaking engagements, or friendships that have been built over the past two decades.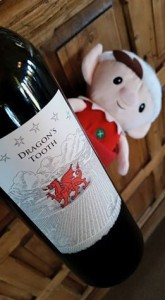 With that being said, I always know what I'll get from Trefethen Family Vineyards on a yearly basis: a fabulous bag of walnuts from the magnificent trees on the old Eshcol property the Trefethen family purchased just east of Napa in 1968.
Besides being used as ingredients in tasty holiday treats, this special bag of nuts serve as a symbol of farming heritage of the estate and neighboring properties in the Oak Knoll District of Napa Valley. In many ways, it's also a small token of the family's gratitude for friendships they have built through the years with wine writers, sommeliers and retailers whom are appreciative of the family's unique wine portfolio.
But this year has a little extra meaning to the family. For when the South Napa earthquake hit at 3:20 a.m. on August 24, 2014,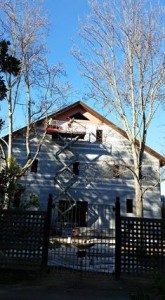 the impact of the 6.0 tremor caused severe damage to the historic winery and winemaking facility on the property.
Granted, it's going to take some time to retrofit and rebuild this legendary wooden winery designed by architect H.W. Mcintyre for the Eschol family in 1886. But alas, I'm happy to say that when I visited Trefethen Vineyards in mid-December, the construction was in final stages of restoring the amazing face of the southern end of the building back before Christmas.
According to my good friend Mimi Gatens, the Marketing Manager for Trefethen Vineyards, the family is hoping to have the winery open in spring 2016. But for now, they have a fun and festive tent set up to serve as the hospitality center until the building is finished. (See the photos of my favorite new wine picks.)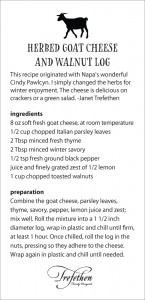 With walnuts, here is the newest seasonal recipe done by Napa Valley's own Chef Cindy Pawlcyn, who will be working with a long list of other star chefs, as well as wines from Trefethen Family Vineyard and a multitude of other great members of the Napa Valley Vintners, at the exciting Flavor Napa Valley events, March 16-20. Try this recipe with another local speciality: the Traditional Plain Chevre from Redwood Hill Farm in Sebastopol.
In the meantime, holiday cheers to the Trefethens and all the great readers of SawyerSomm.com from the Sawyer family!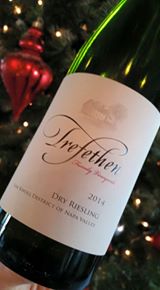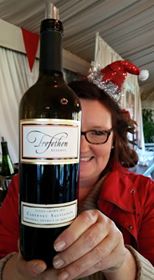 Trefethen Family
Vineyards
1160 Oak Knoll Avenue, Napa, California 94558