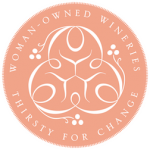 You may have caught my Inside Sonoma column in the April/May Somm Journal titled Rising Representation (page 28): Whether you did or not here is the unabridged version with more bang for your bottle, so to speak!
Which came first: Women's History Month or International Women's Day? The answer is not as important as the fact that the accomplishments of women are now being celebrated every day of the year. This is especially true in the wine industry where women play much more important roles than ever before as grape growers, winemakers, and proprietors. What connects these spirited individuals is not just their love for wine, food, fun and their drive to succeed in this ever-expanding industry, but also a shared desire for equality in the workplace.
In 2017, Amy Bess Cook took these thoughts to mind when she began developing the Women-Owned Wineries of Sonoma County project (WOWSonoma.com) to celebrate the uniqueness of 50 local entrepreneurs and unsung wine heroines through storytelling, support, and commerce.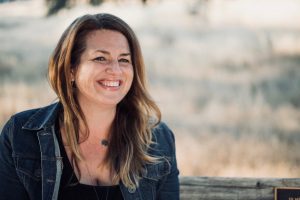 To gather data and winery contacts,  Cook worked with Dr. Lucia Gilbert, a professor emeritus of feminist psychology at Santa Clara University, who has spent thousands of hours studying women in the wine industry. Since the 1990s, reports have also found that the number of men and women graduating from the major viticulture and enology programs has been nearly even and in some schools there is even a higher percentage of female graduates over males. Therefore, the list of WOW members now includes over 550 women-owned wineries and women winemakers nationwide.
Granted, there is still a lot of disparity in the industry. For starters is the fact that women only represent 10% of the lead winemakers at the 4,000+ wineries that are currently operating in California. While only 4% are owners of wineries, most are producing small boutique brands which are beginning to catch the interest of a growing number of sommeliers, wine retailers and general consumers searching for wines with more unique characteristics, personalities, and direct connections to the winemakers and women owners behind the labels.
Not surprisingly, the highest percentage (12 to 14%) of these rising entrepreneurs are located in the North Bay. As a result, Cook has been able to work directly and promote exciting new brands that have been emerging in the American wine scene over the past year.
"To me, this project has become a full manifestation of change in the industry that will benefit from increasing sales and awareness of wines made by women, but also providing a platform to address imperative issues and inequities that requires a true team effort," says Cook.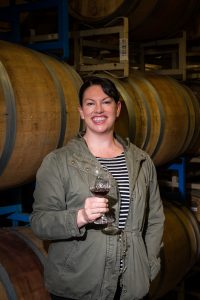 In February, to celebrate the one-year anniversary and achievements of this provocative business model, members of the WOW movement gathered at the "Here's To Her" Dinner: a feast, fete and informative discussion emceed by Beck Hopkins of Folio Fine Wine Partners and hosted by culinary entrepreneur Sondra Bernstein, Chef John Toulze, and her staff at Salon D in Sonoma.
Among the featured winemakers was Shauna Rosenblum, who joined forces with her father, the "King of Zin" Kent Rosenblum, to start the Alameda-based Rock Wall Wine Company in 2008. Although she was already winemaker and business partner before her father's death last year, Rosenblum said she felt like a kid trying to gain peoples respect over the first eight years. To hold strong and ascend to the "O.G. level" over the past four years, Rosenblum put her focus on creating an impressive series of wines she wanted to drink.
"If you are having fun with what you are doing nobody can stop your shine," says Rosenblum, whose 2017 Rock Wall Sparkling Rose, one of the five sparkling wines that make up nearly half of the 6,000 cases the winery produces each year produced , was served at the during the opening reception at the dinner.
Gifted winemaker Katy Wilson of LaRue Wines in Sebastopol, says she experiences inequality when men address other men in the group rather than speaking to her directly, especially when she is the person responding and they continue to speak to the men in the group. She also finds that both men and women tend to use a man's last name when making an introduction and then introduce her simply as "Katy".
"You have to encourage yourself to keep your spirit up and driving your points home through the quality of the finished wines you produce," says Wilson, who provided the   LaRue 2015 Pinot Noir from the Rice-Spivak Vineyard in the Sonoma Coast that was served with the first course of the dinner.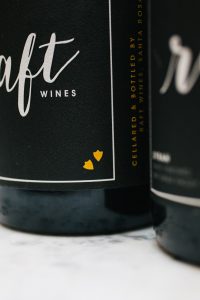 Jennifer Reichardt, whose Raft 2017 Sangiovese from Butte County was paired with the Liberty Duck from her family's farm in Petaluma, has battled against being stereotyped as young, cute and immature. All this while cutting her teeth delivering her family products to top restaurants in the Bay Area and working harvest for top producers in Sonoma County, Chile and Australia before launching the Raft Wines brand in 2016. This dedication and focus has paid dividends with the demand and production of her wines increasing from 300 to 1,000 cases over a three-year period.
"While growing up around wine helped elevate my interest in working with grapes," says Reichardt. "Making my own wine and owning the label helps me avoid being controlled by rank and file, as well as making the styles of food-friendly wines I want to be known for making."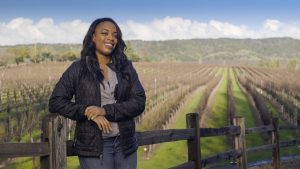 Another dinner attendee was Brenae Royal, a spirited viticulturalist, who puts her passion into managing and curating the glorious vines at the legendary Monte Rosso Vineyard overlooking Sonoma Valley and other admirable E. & J. Gallo properties in Sonoma County.
"To me, harvest is like sending the kids off to college," says Royal, in reference to the 2014 Louis Martini Cabernet Sauvignon from Monte Rosso that was that was served with Chocolate-Dipped Figs at the end of the meal. "You've done everything you could to get them there. Now it's up to the people around them (the winemakers) to help take them go to the next level."
While it's been a natural fit to elevate her game to meet the need of the winemakers she works with, the harder part of the job has been to have people accept her as a minority and a woman.
"At the end of the day I'm a farmer. So the fact that I am a woman of color is completely irrelevant. Thus, I'm not looking for notoriety, but to get the respect from my male counterparts in the industry," she says.
In the end, Hopkins says these stories of ingenuity, determination and tolerance are important lessons to share with the with the wine industry as a whole. "If you are afraid to speak up, then how are people going to follow you?" asked Hopkins. "Instead, it's about being passionate, efficient and standing tall as a close knit community."