That's right ONE-HUNDRED EPISODES! Make sure to Subscribe for the next 100 epic interviews to follow. Join THE VARIETAL SHOW to talk about Napa Valley Cabernet with Dawnine Dyer of Dyer Vineyards.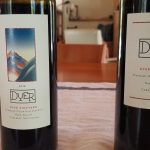 Up on Diamond Mountain, near Calistoga, in the Mayacamas mountain range we sit 800 ft above Napa Valley. Together we discuss the beauty, and long history, of high elevation wines in the Napa mountains and taste a delicious Dyer Vineyards 2018 Cabernet Sauvignon blend.
LIKE, SHARE & FOLLOW my You Tube channel, for notification about upcoming episodes, most Tuesdays @12:30pm!