Although it's hard to believe: When Super Bowl LIV at Hard Rock Stadium in Miami came to an end, everyone came out a winner. In the case of the Kansas City Chiefs, their dramatic 31-20 victory over the San Francisco 49ers marked the team's first Super Bowl win in 50 years. And, despite the disappointing loss to wine country locals, the game also capped off an amazing season for the 49ers: a young, talented team which made the miraculous transformation from a 4-12 record in 2018 to a 13-3 mark this past year, coupled with two convincing wins in the playoffs, which earned them the opportunity to compete for the coveted Vince Lombardi trophy on the 100-year anniversary of the NFL.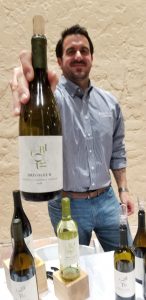 Beyond the players, the other big winners were the 49er Faithful, as well fans from the Chief's Kingdom, and the over 6,000 members of the media attending the game on February 2, who also had special opportunities to explore the fabulous food and wine culture that has blossomed in the greater Miami area since the Niners won their last Super Bowl at Hard Rock Stadium in 1995.
I am happy to say, I have been following the delicious wave of new culinary delights since I began judging the American Fine Wine Competition, which takes place every January at the Chaplin Center for Hospitality, on the campus of Florida International University in North Miami. To make this year more special, I got a taste of what 49er and Chiefs fans could expect with my fellow wine pals Charlie Arturola, Jacqueline Coleman, Peg San Felippo, Roberto Columbia, Wendy Rosano, Stu Nudelman, Henry Escobar and other judges attending the AFWC's 13th Annual One Thousand Bottles: Sipping Through America, a special gathering held at the Chaplin Center on the FIU campus exactly two weeks before the kick-off of Super Bowl LIV.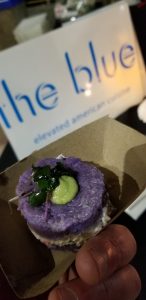 In a nutshell: this fabulous event gives consumers, sommeliers, retailers, wine pros, and members of the media a rare opportunity to taste the top wines we judged earlier in the day, while sampling exquisite delicacies prepared by South Florida's best restaurants and food purveyors, as well as newly released wines being poured by special guests from West Coast wineries. As an extra touch of class, proceeds from the get-together are donated to charity. And since 2007, AFWC has raised more than $1,000,000 for these local charities, including the Miami Dolphins'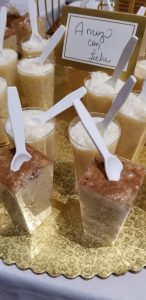 admirable collaboration with the Tackle Cancer organization.
Standout bites at this year's event included: a stunning array of fresh seafood delights from Krudo; a lobster sandwich on top of a purple Peruvian potato from The Blue at the Boca Resort; juicy, tender and smoky morsels from Nature's Cut Organic & Grass Feed Beef, which raised in Uruguay and imported to Miami; and a very Pinot-friendly mushroom crudité from star Chef Stefano LaCava, who prepared the fantastic judges dinner the night before.
These and more tasty offerings provided by Cvltvra Restaurant, Ortanique, The Crepe Maker, Cooper's Hawk, Nature's Cut, Gatsby's Joint, A Flair For Fudge and El Brazo Fuerte Bakery were also paired with delicious wines poured by our friends from DAOU Family Estates, Trujillo Wines, Hagafen Cellars, Kestrel Vintners, Staura Cellars, A. Torano Family Vineyards, Yount Ridge, Shadowbox Cellars and Bricoleur Vineyards during the event.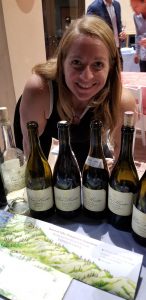 As the fun continued, I was able to savor more fine wines with Napa Valley vintners Chris and Shannon Hyde of Hyde Estate, Mike Henry from Acre Wine, FIU-grad Stephanie Honig of Honig Vineyards and Winery, as well as my other great pals Ali Nemo and Andy Du Vigneaud of Bee Hunter Wines of Anderson Valley. All this, while watching the 49ers punch their way to Super Bowl LIV with their convincing NFC Championship victory over the Green Bay Packers, which was broadcast on monitors in the Chaplin Center.
The following day, we judged the final rounds of the competition, which culminated with the sweepstakes round that matched the Best of Class wines in a head-to-head showdown in each category. Here are the big winners at the AFWC 2020:
Sparkling Wine: Mumm Napa NV Brut Prestige, Napa Valley
White Wine: Castello di Amarosa 2018 Gewurztraminer, Anderson Valley
Red Wine: Papapietro Perry 2016 Pinot Noir, Pommard Clone, Russian River Valley
Sweet Wine: Ferrante 2017 Vidal Blanc Ice Wine, Grand River Valley, OH
The full details on all the Double Gold, Gold and Silver medal winners will be listed on the American Fine Wine Competition website soon.  Coming soon, look for my story about two special restaurants I visited during my visit to Miami in mid-January!