Sharing this Press Release information for those that want to continue the efforts of support for victims of last year's devastating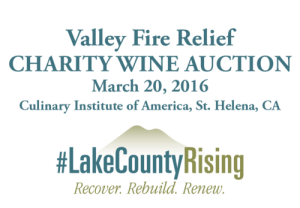 Valley Fire in Lake County.   More information and tickets can be purchased at #LakeCountyRising.  Piggy back this onto the end of your Flavor! Napa Valley adventures!
Valley Fire Relief Charity Wine Auction
Sunday, March 20, 2016
2:00 p.m. to 5:00 p.m.
Culinary Institute of America – Greystone
St. Helena, California
Thanks for your support!