When you open a bottle of the Matthiasson Napa Valley White Wine, the nose is immediately dazzled with fragrant aromas of fresh melon, peaches, citrus, and fresh picked spring flowers. In the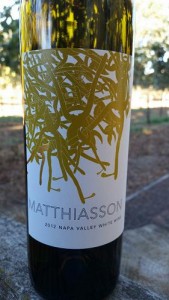 glass, these distinctive aromas and fruity flavors are further enhanced by notes of mineral, chalk, roasted hazelnut, a lush texture, tangy acidity, and a long, vibrant finish. The end result is a graceful wine with qualities that set it apart from other proprietary white wines.
In addition to Sauvignon Blanc, Semillon and Tocai Friulano grapes, another special ingredient in the blend is Ribolla Gialla, a unique white grape from the Friuli region of Italy, which winemaker Steve Matthiasson was introduced to in 2002. Since then, Steve has gone on to promote the grape and carve his own niche with the delicious white and red wines he makes with fruit grown at his family's estate vineyard in Napa and other special sites in Napa Valley and Sonoma County. For his commitment to quality, the San Francisco Chronicle named him "Winemaker of the Year" last year.
To learn more about Steve's journey to becoming a viticulturalist and winemaker, read my interview with him that was published in the new issue of Vineyard and Winery Management.