This professional wine competition became part of Sonoma International Film Festival in 2018: It is organized and executed by sommelier Christopher Sawyer and a panel of wine writers, star sommeliers and retailers, taking place on March 16th, 2022. Deadline for wine submissions is March 11th. CATEGORIES & DETAILS BELOW!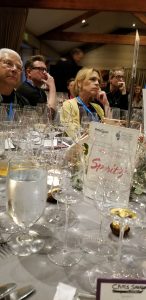 Best Sparkling Wine
Best Chardonnay
Best Aromatic White Wine
Sauvignon Blanc
Other White Varietals & Blends
Best Pink Wine (still)
Best Pinot Noir
Best Merlot
Best Red Wine Blend
Best Zinfandel
Best Rhone Varieties
Best Bordeaux Varieties
Best Cabernet Sauvignon
Best Dessert Wine
Best Port Wine
Select the categories you want to enter from the list above. Please provide 2 bottles of wine for each category you are entering, including a spec sheet with the level of residual sugar information.
Deliver your wine to the SIFF office @ 103 E Napa Street, Ste. B, Sonoma, CA (above Maya Restaurant) before March 11th, 2022.
Contact Chay or Danyelle, 707-200-8215 , if you have any questions.