If you don't frequent The Somm Journal, you may have missed the truncated version of my article The Pink Tide: Sonoma County Rosé this June.  Enjoy the read, try some of them out before the temperature cools down! ~CS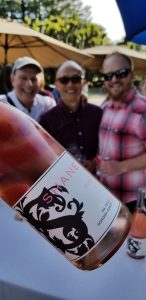 Although he is well-known in the winemaking circuit for his ability to craft world-class offerings of Pinot Noirs, cool-climate Syrahs and other red and white varietals during his stints at Paul Hobbs and Kosta Brown wineries in Sonoma County and the eponymous Shane label he started in 2006, Shane Finley is also a true believe in dry pink wines.
For Finley, it's a journey that began in 2002, when he fell in love with crisp, clean and stylish pink wines while working a year-long internship at Domaine Pierre Gaillard in Cote-Rotie. As an homage to the region, he made the first few vintages for his Shane label with Syrah and Grenache before switching to focus on Pinot Noir.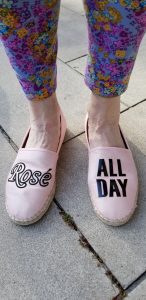 As the years have passed, Finley has gotten pickier about the sites and Pinot clones he worked with for his pink program. He's also shifted towards using more stainless-steel and neutral barrels to capture fresher flavors and minerality instead of overshadowing them with oak in the cellar.
This attention to detail shows in the new release of the Shane 2018 Ma Fille Rosé. Made with fruit from the Sonoma Coast, the wine dazzles the senses with enchanting aromas and lively flavors of ripe red fruits, watermelon, citrus, and a hint of saltiness leading to a long, zesty finish.
But rest assured, Finley is definitely not the only one committed to making high-quality roses these days. This is especially true in Sonoma County, where a plethora of boutique producers are now working with a diverse selection of red grape varieties to create new styles of dry pink wines that invigorate the senses and provide a growing number of consumers freshness, bright acidity, and balance in every sip.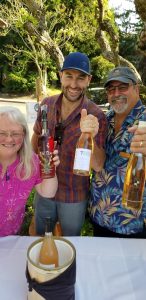 This is a sweeping change in comparison to the days when import brands like Mateus and Lancers, White Zinfandel and ubiquitous wines with the title "blush" led most consumers to think all pink wines were sweet. But change can be a good thing—especially over the past decade. Or, as Finley puts it: "It really is incredible when you think about the shift from no one wanting it to everyone making it has happened in a ten-year period."
Another Sonoma County winemaker helping nurture this "rosé everyday" movement is Rick Davis of Calstar Cellars, who makes his Pinot Meunier with grapes from the Balletto Vineyard in Russian River Valley that were originally used to make sparkling wine.
In comparison to the Pinot Noir grapes he works with for his red wine program, Davis says Pinot Meunier is well-suited for making rosé because the thicker skin and higher levels of tannins allow him to produce and preserve the natural color, flavors, acidity and structure with less skin contact. The end result is a fresh, clean and vibrant wine that always comes out between 13.8 to 14.3 percent alcohol.
As a consulting winemaker at Halleck Vineyards, Davis made the Sebastopol-based winery's debut release of an adventurous, bone-dry style of White Zinfandel with fruit sourced from the De La Montoya Vineyard on the border of the Russian River and Dry Creek Valley appellations in 2018. Once picked, Davis let the skins soak with the juice overnight before pressing it the next morning. By aging 30 percent in neutral barrels, he was able to create more distinct flavors, texture and a lovely light magenta hue without compromising quality.
Another important factor that makes the rise of dry pink wines more than a trend is how well they pair with fresh cuisine. Winemaker Bill Nachbaur of Acorn Winery took these thoughts to mind when he and his wife Betsy began crafting their Italian-style rosato with Sangiovese grapes grown at their Alegria Vineyard near Healdsburg in 2005.
To match the more diverse styles of cuisine now being offered at restaurants, seasonal meals and social gatherings, the style of the Acorn Rosato has shifted to a more classic field blend that is more representative of the estate as a whole. The most recent example is the 2018 vintage, which contains with 41% Sangiovese, 30% Zinfandel, 15% Syrah, 11% Dolcetto, 10% Cabernet Franc and 3% others varietals from the old vines planted in the 1880s.
"Our ultimate goal is to make a classy pink wine that is distinct, delicious and substantial enough to set it apart from your typical porch pounders and other sweet pink wines that are made for sipping in hot tubs," says Nachbaur.