No longer limited to pricey French Champagne, it's easy to pair summertime meals with sparkling wine. Learn more about light, delicious styles that have blossomed in Spain, Italy and the U.S.
Spain
Owned and operated by the Ferrer family in northern Spain, Freixenet boasts over 100 years of expertise in producing sparkling wine or cava as it's called in Spanish. This commitment to quality has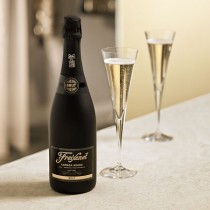 made Freixenet the #1 sparkling wine producer in the world. The benchmark wine from the family estate near Barcelona is the Freixenet Cordon Negro Brut ($14). Crisp, clean, and well balanced, the bubbles in the frosted black bottle are made with the rare grape varietals of Macabeo, Xarel-lo and Parellada to create an aromatic medium-bodied sparkler with bright fruity flavors of peach, apple, pear, fresh citrus, ginger and roasted almond. In the glass, it's versatile and pairs well with most foods, especially small, spicy tapas plates. If you're looking for a slightly sweeter taste, try the Freixenet Mia Moscato ($12). In Spanish, mia means "mine". Crafted by Gloria Collell, the talented winemaker for the Ferrer family's newer cava brand Segura Viudas, this young and sassy sparkler features a light golden hue, fragrant floral aroma, flavors of ripe tropical fruits, lime and a drizzle of raw honey. It's perfect with fresh fruit or desserts made with custard, citrus, berries and light, flaky pastry crusts.
Italy
Known for its refreshing flavors, crisp acidity and tiny bubbles, Prosecco is made primarily with Glera, a native white grape widely grown on Italian hillsides and farmlands. Try the Voveti Prosecco ($19), a lovely wine with aromas of fresh citrus and spring flowers. Flavors expand with lively notes of ripe peach, apricot, tangerine and pear; serve with antipasti like prosciutto-wrapped melon, olives, toasted nuts and salumi or main dishes like Thai or Indian curry, shrimp kabobs and grilled chicken.
California
For those looking for a domestic alternative, try Gloria Ferrer NV Brut ($22) from Sonoma. Made with Pinot Noir and Chardonnay grapes picked at the beginning of harvest, this sparkling gem features flavors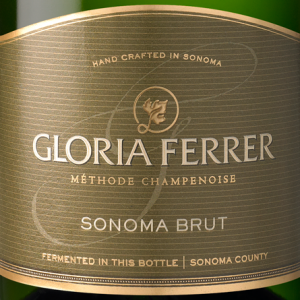 of Bartlett pears, Fuji apple, citrus, almonds, vanilla, and a pleasant roasty-toasty note on the finish. For pairings, enjoy it with Dungeness crab cakes, fresh oysters or sushi; aioli or other citrus-based sauces; and main courses with prawns, chicken, turkey or duck. Its counterpart is the Gloria Ferrer NV Blanc de Noirs ($22), a blend of 92 percent Pinot Noir and 8 percent Chardonnay featuring a nice balance of red cherry, raspberry, cranberry, hibiscus, earth and great acidity. With layers of power and depth, it's an ideal complement to fresh grilled salmon, Ahi tuna, wild mushroom, risotto and richer cheeses.