When it comes to fine cuisine, the love of food goes deeper than most people think. That's especially true around Valentine's Day when the subject of aphrodisiac ingredients takes center stage.
Traced back to the Greek goddess Aphrodite, an expert in the fields of sexuality and love, the term "aphrodisiac" refers to edible bites that can stimulate the heart, brain and body, seduce the senses, and inspire lovers to have intimate encounters—particularly if they use the right ingredients.
While expensive delights like oysters, caviar and wild mushrooms fall into this category, most of the basic items are things we eat quite often, including: arugula, fennel, onions, radishes, carrots, figs, lemon and other citrus, olives, pine nuts, coconut, coffee, cocoa, and chocolate.
Studies have also found that complex wines made with pinot noir and other red grapes typically contain resveratrol, an antioxidant that helps boost blood flow and improves circulation before and during physical intimacy.
The topic of aphrodisiacs is also a great subject to bring up with star chefs, many of whom have a fun time crafting a mixture of sexy bites around the Valentine's Day theme.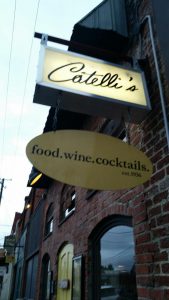 With these thoughts in mind, earlier this week I teamed up with my longtime friend Chef Domenica Catelli of Catelli's Restaurant in Geyserville to test some of these love-inspiring ingredients on a special group of eager diners, my fellow wine judges from the East Meets West Wine Challenge 2017, which was held at the Santa Rosa Fairground earlier that day.
A native of Sonoma County, the roots of Domenica's love for food started when her grandparents, Italian immigrants Santi and Virginia Catelli, founded the original Catelli's restaurant in the historic downtown district of Geyserville in 1936. Thus, Domenica's early years in Sonoma County were filled with memories of fresh, seasonal foods.
As a result, after creating a series of magnificent menus at several restaurants in Laguna Beach and the Stanford Inn on the Mendocino Coast in the 1990s, she began working on her first cookbook, Mom-a-licious: Fresh, Fast Family Food for the Hot Mama in You!, which hit bookstores in September 2007.
Thanks to ongoing success of the book, coupled with her unique style of working with healthy products in the kitchen and her cool appearances on Iron Chef America, CBS News, and Oprah and Friends on XM radio, Domenica became the national spokesperson for the Organic Trade Association and brand ambassador for Safeway's O Organic line. Before and after she reopened the family restaurant with her brother Nicholas in 2010, celebrities such as Oprah Winfrey, Nelson Mandela, Julia Roberts, John Travola and Lady Gaga have enjoyed her food.
From a sommelier's standpoint, having watched Domenica become one of the star chefs of Sonoma County, it was a joy to once again work with her on this special aphrodisiac-themed dinner and the fun romantic movie-themed names we gave to each course. Here is a summary of the ingredients and wine pairings we worked with that evening:
Appetizer: Love Bites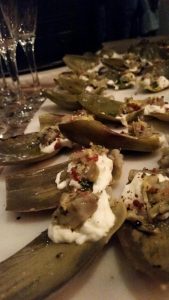 Domenica's Romantic Delight: Artichoke Hearts & Burrata with Crispy Prosciutto. For starters, artichoke hearts are naturally high in vitamins and antioxidants, which helps increase blood flow to enliven the senses. However, the rich texture and earthy flavors of this spiny and bulbous vegetable is often quite hard to pair with wines. Thus, Domenica took this factor to heart by softening the texture and adding additional layers of creamy Burrata cheese and salty sensations provided by the prosciutto. These components were presented beautifully at the end of the artichoke skin to resemble the naturally smooth slurping process used to consume a raw oyster on the half-shell.
SawyerSomm Sexy Wine Pairing: To compliment these flavors, I served the new release of the Gloria Ferrer 2007 Royal Cuvee Brut, Carneros. Highlighted with elegant flavors of crisp apple, lemon, roasted almonds, vibrant acidity, and a long dry finish; this special vintage style of sparkling wine worked wonders with the rich texture, salty components and earthy nature of the appetizer. A fabulous way to start the evening off in style! www.gloriaferrer.com.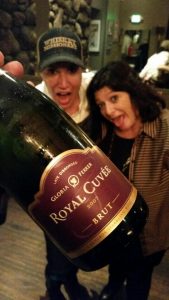 (As a fun side note: The Gloria Ferrer Royal Cuvee would go on to win the Best of Class for all Sparkling Wines from the West Coast and eventually beat the Trump Sparkling Wine by a landslide to win the prestigious honor of the Best Sparkling Wine of the entire competition. For complete results from the East Meets West Wine Challenge, watch for my upcoming SawyerSomm post!
Salad: Eat Drink Man Woman
Domenica's Romantic Touch: Organic Kale, Blood Orange, Honey Glazed Walnuts. Much like arugula, kale is leafty, minerally, and high in antioxidants—the latter of which helps promote good health and prevents diseases. In the dressing, the blood orange added amino acids to compliment the rich and fatty compounds in the Dry Creek Olive Oil, which is commonly known to help stimulate hormonal activity. For toppings, the natural sweet flavors of the honey provides Vitamin B, estrogen, and helps boost strength, endurance and regenerates sexual energy; while the walnuts (sourced from Lou Preston's organically farmed orchard in Dry Creek Valley), provided a burst of extra protein to give the sex drive a boost. Granted, while we have no idea what happened amongst the guests later that evening, we can say the complex flavors in this salad stimulated plenty of fun conversations around the two large wooden tables we dined at in the private dining room!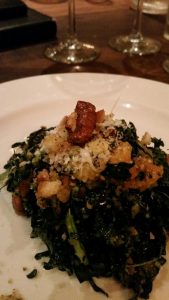 SawyerSomm Sexy Wine Pairing: To further enhance the experience, my colleague Debra del Fiorentino and I served a wide array of the Best of Class white wines that we judged earlier in the day. My favorite pairing was the Oak Farm Vineyard 2016 Albarino from Lodi, which featured lively flavors of ripe melon, peach, lime and racy acidity that isolated and elevated the dynamic flavors of the kale, citrus, honey and walnuts that made this romantic salad so memorable. www.oakfarmvineyards.com
Entrée: Lady & the Tramp
Domenica's Romantic Touch: House-made egg Tagliatelli, Domenica's Organic Tomato Sauce and Catelli's famous Mini Meatballs  Known for her tasty and healthy approach to cooking, this gorgeous dish was the epitome of Domenica's style. For starters, the flavors of the mini meatballs, made with free-range beef and house-made pork sausage, were amplified with the natural richness of the sauce. In addition to organic tomatoes and virgin olive oil, other special ingredients included fresh basil, which naturally arouses the senses and boosts blood circulation; garlic, a strongly scented delight that provide the body with a bolt of allicin, which is known to increase blood to the organs, stamina and sexual energy; and celery, a powerful food source of Vitamin E, zinc, potassium, magnesium, and a natural stimulant to the volume of semen. In keeping with the theme, Domenica made the pasta with eggs that provide more protein and sexual energy. In addition to shaved parmesan, the dish was also topped with fresh arugula, an ancient source of Vitamins A and C. Brilliant flavors from first bite to last.
SawyerSomm Sexy Wine Pairing: In staying with the Italian theme, I chose one of my favorite regional wines from Alexander Valley, the LaStoria 2012 Cuvee 32 Red Wine from Trentadue Winery in Geyserville. Crafted by my fellow wine judge, winemaker Miro Tcholakov, this dazzling, food-friendly Super Tuscan-style blend was made with 54% Sangiovese, 29% Merlot, 8% Malbec, 5% Cabernet Franc and 4% Montepulciano. Layered with lively flavors of ripe blue fruits, wild strawberry, cherry, pomegranate and spicy notes of cinnamon, cocoa and allspice; the wine quickly seduced the senses and helped amplify the fresh and spirited flavors of this fabulous pasta dish. www.trentadue.com.
Dessert: Like Water for Chocolate
Domenica's Romantic Touch: Chili and Cinnamon Spiced Chocolate Bodino, Maldon Salted Caramel, Banana Mousse  Chocolate. Need we say more? Besides a natural burst of sugar and energy, tasty bites of chocolate have more antioxidants than red wine. Studies also show that women who eat chocolate have sex more often than those that don't. To make this dessert even more interesting, Domenica added cinnamon, which helps balance blood flow and increase sexual appetite; red chilies, which provide a boost of endorphin, a natural "feel good" stimuli for the brain and libido; and bananas, an easy source of Vitamin B, potassium, and testosterone. Plus, the texture of the caramel and mousse increased the sexy factor tenfold.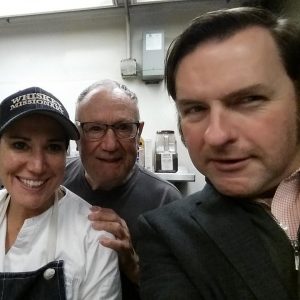 SawyerSomm Sexy Wine Pairing: To finish off the experience, we stimulated the palate with the Wilson 2013 Buzz Reserve Zinfandel, Buzz Vineyard, Dry Creek Valley. The ripe and juicy flavors of wild berries, black pepper and clove from this special selection of classic vines planted in 1976 added fresh, fruity and spicy elements to the dessert. A few judges were also enamored by how the Gloria Ferrer Royal Cuvee Brut matched up with the flavors of chocolate, caramel, banana and spice. www.wilsonwinery.com.
~~~~~~~~~~
While it's true that Domenica is in a league of her own, the ultimate intent of this pre-Valentine's Day menu was to show that putting extra focus on working with aphrodisiac ingredients and wines pairings is an easy way to amplify your love for your soul mate—not only around Valentine's Day, but all year long.
"Try it, you might like it," says Domenica, with a smile. "After all, you never know where a natural bounty of flavors might get you!"
Located at 21407 Geyserville Avenue in Geyserville, Calif; Catelli's is open 7-days a week. For reservations, call 707.857.3471 or visit www.mycatellis.com. For special events, call 707.857.7142 or catellisevents@gmail.com. Moms can also purchase Domenica's book at local bookstores or on amazon.com.
For further information about eating something sexy and pairing it with wine, read my Valentine's Day article in the new issue of Valley of the Moon Magazine at www.vommag.com.  And for more stimulating ideas, check out Romancing the Stove: the unabridged guide to aphrodisiac foods, the new book by culinary author Amy Reiley, which is available at www.lifeofreiley.com.